Metro Transit hubs get behavioral health specialists in new pilot program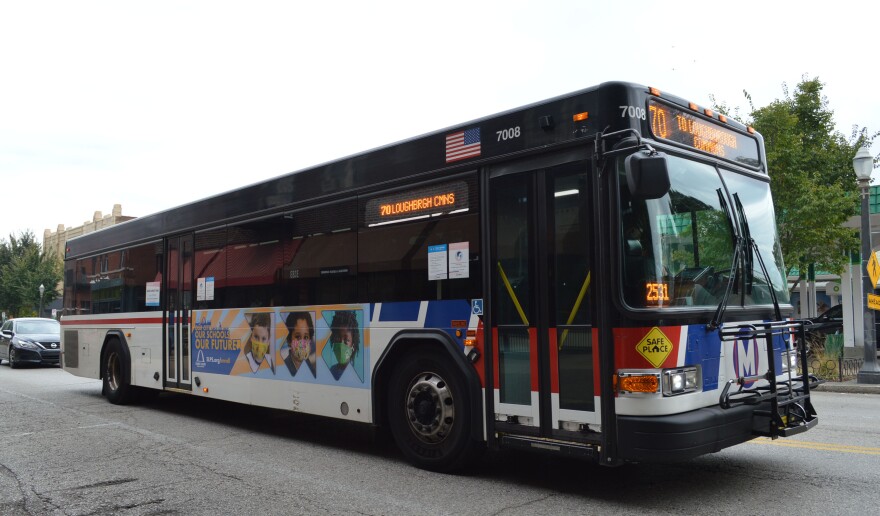 For the past year and a half, leaders of the Metro Transit system have pointed to safety as an area needing improvement.
In December, Bi-State Development President and CEO Taulby Roach included better working relationships with law enforcement as a central aspect of the progress. Now the regional transit agency has launched another partnership, one focused on mental health, that leaders hope will make a difference as well.
Bi-State announced earlier this month that it will put $350,000 toward a yearlong pilot project involving behavioral health providers. A pair of two-person teams from Chestnut Health Systems will be based 40 hours per week at the Civic Center Transit Center in downtown St. Louis and at the North Hanley Transit Center in St. Louis County.
The effort is patterned after an effort that has been underway for the past six months within the neighboring St. Clair County Transit District, as Dave Sharar, the CEO of Chestnut Health Systems, explained Wednesday on St. Louis on the Air.
Sharar told host Sarah Fenske that the St. Clair transit system first approached Chestnut Health with the idea, one that Sharar described as "an innovative and very progressive" approach to assisting riders who may be dealing with challenges such as homelessness, mental health issues or substance use disorders.
"The idea is to really move away from what historically might have been more of a policing or code-enforcement response to a humane offer of assistance and having a sensitive conversation with individuals who might be in distress — and trying to engage them or motivate them to do something different," Sharar added. "And most importantly to actually link them and connect them to services that could help with their misfortune."
Bi-State commits $350K to partnership aimed at boosting safety, health
Listen as host Sarah Fenske talks about the newly announced pilot project with Bi-State President and CEO Taulby Roach and Chestnut Health Systems CEO Dave Sharar.
Between April and September of this year, he said, Chestnut Health staff have approached a total of 681 transit riders, engaging them to see what their most pressing needs are. In about 80 of those instances, riders have been connected with human service providers such as residential detox resources and shelters.
Roach said Metro Transit operators have welcomed this idea for the larger St. Louis-area system, which covers nearly 550 square miles and serves "all types of riders, all types of income, all types of socioeconomic backgrounds."
"[The operators] are the heroes that should be mentioned at every turn," Roach said. "But we need to give not only them but also our police partners the support. One of the most thrilled parts of our community [are] our police partners. Because instead of always policing these issues, now we're thinking of a way to compassionately deal with folks and get them the services they need."
As part of the effort, which is expected to get underway by late January, Metro Transit security personnel will also receive mental health awareness and de-escalation training.
The conversation with Roach and Sharar also touched on the ongoing worker shortage at Metro Transit. Bi-State Development recently announced a 10% service cut coming in November, which represents roughly a 15% decrease since June.
"Really we are struggling for employees, just like a lot of other companies around not only the state but in the United States. … And you may have seen, we have announced that we are providing a $2,000 bonus for new employees," Roach said. "And boy I could use some dedicated employees for good, well-paying jobs to run our buses and trains."
He added that he hopes the service cuts will be short-lived and limited.
"We are making some service reductions so that the public can expect when their bus says it's showing up, that it does show up," Roach said. "What we really want to avoid is any missed trips. That's very inconvenient for the public, and we've asked them to be patient with that as we're going through this employment shortage."
"St. Louis on the Air" brings you the stories of St. Louis and the people who live, work and create in our region. The show is hosted by Sarah Fenske and produced by Alex Heuer, Emily Woodbury, Evie Hemphill and Lara Hamdan. Jane Mather-Glass is our production assistant. The audio engineer is Aaron Doerr.