Rep. Stream: House 'Working Hard' To Get Student Transfer Bill 'Done'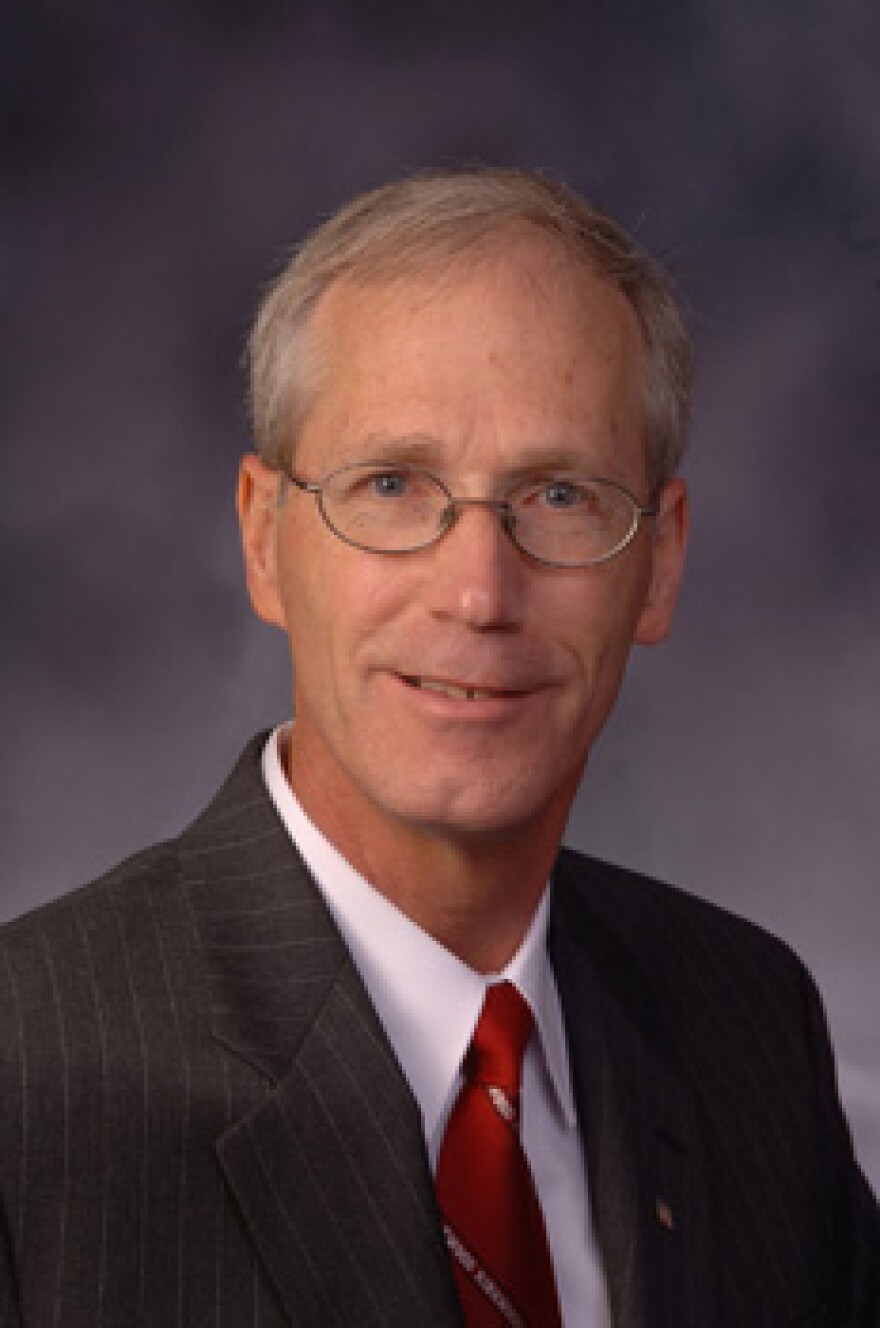 As the Missouri House begins consideration of a school transfer bill, state Rep. Rick Stream, R-Kirkwood, the House budget chairman who has taken the lead on the transfer issue, has made clear what his bottom line for the bill is. He says the final product must cover four basic areas:
Students stuck in unaccredited schools need immediate access to high quality education.
Districts sliding toward unaccredited or borderline status need help to improve.
Unaccredited districts that are losing students to transfers need financial help to avoid the threat of bankruptcy that has plagued Normandy.
Districts receiving transfer students need some say over how many new pupils they can accommodate, to maintain reasonable class sizes.
The sweeping transfer billsent by the Senate to the House in late February by a vote of 27-5 includes other provisions as well, from charter schools to home visits by teachers to a controversial section to allow students to transfer to non-sectarian private schools.
But as the House education committee began considering the Senate bill on Wednesday, Stream told St. Louis Public Radio that he wants to make sure that the basics are covered.
"We're trying to address all of the issues in this one bill," he said, "so that it's fair to the students first. Students can go where they think they can get access to high quality education if they're in an unaccredited school district.
"And yet surrounding districts are protected and the sending districts don't go bankrupt. Those are the major things we're trying to accomplish here."
A bill introduced earlier in the session by Stream has many elements similar to the Senate bill, though the details may be different. One thing that was dropped, though, was the idea of a statewide achievement districts for underperforming schools – a jurisdiction that some had likened to a leper colony or an educational ghetto.
Stream didn't agree with that characterization. But he said that idea has changed to one allowing the Department of Elementary and Secondary Education and the state board of education to put into place any of a number of alternative governance structures.
"We decided it was just too complicated, too unwieldy to set up a separate structure, so we decided to go the other route," he said. "It's made it a little simpler. I think it's taken one of the objectionable issues off the table for some of the opponents."
One issue still on the table that has raised objections is allowing students in unaccredited schools to transfer to non-sectarian private schools. An effort to remove that option failed Wednesday in the House committee, but Stream expects it to come up again.
Gov. Jay Nixon has come out against the provision, and Chris Nicastro, commissioner of elementary and secondary education for the state, told a forum in Kansas City this week that it has the potential of scuttling the entire bill.
But Stream thinks it should remain as one more option for students to get a good education. He notes that the Senate bill, which passed by a large margin, includes several limitations on the ability of a private school to accept transfers. It must be accredited, must administer statewide standardized tests and could only be used if a student did not have the opportunity to transfer to an accredited school in his or her district.
The strong support for the bill in the Senate, Stream said, is "clearly a strong message to the House and to the governor that they want these kids who are in these unaccredited school districts to have immediate access to high quality education. We're trying to do that in the House version, too."
Financial issues
A major issue between the House and Senate that would have to be resolved is financial.
In the Senate bill, if a receiving district chooses to charge tuition that is at least 30 percent less than it would otherwise charge, the test scores of transfer students would not count in its annual performance review for five years.
Stream's bill, which he introduced in mid-February, would cap tuition at 75 percent of what a receiving district would normally charge. Any money over that amount that has been paid out during the current school year would have to be refunded immediately to the sending districts, in this case Normandy and Riverview Gardens.
Both chambers would have the state accredit individual schools as well as school districts. But one part of the Senate bill that Stream said would be eliminated in the House would not allow the state to rank a district as unaccredited unless 55 percent of its schools were unaccredited.
Stream noted that in the case of Normandy, where four elementary schools are accredited but neither the high school nor the middle school is accredited, such provision would mandate that the district be accredited. But middle school and high school students would have no in-district option for transferring, because the district has only one of each level of school.
Stream acknowledged the oddity in that situation, but he added: "There's only so much we can do."
With the General Assembly set to adjourn May 16, Stream said he is "cautiously optimistic" that a transfer bill can pass both houses and be sent to Nixon. He said that groups that have blocked education bills in the past are likely to get on board with this one.
"We have to deal with outstate Republicans," he said, "who are inclined not to vote for any reform or any changes, but this doesn't apply to them. This only deals with unaccredited school districts. Therefore, they shouldn't be worried about how it's going to affect them in their district.
"We're going to work hard to get it done. We're working with a lot of different folks across the aisle and across the building to get this bill passed."
Other provisions
In addition to the sections discussed above, Senate Bill 493 also includes these provisions:
Student promotion:
Schools and districts with a record of poor performance could not promote students at certain levels until they score at proficient levels in English and math. The grade levels and scores vary, depending on the school, with stricter provisions in place for schools in St. Louis and Kansas City.
Charter schools:
The state board of education must review the application for a charter in a timelier manner. When a sponsor notifies a charter school that it will be closing, DESE would have to withhold funds to make sure all of the school's obligations are met.
Alternative governance:
The state school board could appoint members of an elected board to serve on a special administrative board, but that SAB could not have a majority of its members come from the elected board.
Transit student ratio:
Each year, DESE would calculate a ratio using the number of students enrolled in a district or school and the number of students who withdraw. Such transient ratios would be used in calculating a district's academic performance; the scores of students who have not been enrolled in a district's school for a certain length of time would not be counted fully toward that district's performance score.
Parents:
When a district or building becomes unaccredited, parents or guardians of students must be notified of the change. The notification would have to include the transfer options. Underperforming schools would have to adopt a policy of home visits by school personnel. A special Parent Portal Fund would be established so parents would have access to school and student data and other information.
School hours:
A special state fund would be established so underperforming schools with a large percentage of students eligible for free or reduced-price lunches could increase the number of hours of instruction above the statutory minimum required.