Illinois' First-Year Legal Marijuana Sales Boomed, But Challenges Remain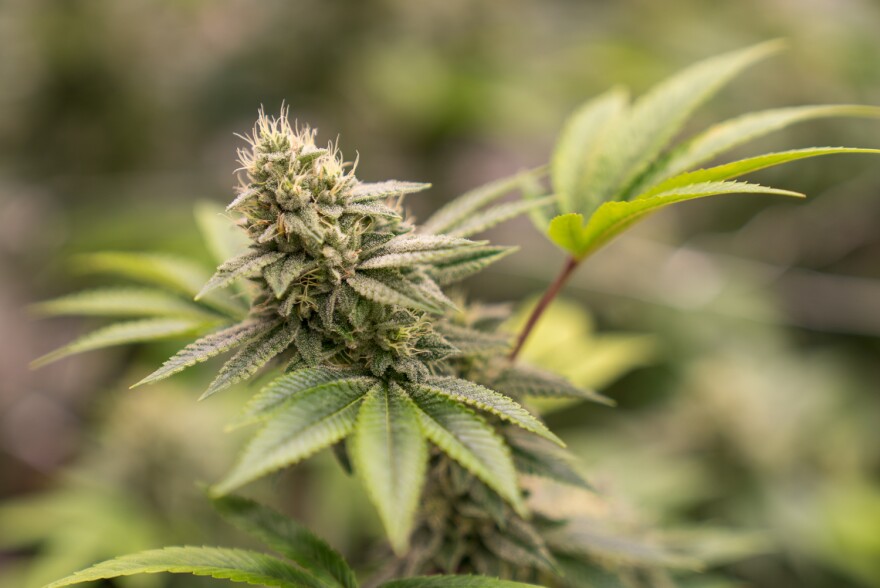 The line outside the Metro East's first recreational marijuana dispensary was already long hours before it opened for the first time last January.
Hundreds of people packed themselves into a tight metal maze that could barely contain the growing crowd at Ascend in Collinsville. The line continued away from the building, snaking along a nearby sidewalk, its tail winding out of sight.
This scene outside the dispensary foreshadowed some of the key issues Illinois' fledgling recreational marijuana industry would need to overcome.
Long lines plagued many dispensaries early on, causing headaches for surrounding businesses. The dispensaries themselves struggled to keep their shelves stocked, as cannabis products seemingly sold out instantaneously.
This chaotic beginning eventually dissipated and the industry quickly grew, said Bethany Gomez, managing director at Brightfield Group, which tracks the cannabis industry nationally.
"There are still some challenges in some places, but it's generally a functional market at this point," she said. "A wide variety of dispensaries are open, and you can generally get the products you want."
Illinois' success is notable partially because people could buy recreational cannabis seven months after lawmakers legalized the sale of it, Gomez said. Other states with recreational marijuana programs, like Colorado and Washington, took more than a year between legalization and when the first dispensaries opened.
"That has really paid dividends for [Illinois] overall in its ability to be able to capture taxation revenue this year," she said.
In 2020, Illinois dispensaries sold nearly $700 million of cannabis products, with the state and municipalities collecting more than $170 million in taxes on those purchases.
States, particularly ones east of the Mississippi River, may see Illinois as a blueprint for how to quickly establish a significant new source of revenue, especially after the coronavirus pandemic blew large holes in many state budgets, Gomez explained.
"They look at how quickly Illinois was able to open their doors, open up a recreational market, get taxation revenue in the door," she said. "That is a really compelling value proposition for those other states, particularly New York."
License criticism
Illinois faces criticism over the rollout of its program. Many of the organizations that benefited from the first year of legal sales are established cannabis companies with operations in other states.
And Illinois has yet to deliver on two key racial equity promises: diversifying an industry that's overwhelmingly white and male and helping to rectify the damage from marijuana criminalization.
These strong commitments drew nationwide attention and are ones Illinois needs to fulfill this year, Gomez said.
The state argued it would funnel money and resources from legalization into Black and brown neighborhoods in part by earmarking a quarter of cannabis tax revenue for projects around civil legal aid, economic development, re-entry from prison and others, for these communities.
The state has yet to spend $62 million collected for those purposes.
Illinois also committed to prioritizing cannabis business license applications by people from communities most affected by the failed war on drugs.
The state was supposed to award 75 new dispensary licenses in May and other business licenses in July, but all were delayed because of the pandemic, state regulators said.
Illinois eventually announced 21 finalists would participate in a lottery for the 75 licenses, which left many minority applicants feeling betrayed by state officials.
"They were talking constantly about criminal justice reform, talking about investing back into neighborhoods greatly affected by the war on drugs," said Dr. Lawrence Hatchett, a Marion urologist whose group Cannabliss unsuccessfully applied for 10 dispensary licenses. "They kept emphasizing equity and diversity, but then it was a bait and switch."
Hatchett, who is Black, said the 21 winning groups were not diverse. And some applicants had opportunities to fix deficiencies in their applications before they were scored, according to a lawsuit filed in September.
That suit was later dropped when Gov. J.B. Pritkzer announced unsuccessful applicants would be able to revise their applications. But Hatchett, whose group invested nearly $1 million in applications, isn't optimistic.
"Do I think this chance to correct your deficiencies is going to change anything? Absolutely not," he said.
It's a feeling Hatchett says is common among other social equity applicants he's spoken with since.
"There's almost a sense of everybody just throwing their hands up and saying, 'Typical. We know how corrupt Illinois is,'" he said. "When I didn't get a license, so many of my friends said, 'What do you expect? The fix was already in.'"
Application scoring concerns
The main complaint among minority candidates came from the state using veteran ownership to distinguish among top scoring applicants. To achieve a perfect score, which the initial finalists did, an application needed both social equity status and veteran status.
It was a mistake to use this criteria to distinguish among the top scorers, said Avis Bulbulyan, chief executive officer of SIVA enterprises, a consulting firm that has advised successful applications for cannabis licenses in other states with competitive programs.
"When you look at what the intent of [Illinois'] act was, it was to benefit groups that were disproportionately impacted by the war on drugs," Bulbulyan said. "With the veteran dynamic in this, they just don't qualify into that disenfranchised demographic profile."
He added the situation is especially unfortunate because Illinois had one of the best social equity programs on paper.
"The opportunity is provided to people that have family members that were impacted by the war on drugs. It's provided opportunity to those that were able to overcome their situations and are now in a position to give back," Bulbulyan said. "Most programs in other states don't take that into consideration."
Minority applicants expected more subjectivity in the scoring process, said Kareem Kenyatta, co-founder of the Majority Minority Group, which lobbied Illinois lawmakers to include racial equity provisions in the cannabis legislation.
"People were under the impression that if they had a true, genuine story about being a social equity applicant, they thought that was going to count for more," he said.
State officials said the delay in awarding the next round of licenses will result in more minority owners.
"There's almost a sense of everybody just throwing their hands up and saying, 'Typical. We know how corrupt Illinois is.'"
Dr. Lawrence Hatchett, cannabis dispensary license applicant
Kenyatta is hopeful the state will make adjustments for future licensing rounds, but he added there's no room for error.
"If we don't get real social equity applicants that become owner-operators, I do think there will be a lot of skepticism and a lot of faith in the program will be lost," Kenyatta said. "It will be really unfortunate, not only for Illinois residents. There are other states across the country looking to see, did we get this right?"
He said some state lawmakers, especially in the Black and Latino caucuses, may bring legislation this year to address the program's issues. Kenyatta added there is still room in the market for minority-owned businesses despite the existing companies' head start.
But some groups have already lost faith that Illinois will deliver on its promises.
"Most of the people I've talked to are so upset and disheartened by the process, they've just given up," Hatchett said. "If I give up right now, the powerful groups win. I hope the governor will level the playing field and if so, will I reapply the second, third round? Absolutely."
Follow Eric on Twitter: @EricDSchmid