On the Trail, an occasional column by St. Louis Public Radio political reporter Jason Rosenbaum, takes an analytical look at politics and policy across Missouri.
On the Trail: The 12 burning questions of Missouri's unpredictable election
Missouri's long, weird, sad, contentious, explosive and unpredictable election cycle is almost over.
In roughly 24 hours, Missourians from Tarkio to New Madrid will head to the polls. Beyond registering their presidential preferences, the good people of our state will decide on pivotal U.S. Senate and governor's races. They'll also choose who fills out practically and politically important statewide offices and figure out how large the GOP majorities in the Missouri General Assembly will be after January.
With competitive races up and down the ticket, Tuesday may determine Missouri's public policy and political destiny for years to come.
So as is tradition (and because the people wanted this exact number), here are 12 of the most burning questions that could provide a clue on how this pivotal Missouri election will unfold.
What will be the margin of Trump's Missouri victory?
It wasn't too long ago when the battle for Missouri's presidential electoral votes was fiercely contested. Both political parties would dump trucks full of money and send boatloads of staffers to the Show Me State, because Missourians traditionally voted for the person who won the presidential contest.
That isn't the case anymore. Since Democrats no longer need Missouri to win the White House, the national party made rather minimal investments here. That all but assures that GOP presidential nominee Donald Trump will prevail in Missouri.
So the question then is Trump's margin? Will it mirror the last few election cycles where the winner won Missouri by single digits? Or will Trump win bigly, emerging victorious by 10, 12 or even 15 percentage points?
Are presidential coattails overrated?
If the results of presidential races correlated perfectly with other statewide races, we'd refer to former U.S. Rep. Rick Berg as U.S. Sen. Rick Berg. But we don't.
Berg ran against Democrat Heidi Heitkamp in 2012 during an election cycle where Mitt Romney carried North Dakota by 20 percentage points. But he still lost by a narrow margin. That type of scenario occurred in other states, including Montana, Indiana, West Virginia and, yes, Missouri.
During that election cycle, U.S. Sen. Claire McCaskill decimated Republican Todd Akin. And Missouri Democrats are clearly hoping for a similar scenario in which Trump carries Missouri, but Democratic statewide hopefuls like Jason Kander (Senate) or Chris Koster (governor) still win.
"It's well known that the National Rifle Association is siding with the Democratic candidate for governor in this state," Koster said. "The manner in which I have governed is something that is appealing both in the urban areas, but also appealing to rural Missourians."
Can Greitens and Blunt ride the Trump Train to victory?
The aforementioned "ticket-splitting" question will be put the test in a major way if Trump wins the state by more than 10 percentage points. That hasn't happened since 1992, when Bill Clinton won Missouri by roughly 11 percentage points over George H.W. Bush and Ross Perot.
During that year, Democrats won every single statewide office in Missouri. And even less comfortable presidential margins had an impact: When President George W. Bush won Missouri in 2004 by roughly 5 percentage points, it almost certainly helped people like Matt Blunt and Peter Kinder win hotly contested statewide races.
Unlike 2012, U.S. Sen. Roy Blunt and GOP gubernatorial nominee Eric Greitens haven't made a cataclysmic Todd Akin-like error that mitigated the impact of presidential turnout. So if Trump wins by a lot, it may be a purer test of how a big presidential win affects the rest of the ticket.
How will third party candidates perform?
One of the most under-examined aspects of the 2016 presidential race is how well third party candidates are doing in the polls – at least compared to previous elections.
In 2012, Libertarian nominee Gary Johnson and Green Party nominee Jill Stein received less than 1.5 percent of the popular vote – combined. It's possible that in some states, the pair's percentages could reach into the double digits. (Johnson may receive double-digit percentages himself in some states.)
So even if, say, Johnson gets 4 or 5 percent of the vote in Missouri, that's still a vast improvement in a four-year period. And if Missouri voters decide to vote for third-party candidates elsewhere on the ballot, it could make a difference in the Greitens-Koster or Kander-Blunt races.
Another wild card is Lester Turilli, an independent candidate for governor who paid for a slew of billboards declaring "Les is More." I'd be hard pressed to guess whether Turilli would take away votes from Koster or Greitens, but he may capturea larger share of the cave enthusiast vote than normal.
Will organized labor bounce back after a disappointing primary?
Labor unions have a ton on the line on Tuesday.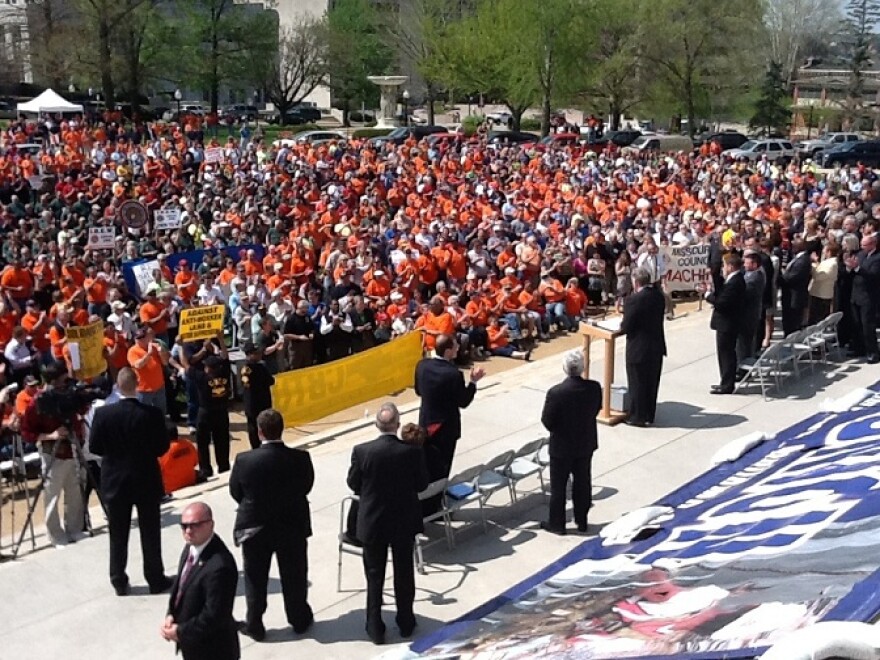 If Koster loses to Greitens, it's a near certainty that "right to work" will become law in Missouri. And even if Koster pulls it out, it's possible that "right to work" proponents could gain needed legislative supporters in the House and Senate to override a gubernatorial veto.
Members of organized labor certainly hope their fortunes are better than the August primary. That's when labor-backed state Senate candidates like Anne Zerr and Mark Boyko lost to proponents of "right to work." And unions also failed to oust organized labor critics like state Rep. Courtney Curtis, D-Ferguson.
How will Republicans perform in south St. Louis County and Jefferson County?
South St. Louis County and Jefferson County feature some of the state's most competitive political territory, especially in regional or state legislative elections. But there's an assumption that Trump may do much better in these two places than a typical Republican candidate – which again brings up the question of coattails.
There could be other variables to consider: Organized labor is a major force in these areas. And the prospect of a Greitens governorship could motivate Democrats to turn out in force, especially since a GOP win in that contest all but assures the passage of "right to work."
"There's ticket splitters galore this year," said former state Rep. Michael Frame, who used to represent part of Jefferson County. "I have heard the Trump-Koster thing a million times over. Folks are talking about that quite a bit in the diners, in the Hardee's, at the McDonald's."
Are Missourians ready to embrace millennial candidates?
One constant refrain of Kander's campaign pitch is that it's time for millennials to play a major role in pubic policy. But is that argument persuasive enough to defeat Blunt, who has built a formidable political organization since he entered politics in the 1970s?
From a technical standpoint, millennials are defined as anybody who was born after 1980. So attorney general hopeful Josh Hawley, who was born on Dec. 31, 1979, is part of the lamer Generation X. But for this questionable exercise, we can see if he makes it past the finish line as an almost millennial.
Regardless of how Kander and Hawley fare, millennials are set to at least make a mark in the Missouri Senate. Both competitors in the 19th District Senate seat (Democrat Stephen Webber and Republican Caleb Rowden) were born in the 1980s. And Democrat John Rizzo and Republican Andrew Koenig, who were also born in the '80s, are favored to win their state Senate match-ups. That makes this 1984-born writer feel just a little bit older.
How big will Republican majorities be in the General Assembly?
The GOP will once again control the Missouri House and Senate. The question is how big the party's margins could be.
Republicans could gain a small number of seats in both chambers: The GOP could gain ground in the Senate if Caleb Rowden and Randy Jotte prevail in their races. They could also capture several Democratic-held seats in the St. Louis and Springfield region.
But it's also possible that Democrats could win a seat in the Senate if Stephen Webber and Scott Sifton win their contests. And Democrats are cautiously optimistic that their candidates can help the party climb out of the superminority abyss.
This question will matter more if Koster beats Greitens. The margin of Republican dominance becomes less significant if Greitens signs GOP priorities into law.
How will newcomers fare?
The "newness versus experience" argument has been percolating on a national level for months. And it's also been playing out in Missouri.
Since neither Republican Jay Ashcroft nor Democrat Robin Smith have ever been elected to office, the next secretary of state will be a first-time elected official. It's less clear whether Greitens or GOP attorney general hopeful Josh Hawley will share a similar distinction.
And newcomers aren't just seeking statewide offices: They're also seeking to oust incumbent state legislators and members of Congress, as well as trying to outflank former state lawmakers for the St. Louis County Council.
Is it the year of the woman?
Missouri Democrats picked three women to be on the down-ballot ticket: Smith, attorney general nominee Teresa Hensley and treasurer hopeful Judy Baker. And all three hope that first woman to capture a major political party's presidential nominee can help their causes against well-funded Republican adversaries.
And while it won't be immediately apparent, it remains to be seen whether Clinton manages to get a higher percentage of Missouri's female voters than other candidates.
That, in turn, could lower the percentage of Trump's likely presidential win – and possibly help Democratic candidates.
What's in a name?
Mel Carnahan and John Ashcroft had very successful careers as Missouri statewide officials. One of the subplots on Tuesday is whether their sons, Russ Carnahan and Jay Ashcroft, can prevail in their statewide contests. (Robin Smith's father and brother both served on the St. Louis Board of Aldermen.)
And it's not just statewide races where scions of political figures are putting their names on the line. In Kansas City, former Mizzou Tiger Martin Rucker II is trying to follow his father into the Missouri House.
One of the benefits of coming from a political family is instant name recognition. And if voters approved of a candidates' family member while they served in office, then it's likely a net positive in the present day.
There's another train of thought, though, that coming from a famous political family could be a liability – especially since there may be a backlash against "politics as usual."
Will this expensive election be an end of an era?
This election cycle has seen astonishingly expensive races. Whether it's the most costly gubernatorial matchup in the nation or a $4 million state Senate contest, it's unquestionable that the price tag for running for competitive offices is off the charts in Missouri.
That could change on Tuesday, when voters are likely to approve a constitutional amendment to curb political donations to certain candidates. The "could change" qualifier isn't a reference to the measure's chances of passing (it has no substantial opposition), but rather whether it will actually stem the tide of money in Missouri politics.
If the proposal, known as Amendment 2, survives an expected legal challenge, big donors could still shuttle huge amounts of money into political action committees. And since the amendment doesn't curb donations to municipal or county candidates, it's within the realm of possibility that ambitious politicians may "run" for local offices as a way of raising huge amounts of money for state races.
This question won't be answered right away. But Tuesday could provide the start of the conversation.
On the Trail, a weekly column, weaves together some of the intriguing threads from the world of Missouri politics.