Politically Speaking: Congressman Smith on his path to D.C. and the unpredictable presidential race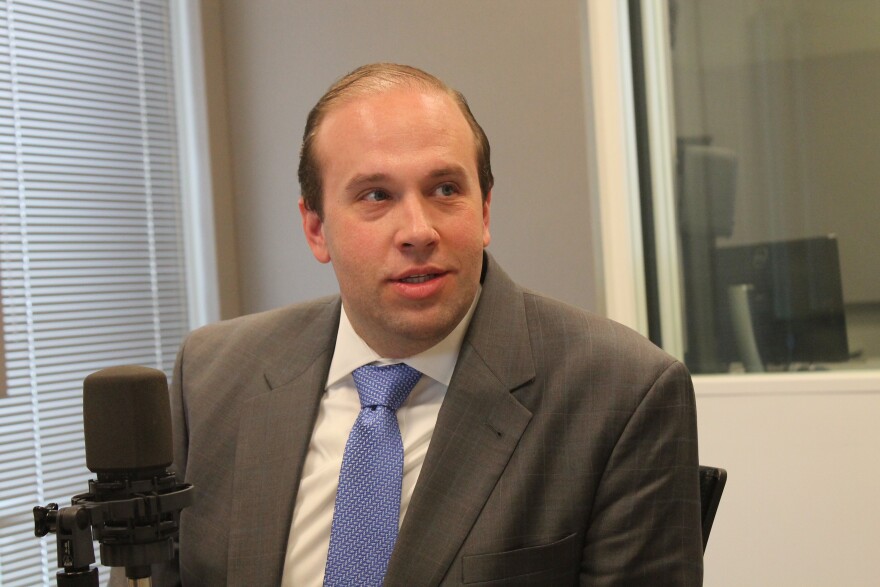 On this week's edition of Politically Speaking, St. Louis Public Radio's Jason Rosenbuam and Rachel Lippmann are pleased to welcome U.S. Rep. Jason Smith to the show for the first time.
The Republican lawmaker was elected to represent Missouri's 8th Congressional District in 2013 in a special election. The 8th District encompasses a swath of southeast and south central Missouri, as well as portions of the St. Louis metropolitan area like Jefferson County and all of Ste. Genevieve County.
Out of all the members of Missouri's congressional delegation, Smith probably charted the most unlikely path to get to Congress. He grew up under humble economic circumstances in Salem, the county seat of Dent County. He became heavily involved with Future Farmers of America in high school, ultimately earning the organization's highest degree.
At the age of 20, Smith graduated from the University of Missouri with two undergraduate degrees. He received his law degree from Oklahoma City University, and moved back to Missouri to practice as an attorney.
After state Rep. Frank Barnitz won an upset victory to the Missouri Senate in 2005, Smith ran for and won the Lake Spring Democrat's House seat in a special election. When he was sworn in, Smith was the youngest member of the Missouri House. His subsequent re-election bids were relatively uneventful, save for his 2006 race when easily outflanked fellow Salem gadfly Chief Wana Dubie.
Smith was elected to two major leadership positions in the Missouri House – majority whip and speaker pro tem. When U.S. Rep. Jo Ann Emerson, R-Cape Girardeau, resigned from office in 2013, Smith was one of many, many candidates that sought the 8th District GOP nomination. Smith outmaneuvered some of the Missouri Republican Party's heaviest hitters to secure the nomination, and then went on to defeat then-state Rep. Steve Hodges, D-East Prairie, in a special election.
Since getting elected to Congress, Smith was appointed to the powerful House Ways and Means Committee. He's sponsored bills aimed at curbing federal regulations and restricting how Internal Revenue Service fees can be used.
Here's what Smith had to say during the show:
Smith is one of the few members of Congress who is still paying for student loans. He says politicians need to take the issue seriously, especially since so many millennials are facing seemingly intractable student debt. "I strongly believe that people should be able to refinance and have lower interest rates," he said. "There's clearly some ground where Republicans and Democrats can work together on this issue. This is an issue is of importance to me, because it's important to a huge generation."
To get on the House Ways and Means Committee, Smith talked one-on-one with all 30 members of the GOP steering group that assigns members to members of Congress to committees. "I felt like that committee needed more rural representation," he said. "[They needed] individuals that understood poverty, that understood the ag background."
Smith has sponsored a bill requiring congressional approval for how the Internal Revenue Service can spend user fees. Smith said the impetus behind the legislation came when the IRS used fees generated from filing fees and other assessment to implement aspects of the Affordable Care Act.
Smith said he's happy that the presidential candidates are making trade policy a high-profile issue. He said Republicans need to provide more scrutiny to trade deals. "I truly believe that every trade agreement that our country enters into with another country, we need to make sure that it's fair and truly free," he said.
While he backed Florida Sen. Marco Rubio in the presidential contest, Smith said he would support any of the three remaining contenders – including businessman Donald Trump. "Folks are angry," he said. "And when I travel throughout those 30 counties in southeast Missouri, people are just upset with what's going on Washington, D.C. They want some things done. And they feel like nothing's being done."
Follow Jason Rosenbaum on Twitter: @jrosenbaum
Follow Rachel Lippmann on Twitter: @rlippmann
Follow Jason Smith on Twitter: @JasonSmithMO & @RepJasonSmith
Music: "Iron Man" by Black Sabbath