State school board classifies Normandy as unaccredited but praises progress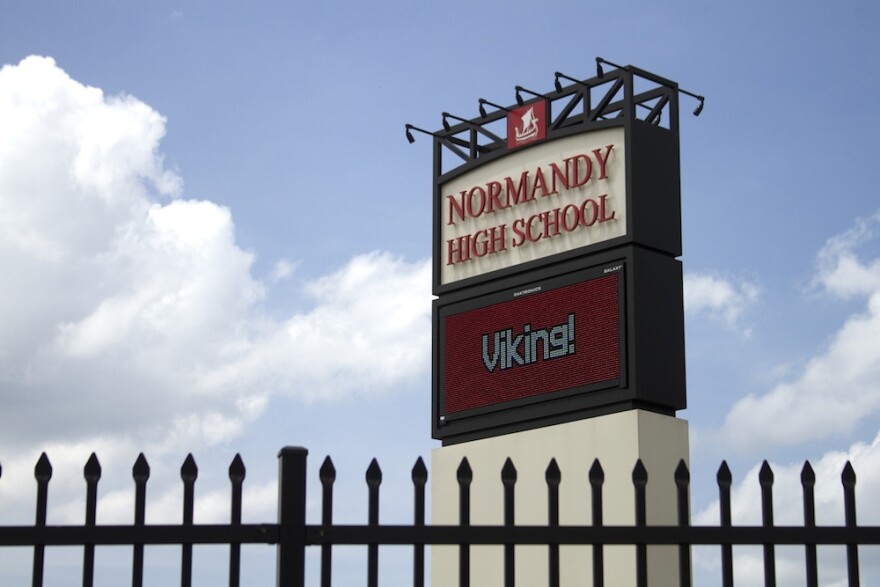 JEFFERSON CITY -- Going along with a recent court decision, the Missouri state board of education voted Tuesday to classify the Normandy Schools Collaborative as unaccredited, but it also praised progress the troubled district has made toward greater academic achievement.
Normandy's interim superintendent and the president of its appointed board presented its regular update to the board emphasizing improved discipline and its timeline to bounce back from the lowest evaluation score in the state.
At the same time, concerns about the district's ability to survive a continuing drain on its budget from transfer students underscored the urgency of its drive to make progress. The ongoing legislative debate about how Missouri's transfer law may be changed is also part of the mix.
Mike Jones of St. Louis, vice president of the state board, called the Normandy presentation "enlightening and hopeful," adding that the change from earlier assessments of the district was welcome.
"In the three years we've been dealing with Normandy," Jones said, "this is the most coherent presentation about what they are trying to do that I've heard. It's clear that you've got a game plan. What you have to do is develop a strategy and stick with it."
But, he acknowledged, depending on what changes may be made by legislators to the state's transfer law, the district could run out of money before it makes the academic progress it needs.
"The only question is: Can they get it done before they run out of money?" Jones said. "That's what this is about right now…. Without a legislative fix, we're going to be back here again."
The state board's vote to classify Normandy as unaccredited came in response to a ruling by St. Louis County Circuit Judge Michael Burton in February that the board's earlier move to classify the district as accredited under state oversight was done improperly. Given Normandy's academic record, Burton said, the district "is not merely 'unaccredited'; it is abysmally unaccredited."
The ruling is being appealed by the Department of Elementary and Secondary Education as well as by the state. But in the meantime, after a 30-minute closed meeting to discuss legal strategy the state board voted without debate to accept unanimously a recommendation from DESE that Normandy be unaccredited.
Superintendent search continues
In her presentation to the board, Andrea Thornton, who heads Normandy's appointed Joint Executive Governing Board, said that interim superintendent Charles Pearson has agreed to be considered for the post permanently. Praising his work so far, she said he has a unique perspective because he was on the governing board before he agreed to step in after Superintendent Ty McNichols resigned.
Still, she said, the board plans to move ahead with a nationwide search for a superintendent it hopes will be in place on July 1.
"We owe it to this community. This community has lost a lot of trust in us," she said, gesturing not only to Normandy officials but the state board as a whole.
"We owe it to them to deliver the very best we're able to deliver. We believe we have someone who is phenomenal in the role at the moment. He agrees that there could be someone who is even more phenomenal, and we owe that to the community."
Jones agreed, noting that when the state board chose Margie Vandeven as its new commissioner last year, it used a process that was competitive and open. No one in a top position, he added, needs the "baggage of backrooms."
"The way you're doing this is the right way to do so," Jones said, "because ultimately the community has to feel the process was open, transparent and fair, and the person who prevails in the process was really the best person."
State board member Vic Lenz of south St. Louis County noted that Normandy's public forum last week was a positive step because it called for solutions. An earlier meeting last year was "negative, negative, negative," Lenz said.
He praised the progress that Normandy has made, saying that it has to work to make sure that students who want to stay can still get a good education.
"The planning that you've done in the short time you've been there is obvious," Lenz said of the appointed Normandy board. "It's definitely moving in the right direction, so hang in there and keep that up."
In his part of the presentation, Pearson said Normandy is trying to make sure that teachers are trained to get the most out of students. And, he said, the district is also considering ways to encourage students to attend class more often than they do now. One of the best ways to reach them, he added, is to make them see how school will benefit them.
"They come based on whether they think school is meeting their needs now," Pearson said, "or will be meeting their needs in the near future."
Peter Kachris, a liaison between DESE and Normandy, said that with the district's tight budget, it has to make sure that money is used as much as possible to benefit students directly.
"We've got to find ways to move resources from where they are currently dedicated to at least be able to have more resources devoted to schools and to classrooms," he said. "That is very challenging."
He also said money is needed to compensate staff members who in some cases haven't had a raise in years.
"At some level," he said, "if we are going to have performance, we have to make some investment in the people who are going to give us that performance."
Could the district get more money by raising its property tax levy? Kachris said that avenue isn't a promising one.
"There just isn't enough property to make that meaningful in the short term," he said.
St. Louis and Kansas City
The Normandy presentation came after ones by the superintendents of schools in St. Louis and Kansas City, two districts that in the past have been unaccredited but have been upgraded to provisionally accredited in recent years.
Both St. Louis Superintendent Kelvin Adams and Kansas City Superintendent Stephen Green mapped out progress their schools have made in their annual evaluation and plans to achieve full accreditation soon.
As part of his transformation plan, which places St. Louis city schools in four categories based on performance, Adams said he wants to make sure the schools that have the most needs get the most attention, financial and otherwise.
'We ask you to do the impossible without being able to critique the system in which you are being asked to do it.'-- State board vice president Mike Jones
Both superintendents emphasized their partnerships with other institutions in the community to help their education efforts go further. They also said they would like to institute strategies that include longer school days and longer school years, but they are hampered by restrictions in Missouri law.
Jones, on the state board, said he would welcome further discussions on the regulations and laws that keep schools from achieving progress.
"We ask you to do the impossible," Jones told the superintendents, "without being able to critique the system in which you are being asked to do it.
"I don't consider myself a spear carrier for the status quo. If the status quo worked, we wouldn't be having these conversations."