St. Louis Board of Aldermen asked to approve $70 million bond, game-day revenue plan for stadium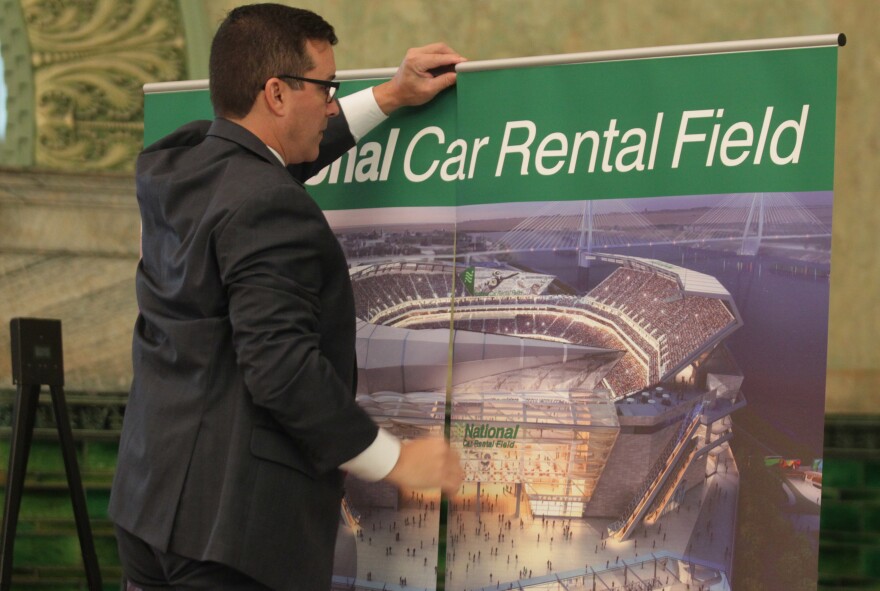 After weeks of anticipation, members of the Board of Aldermen finally have legislation spelling out how the city will pay for a proposed riverfront stadium.
Aldermen Tammika Hubbard and Jack Coatar's legislation is a critical portion of a multi-part financing plan for a stadium aimed at keeping the NFL in St. Louis. St. Louis Rams owner Stan Kroenke is planning to build a new stadium in Inglewood, Calif., which has prompted rampant speculation that the team's days in St. Louis are numbered.
The roughly $1 billion riverfront stadium would be financed with private, state and local funds.
Under the terms of the legislation and a financing plan, the city would issue about $70 million in bonds that would be paid off over a roughly 35-year period. The city would pay between $4.5 million and $8.99 million a year in debt service through 2051, which amounts to a little more than $233 million when accounting for interest.
The St. Louis Regional Convention and Sports Complex Authority would then use a recently signed naming rights deal as collateral of sorts to issue $75 million in bonds. Since naming rights deals are typically seen as team revenue, the city will rebate about 64 percent of "game day" taxes to the NFL squad that plays in the stadium. (And that means the city would keep about 36 percent of sales and earnings taxes emanating from the facility.)
This arrangement would also be in place for non-NFL games like concerts, but would not apply to Major League Soccer matches, high school sports or nonprofit events.
Mary Ellen Ponder, chief of staff for St. Louis Mayor Francis Slay, said in a statement that the legislation "represents an opportunity that, if passed, will reinvent our historic riverfront, revitalize our downtown, and ensure that St. Louis will always be an NFL city."
"The benefits will be immediate and lasting, but most of all critically important to the economy, reputation and quality of life in St. Louis," Ponder said. "Mayor Slay and his staff have worked very hard with the Task Force to develop a plan that is fair and reasonable. Mayor Slay is now proud to support [the legislation] and looks forward to working with the Board of Aldermen to earn its approval in the weeks ahead."
On Friday, Hubbard said, "I'm confident that we should be able to move it through" the Board of Aldermen.
"I think it's important because it's one of our economic engines," Hubbard said. "We have a lot of tourism, which creates jobs in our service industry as far as our hotels. There will be an abundance of construction jobs that comes with the stadium. We're a sports town, and people are just excited for us to continue to have a team in St. Louis."
Into the trenches
The first step for fans of the stadium bill will be getting the measure through one of the Board's committees. As of 2:30 p.m., Board of Aldermen President Lewis Reed was mulling over whether to send the legislation to either the Ways and Means Committee or Housing, Urban Development and Zoning Committee.
Neither committee would likely to provide a rubber-stamp for the legislation. Both contain members who are either skeptical about publicly financing stadiums or are perturbed that stadium funding isn't being put to a citywide vote.
"Both of those are challenging committees," Reed said on Friday morning. "In both of those committees … the people on those committees will spend the time they need to spend to wade through the details of this bill. There's a lot to be considered here. Again, it is important that St. Louis remain a NFL city. But we also need to ask 'at what cost?' We need to make sure that there's a balance in the expenditures of taxpayer funds."
Both Coatar and Hubbard said that they didn't have a preference about where the bill lands. But Coatar added "we have our work cut out for us to get this thing out of committee."
"You've got people who are going to be fundamentally opposed to spending any tax dollars on this project. Which I understand – and I get their position," Coatar said. "There's also going to be some people that are going to be all about this project, because they want to remain a NFL city. And then there are a few people in the middle, that basically still want some more details. They want to learn about the project, see the financials – and those are the folks that I'm going to focus my attention on."
Ponder said earlier this week that the mayor's office wants the bill passed by the end of the year. NFL owners could vote on whether the Rams bolt to the Los Angeles area in the next few months.