On the Trail, an occasional column by St. Louis Public Radio political reporter Jason Rosenbaum, takes an analytical look at politics and policy across Missouri.
On the Trail: Stadium bill will be shipped to a deeply skeptical aldermanic committee
It's fair to say last week produced plenty of copy about St. Louis' proposed riverfront football stadium. There was a $158 million naming rights deal, the approval of Brownfield tax credits and questions about how much the facility will actually cost.
What last week didn't deliver, though, was the introduction of legislation at the Board of Aldermen detailing the city's share for the $1 billion project. The confusion and delay comes as owners are apparently getting antsier and antsier about the stadium's funding particulars, even though it's not clear if St. Louis Rams owner Stan Kroenke has enough support to move his team to the Los Angeles area.
But even though aldermen don't have a bill yet, they've pretty much selected a venue for committee hearings. St. Louis Board of Aldermen Lewis Reed said on Friday that he'd probably send the legislation to the Board's Ways and Means Committee, which is led by Alderman Steven Conway, D-8th Ward.
"If it comes to the Ways and Means Committee, we'll have hearings and we'll also do a nighttime hearing to give the people an opportunity to tell us what they think," said Conway, who is an attorney and certified public accountant. "It'll be important to us to scrutinize all of the financial details. And that's what my background is. And we'll look at it as close as possible. And we'll do it in the most judicious manner fashionable and then take a vote on it."
But while much of the focus has been on Alderman Antonio French's threat to gum up the works on the stadium plan without a comprehensive plan to fight crime, it's clear that trepidation throughout the Board is deeper than just one member. Some are unhappy that a voter-approved ordinance requiring a citywide vote for stadium funding was struck down in court. Others don't like how St. Louis County doesn't have to chip in for the new stadium. And then there's traditional unease about publicly financing sports stadiums, especially when Kroenke can probably build three or four of them with his vast fortune.
And many of these stadium skeptics are on the Ways and Means Committee, including French, Alderman Sam Moore, D-4th Ward, Alderman Chris Carter, D-27th Ward, and Alderman Scott Ogilvie, D-24th Ward.
"It's important to me that we make a financially responsible decision for the city. You can't keep saying 'it's essential to have a football team' when it costs the city of St. Louis a substantial amount of tax revenue every year," Ogilvie said. "The big question that we should be asking ourselves now or maybe should have asked ourselves a few years ago is it good public policy for the city of St. Louis to functionally own two football stadiums?"
Roughly a week after making his dramatic ultimatum, French met with Mayor Francis Slay late last week to talk about fighting crime. But he emphasized last Thursday that he didn't just want a single meeting – he wants "a plan that is satisfactory to my constituents and people in other neighborhoods who have been affected by this violence."
And for all the talk about a tight timeline to make decisions on the stadium, French says nobody should expect an instant decision from the Ways and Means Committee.
"Even aside from this crime issue, if they think that they're going to be able to present a billion dollar development deal in front of the Ways and Means Committee and for us to vote on it in one meeting and approve it – it's completely irresponsible," French said. "Completely irresponsible."
Asked if a stadium funding bill could pass out of his committee, Conway replied: "I would say that the vast majority of the aldermen are rational."
"We need the economics and job creation here in the city," Conway said. "And you've got to remember: When we pass a bill like this, that job is guaranteed to employ city residents and minorities and women. A billion dollars? That's $250 million in jobs for minorities and women and city residents – guaranteed minimum. That's a hard thing to overcome."
But Reed warned any bill that requires the city to pay more than $6 million a year for the stadiumwould have "a very difficult to get it passed out of the current Board." St. Louis City Comptroller Darlene Green sent out a press release on Friday afternoon contending stadium backers are effectively asking the city to absorb what would have been the county's share of the stadium.
The figures in Green's memo are close to what was detailed in St. Louis Magazine, a plan that was compared to "basically dipping your finger in batter and tasting it and saying you tried the cake." (Folks from the stadium task force didn't return an e-mail for comment, but co-chairman Dave Peacock told the St. Louis Post-Dispatch that Green was examining an outdated proposal.)
"It's unknown," said Alderman Joe Vaccaro, a 23rd Ward Democrat and a member of the Ways and Means Committee. "I think it's a hard sell in either direction. It's a billion dollars in investment coming into the city with the city roughly putting up 20 to 30 percent of that. So the economic impact instantly is really good. I think the question is what's the long-term impact as far as financial impact goes? And are we going to have a team? There are a lot of things factoring into it."
Political minefield
So what does Peacock think of the machinations in St. Louis City Hall?
While conceding that he's not "familiar with what the aldermanic rules are or if filibusters are common or uncommon or if they're broken," Peacock said on Thursday that he thinks "it would be unfortunate to stop progress for our city."
"What I've read in news reports and heard about Mr. French is he's committed to seeing a better St. Louis," Peacock said. "We think this can be done in a way that creates a better St. Louis. And done in a way that's actually efficient as well. And that's the process we're going about to work with people to understand what's the best way to do it."
(Peacock also added he thinks "that the community needs to not just do one thing at a time." French said he agrees that the city can deal with the stadium and crime issue simultaneously, but added "we do have to deal with our issue.")
But the Board isn't the only potential hazard for the stadium, besides getting a taciturn billionaire to stay in St. Louis.
Some state lawmakers, including high-ranking members of the House and Senate Budget Committees, have explicitly stated that they won't approve payments on stadium bonds if they aren't first approved by a legislative or public vote. That may present a problem for funding the stadium, especially if it scares away potential bond buyers.
"I think if they don't appropriate, it could be a threat," Peacock said. "I think the history suggests that these appropriations typically go through because of the maintenance of the credit rating or the desire to maintain the credit rating. Next year, the state of Missouri is making a $12 million payment regardless whether we have a NFL football team or not. There is tax revenue supporting that payment if you have a NFL team. There's not if that NFL team moves."
(For what it's worth, the Edward Jones Dome bonds are currently being paid off with the state's general revenue fund – not any dedicated tax or fee. But the Rams' presence clearly generates "athletes and entertainers" taxes and other state revenue sources.)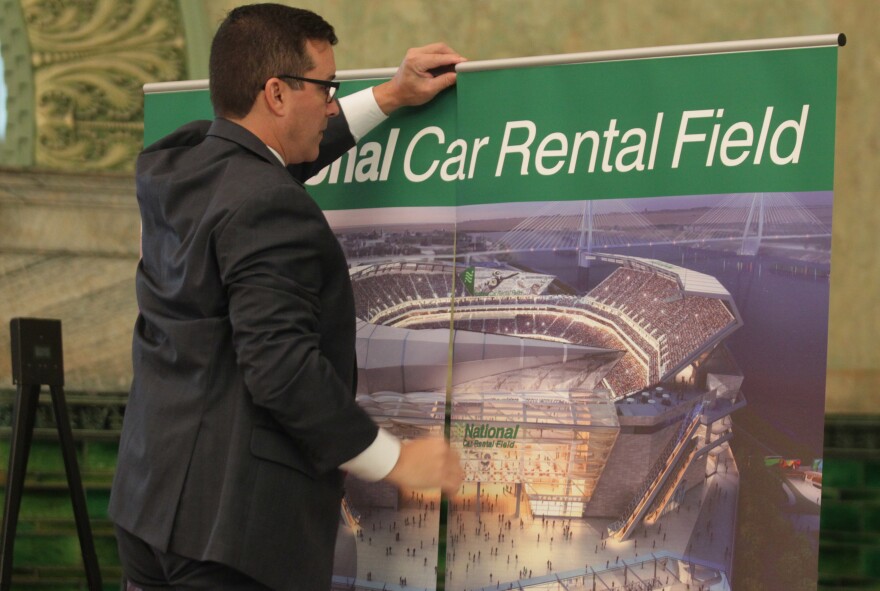 When asked for his opinion about issuing stadium bonds without a legislative or statewide vote, Peacock pointed to the realities of NFL and legislative politics:
"We're in interesting times as it relates to a timeline that was imposed upon us," Peacock said. "I'm not blaming the NFL for that, because it was market forces that lead them to progressing on the L.A. situation. And we need to move fast.
"I also know legislative votes can be challenging," he added. "And as much frustration people have about one person extending bonds, I know at least in the Senate one person can kill just about anything. And so, if it's a question of one person keeping something alive and redeveloping our riverfront and redeveloping our city or one person killing it, I think I'd rather default to someone who's trying to lean forward."
On the Trail, a weekly column, weaves together some of the intriguing threads from the world of Missouri politics.