Aldermen enter 'critical' week for bid to raise St. Louis' minimum wage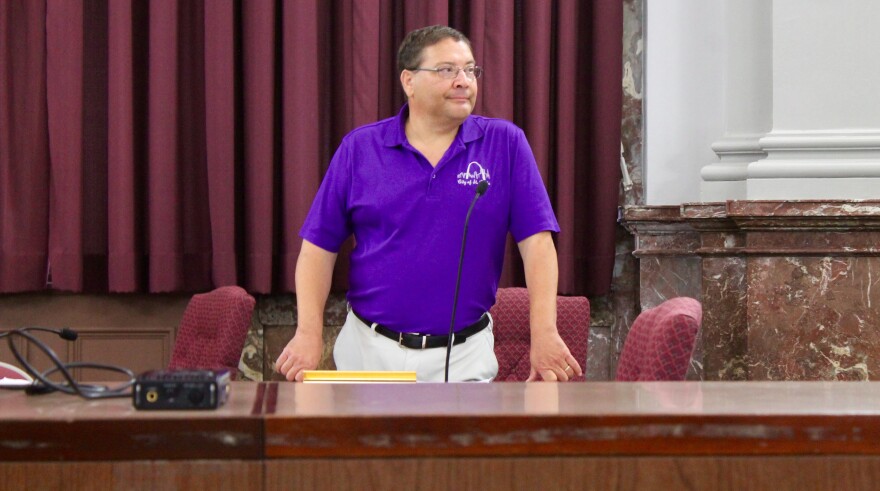 When the St. Louis County executive put the kibosh on the county raising the minimum wage, it may have complicated St. Louis' already challenging legislative effort.
That's partly the view of Alderman Joe Vaccaro, the 23rd Ward Democrat who is now chairing a committee examining legislation raising the city's minimum wage to $15 an hour. He said Steve Stenger's comments took him by surprise – and added a layer of complexity to an issue that could reach a critical turning point this week.
"This has got to be the toughest bill that I think we've ever had," said Vaccaro, who was given charge over the committee hearing the bill after Alderman Stephen Conway, D-8th Ward, stepped away due to a conflict of interest. "Nobody wants to not be supportive of working people. And at the same time, we really can't turn our backs on businesses either and the elderly. I know there has to be some changes to the bill. And I know they're being made."
At issue is Alderman Shane Cohn's bill raising the city's minimum wage to $15 an hour by 2020. It's galvanized support among some labor unions, prominent politicians and activist groups, as well as opposition from key business organizations such as St. Louis Regional Chamber.
This week could be a big moment for Cohn's proposal. Vaccaro's Ways and Means Committee will hear public testimony on the legislation on Tuesday evening – and could potentially consider amendments on the bill on Wednesday afternoon. He said one of the points of discussion could be Stenger's declaration that St. Louis County won't pursue a minimum wage increase.
Vaccaro has said that the $15-an-hour figure in Cohn's bill will have to be lowered – or the legislation may not pass the Board of Aldermen. That's especially the case, he said, since some businesses have openly talked about leaving the city if Cohn's bill passes. (Some, including Cohn, contend that such fears are overblown.)
"My hopes are we come to something reasonable that we can help people and not hurt businesses. And that's going to be hard," he said. "And what that number ends up being, I think that's going to determine or not whether this things makes it or not."
Vaccaro went on to say that if Cohn's bill stays at $15 an hour, it will either have a poison pill amendment attached that links implementation to county action -- or simply fail.
"If they want to stick with that number and it fails, we've done them no good at all," Vaccarro said. "If somebody offered me a $2 or $3 raise – I'd be happy. If I said 'no, I either want a $7 raise or nothing' and I get nothing – that just doesn't even make sense."
Lara Granich of Jobs With Justice said her group still wants aldermen to adopt a $15 an hour threshold. She agreed this week could be critical for Cohn's proposal -- which has drawn wide attention from supportive activist groups and hostile state lawmakers.
"I know that aldermen in the city of St. Louis, particularly in the Ways and Means Committee and the sponsor, are working really hard to listen to concerns and really work on solutions for them rather than making those concerns an excuse to walk away from the responsibility to people who work," Granich said.
Stenger comments prompt fallout -- and pushback
Granich said her group was greatly disappointed by Stenger's comments last Friday to St. Louis Public Radio. The Democratic official said the county can't raise the minimum wage in municipalities – and that only taking such action in unincorporated areas would create "a really messy situation."
"Frankly, I'm tired of hearing politicians say they support working families but then they sit on the sidelines when we now have clear opportunity for them to help mothers and fathers trying to survive on $300 a week," Granich said. "It's unfortunate that Mr. Stenger is saying at the moment he's not willing to stand up for the families in the unincorporated parts of the county because it might be messy."
Granich sent this reporter a quote from Charles Chestnut, who works at Vinh's Convenience Store in St. Louis County: "My family needs to pay the rent, keep food on the table. Mr. Stenger says 'I support efforts to raise wages for our working families.' Well, we're here, and we're drowning. He's not going to help us because the solution might be 'messy'? Please."
Granich said Stenger and the St. Louis County Council should "absolutely" consider raising the minimum wage in unincorporated St. Louis County – and added her group would work with individual municipalities to raise the minimum wage. (Those efforts could be complicated if a bill banning local minimum wage increases is signed or implemented over a gubernatorial veto.)
"We think it would be tremendous for those folks. That is an incredible opportunity," Granich said. "It could be an incredible legacy for County Executive Stenger. So I hope that he continues to think about this and I hope he understands how people are willing to work hard with him to figure out a way."
Still, Stenger's comments attracted a different type of response from Downtown STL, Inc., a booster group for downtown St. Louis. The group's president and CEO -- Doug Woodruff -- said in a statement "there is very clear consensus that a unilateral increase, without similar commitment from St. Louis County, would be detrimental to Downtown businesses."
"Some downtown employers state that they would have to reduce staff or business hours if the bill is approved. In general, our members believe that this would cause businesses to leave the city," said Woodruff, who panned Cohn's bill earlier this month on Twitter before Stenger spoke about the issue.