License Collector Thompson clashes with aldermen over bill overhauling business regulations
Members of the St. Louis Board of Aldermen are trying to streamline how the city licenses and regulates businesses.
But the St. Louis' license collector is strongly opposing some aspects of the legislation, contending it will drain the city's coffers.
Alderman Lyda Krewson, D-28th Ward, and Alderman Scott Ogilvie, D-24th Ward, introduced three bills Friday. The first drops the cost of a one or two-person business license from $200 to $25. The second makes it easier for small businesses to get home occupancy waivers. And the third is a massive overhaul of the city's business code.
Krewson told reporters about a number of antiquated regulations still on the books, including ones against arcades, barbershops and massage therapists. She added, one statute even requires cattle sellers to show the St. Louis Board of Police Commissioners – which no longer exists – a letter proving "that you're of good moral character."
"[The bill] really repeals a lot of the arcane language that's currently in our code that's just built up by very well-meaning aldermen over the years," Krewson said. "But it's built up where a barbershop has to close at 6:30 p.m. I mean, I don't know? Is that really sensible anymore?"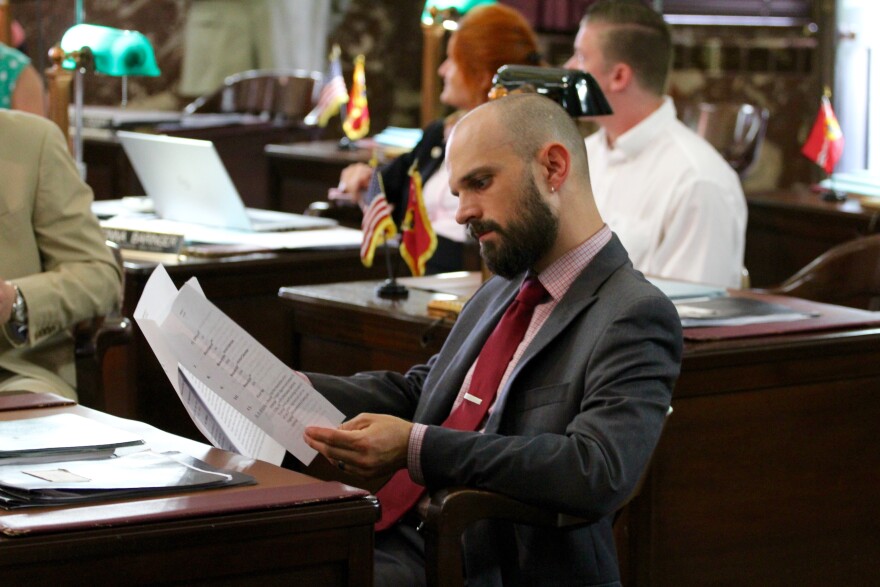 Ogilvie said more and more people are running their own businesses.
"The fact is, more and more people are engaged in some sort of self-employment, freelance work, part-time employment possibly outside of their full-time job," he said. "And we don't want to be overly burdensome on those people who are just trying to earn a living."
"The graduated business license tax in some instances is just the most regressive tax people are going to face," he added. "Because it's not scaled to your revenue or your income. It's just a flat $200 fee."
Thompson opposes legislation
St. Louis License Collector Mavis Thompson, whose office collects license fees, opposes
Krewson's and Ogilvie's efforts.
At a press conference on Friday, Thompson said slashing the one-to-two person business license fee from $200 to $25 would cost the city around $1.3 million. She emphasized that business license funds help pay for important city services, including police and fire departments, streets and the St. Louis Zoo.
"The statute says that all businesses have to be licensed," Thompson said. "It's a way of safeguarding the public. I don't disagree that the policy for [one-to two-person businesses] needs to be reviewed but not as drastically as reducing the fees 87 percent and making a downfall of $1.3 million to the city. I do believe that the policy needs to be revisited – but not this extreme."
Thompson said she wasn't consulted about the legislation – except for when Krewson sent copies of the bills to her office earlier this week. She went onto say that "she felt no need" to talk with the sponsoring aldermen about the bills: "I didn't give input on the proposed bills. And once I read them, I totally disagreed."
"I'm passionate about the responsibility that the voters have given me to collect the business fees and make sure that I'm making fiscally-sound policies here in the license collector's office – as well as look at some of the archaic laws," Thompson said. "I concur with all of that. But I need to be consulted so I can give my input. Who knows best but the license collector who actually sits and holds the office – and does the work every day?"
Asked about Thompson's concerns regarding the reduction in business license fees, Krewson said: "We don't want to run the city on the backs of small businesses."
"We're interested in getting all the businesses registered and make it easy for small businesses to get started," she said. "And then, hopefully they'll grow into bigger business and the fees are quite substantial there. And I appreciate the license collector. You're right, it is her job to collect the license fees. But the fees are established by ordinance."
Board president seeks new funding mechanisms for rec centers
Also on Friday, Lewis Reed, the president of the St. Louis Board of Aldermen, introduced a measure allowing private money to be donated to the city's seven recreation centers.
The bill sets up individual funds for each of the seven centers that could accept donations. It also directs the small amount of money generated by the centers into those funds.
"We see the difference that Forest Park Forever made because independent donors had an opportunity to donate to the well-being on the park and it has transformed the park," Reed said. "If we open up our opportunities for people to give directly to our recreation centers, I think we will see a major boost in programs and services for our youth."
He said expanded recreational opportunities could help get the city's spiraling crime rate under control.
Disclosure: One of the authors of this story, Jason Rosenbaum, paid for a one-person business license in 2011 and 2012 in St. Louis.