Jefferson Barracks Park will dedicate new plaza and monument on Friday
The St. Louis County Parks Department will dedicate a sculpture and plaza at the Powder Magazine Museum at Jefferson Barracks Park on Friday.
The centerpiece of the plaza is a bronze monument by St. Louisan Barbara "B.J." Mungenast that pays tribute to the 3rd U.S. Infantry Regiment, known as The Old Guard. The sculpture is a duplicate of a monument that Mungenast has created for Fort Myer, Virginia, where the regiment is based.
The sculpture portrays the ceremonial and combat roles of the regiment that was established in 1784 and is the Army's oldest active-duty infantry unit. Soldiers of The Old Guard serve as the Army's official honor guard and provide the 24-hour vigil at the Tomb of the Unknowns at Arlington National Cemetery.
Mungenast said she was asked to create the tribute for Fort Myer after the terrorist attacks on Sept. 11 by now-retired Col. James Laufenberg, who was regiment commander at the time. That project is still in progress. The sculpture at Jefferson Barracks was cast from the same mold.
The nonprofit Old Guard Missouri Foundation was established to fund and build the plaza at Jefferson Barracks to replace an old plaza behind the museum. The site has a commanding view of the Mississippi River.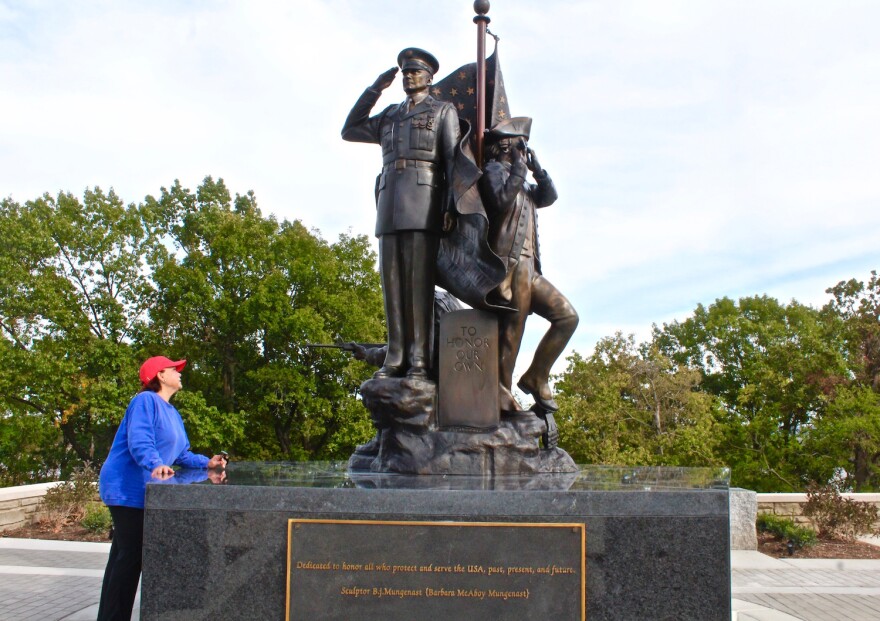 Mungenast was on site when the monument was set in place on Oct. 20. She said she designed the statue to honor soldiers, not generals. Her late husband, Dave Mungenast who founded the Mungenast automotive dealerships in St. Louis, served in the Army Special Forces as a Green Beret.
"I'm a native St. Louisan, and my late husband, as well. So, I was honored to be asked to place one of my sculptures here,'' Mungenast said. "This is just wonderful to be part of this St. Louis scene here. It means a lot."
The museum was closed briefly when work began on the plaza, but it is open once again to the public, according to Angie Riehn, public information coordinator for the county parks department. The museum's exhibits tell the story of the Jefferson Barracks Historic Site, which served as an Army post from 1826 to 1946. The museum's hours are noon to 4 p.m. Wednesdays through Sundays.
Friday's 5 p.m. dedication will include remarks from Laufenberg, county officials and music by the Lewis and Clark Fife and Drum Corps.
Follow Mary Delach Leonard on Twitter: @marydleonard