The Keys And Strings Hour And New Music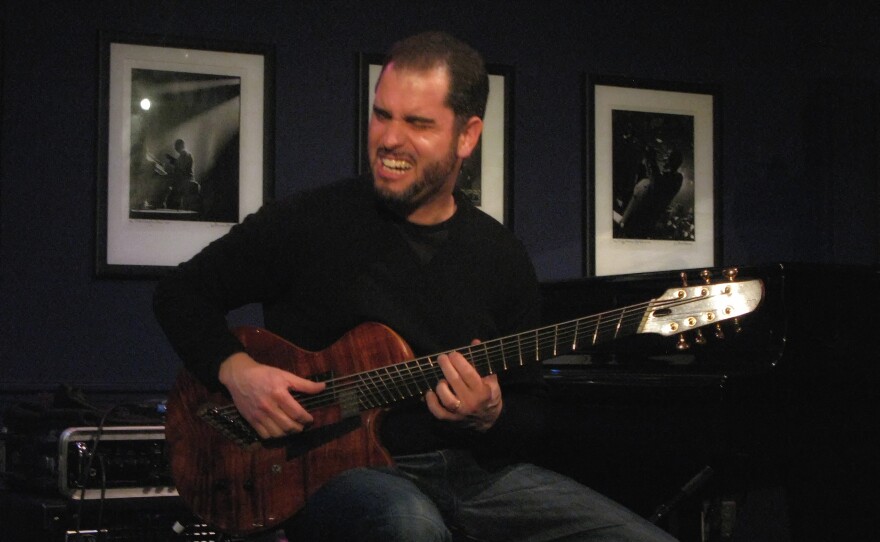 Charlie Hunter (2011)
Dennis C. Owsley / Copyright Dennis C. Owsley
Joe Pass (heard on this show), Herb Ellis (1986)
Dennis C. Owsley / Copyright Dennis C. Owsley
Ray Brown-1987
Dennis C. Owsley / Copyright Dennis C. Owsley
Gary Burton-2002
Dennis C. Owsley / Copyright Dennis C. Owsley
Romero Lubambo-2006
Dennis C. Owsley / Copyright Dennis C. Owsley
Daduka Da Fonseca-2006
Dennis C. Owsley / Copyright Dennis C. Owsley
Dan Rubright-2014
Dennis C. Owsley / Copyright Dennis C. Owsley
Steve Schenkel-2004
Dennis C. Owsley / Copyright Dennis C. Owsley
Karriem Riggins-2013
Dennis C. Owsley / Copyright Dennis C. Owsley
Christian McBride-2014
Dennis C. Owsley / Copyright Dennis C. Owsley
John McLean-2016
Dennis C. Owsley / Copyright Dennis C. Owsley
Ben Wendel-2015
Dennis C. Owsley / Copyright Dennis C. Owsley
Christian Sands-2014
Dennis C. Owsley / Copyright Dennis C. Owsley
Marcus Baylor-2008
Dennis C. Owsley / Copyright Dennis C. Owsley
Chris Potter-2011
Dennis C. Owsley / Copyright Dennis C. Owsley
Scott Colley-2012
Dennis C. Owsley / Copyright Dennis C. Owsley
Bill Stewart-2005
Dennis C. Owsley / Copyright Dennis C. Owsley
Toots Thielemans-2003
Dennis C. Owsley / Copyright Dennis C. Owsley
Steve Wilson-2012
Dennis C. Owsley / Copyright Dennis C. Owsley
Steve Nelson-2013
Dennis C. Owsley / Copyright Dennis C. Owsley
Renee Rosnes-2003
Dennis C. Owsley / Copyright Dennis C. Owsley
Peter Washington-2011
Dennis C. Owsley / Copyright Dennis C. Owsley
Bob Mintzer-2003
Dennis C. Owsley / Copyright Dennis C. Owsley
Randy Breaker-2002
Dennis C. Owsley / Copyright Dennis C. Owsley
Martin Bejerano-2007
Dennis C. Owsley / Copyright Dennis C. Owsley
Peter Slavov-2014
Dennis C. Owsley / Copyright Dennis C. Owsley
Jazz Unlimited for Sunday. June 25, 2017 will be "The Keys and Strings Hour + New Music." This edition of Jazz Unlimited will be in two parts. The quieter side of jazz will feature vibes and guitars with Charlie Hunter & Scott Amendola, Victor Feldman, Ralph Towner & Gary Burton, Jim Hall & Ron Carter, Joe Pass, Quadrant, the Trio Da Paz & Joe Locke, Dan Rubright & Steve Schenkel, Milt Jackson and Pat Metheny. New music will represent the noisier side of jazz with new recordings by the Bill Evans 1960 trio, the John McLean/Clark Sommers Band, Rene Rosnes, Christian Sands, Jaco Pastorius & the Word of Mouth Big Band, Gerald Clayton, Erroll Rakipov, and the New Vision Sax Ensemble.
The Slide Show has my photographs of some of the artists heard on this show.
The Archive of this show will be available until the morning of July 23, 2017.
This video of the Trio Da Paz [Romero Lubambo (g) Nilsson Matta (b) Daduka Da Fonseca (d)] playing P'Ro Flavio at JazzBaltica in 2007.