The Music of Bill Evans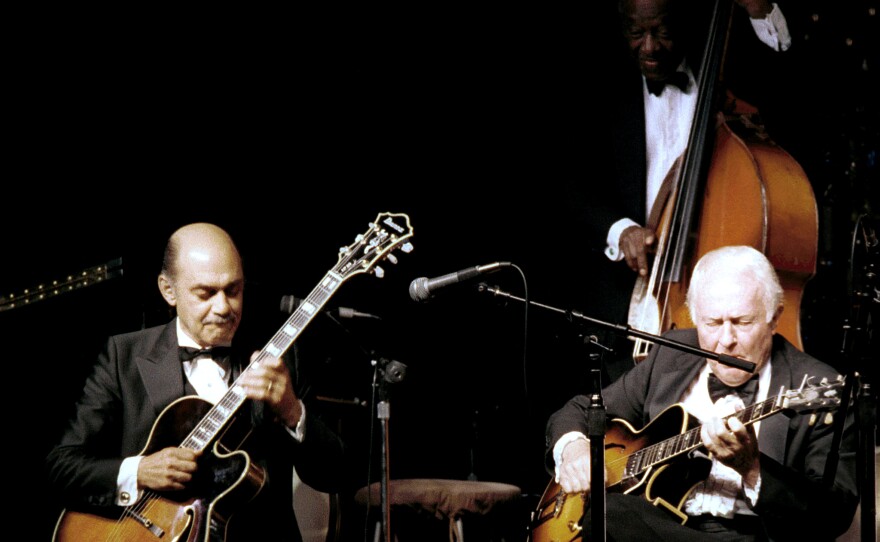 Joe Pass & Herb Ellis-1986 (Ellis not heard on this show)
Dennis C. Owsley / Copyright Dennis C. Owsley
Art Davis-2007
Dennis C. Owsley / Copyright Dennis C. Owsley
Bob Bowman-2007
Dennis C. Owsley / Copyright Dennis C. Owsley
Janice Borla-2007
Dennis C. Owsley / Copyright Dennis C. Owsley
Dan Haerle-2007
Dennis C. Owsley / Copyright Dennis C. Owsley
Jack Mouse-2007
Dennis C. Owsley / Copyright Dennis C. Owsley
Jeanfrancois Prins-2007
Dennis C. Owsley / Copyright Dennis C. Owsley
Judy Niemack-2007
Dennis C. Owsley / Copyright Dennis C. Owsley
Karrin Allyson-2004
Dennis C. Owsley / Copyright Dennis C. Owsley
Joe LaBarbera-2002
Dennis C. Owsley / Copyright Dennis C. Owsley
Jazz Unlimited for May 21, 2017 will be "The Music if Bill Evans." Pianist Bill Evans is arguably the most influential pianist in jazz since the early 1960's. His elegant, impressionistic pianism and compositions will be celebrated by hearing recordings of him with his own groups, with others and by other instrumentalists and vocalists playing and singing his music. The featured musicians, in addition to Evans, will include vocalists Johnny Hartman, Tony Bennett, Janice Borla, Karrin Allyson and Judy Niemack along with instrumentalists Tadd Dameron, Joe Pass, the Miles Davis sextet, the Kronos Quartet, Oliver Nelson, the Gunther Schuller Orchestra, George Russell, the Charlie Haden/Chris Anderson Duo and a piano duet between Evans and Bob Brookmeyer.
The Slide Show contains my photographs of some of the musicians heard on this show.
The Archive of this show will be available until the morning of May 29, 2017.
webju052117hour2.mp3
Jazz Unlimited 5/21/17 Hour 2 Archive
webju052117hour3.mp3
Jazz Unlimited 5/21/17 Hour 3 Archive
This is a video of the Bill Evans' last trio (Bill Evans (p) Marc Johnson (b) Joe LaBarbera (d)) playing "Who Can I Turn To" at a concert in Iowa in 1979.