St. Louis veteran earns college degree while recovering from near-fatal brain injury
Joshua Eckhoff of Ballwin smiled as he described posing for pictures at his college graduation in December — and how proud his mother was. Earning that degree is the latest achievement for the Army veteran who suffered a brain injury in Iraq 10 years ago that no one thought he could survive.
On Feb. 6, 2008, as Eckhoff led a convoy searching for roadside bombs, an improvised explosive device pierced the armored vehicle he was riding in and smashed into the right side of his head. His injury was so severe that the Army notified his mother that he had died in combat.
"I call that my 'alive day,' '' said Eckhoff, 33. "The anniversary of my injury every year, we celebrate it like a birthday."
Next month, on the anniversary of his "alive" day, Eckhoff will also be celebrating the completion of a major goal on his path to recovery: In December, he graduated with honors from the University of Missouri-St. Louis.
Ten years ago, his doctors weren't sure what his recovery would look like.
Eckhoff was treated at the Minneapolis VA Medical Center, which has a special unit for treating traumatic brain injuries. When he awoke from a medically-induced coma several weeks after his injury, he couldn't speak, swallow or walk. He had to relearn everything.
"The projectile concaved my Kevlar helmet into the right side of my skull. And they had to surgically remove it,'' he said. The right hemisphere of my brain was injured, so my injuries are very similar to a stroke. I can't use the left side of my body very well."
After months of therapy, Eckhoff was able to walk, and he continues to make slow progress, working with a trainer who assists disabled athletes. He has started running again.
"I don't feel like I really have limits on how I can continue to improve,'' he said. "I think I've just always viewed myself as constantly learning and constantly improving.''
Eckhoff speaks deliberately, pausing to search for the right words.
"It's taken a lot of time for me to feel like I can speak confidently,'' he said. "But I always told myself these abilities were retained for a reason. I've got to find a way to use them to the best of my ability."
That's why Eckhoff has been willing to talk about his survival and recovery in interviews and at public gatherings. It is difficult, but he considers it his duty. And it's one that he approaches with honesty and graciousness. He can no longer serve in the military, but he can educate people about veterans issues.
He usually leaves out the part where the Army awarded him a Bronze Star, in addition to a Purple Heart.
'My brain just works differently'
On the walls of Eckhoff's suburban ranch home in Ballwin are gifts from a grateful nation: Handmade quilts and patriotic artwork sent to him while he was recovering in the hospital. A framed baseball jersey signed by former St. Louis Cardinal Matt Holliday.
Eckhoff lives just a few doors down from his mother. He credits her with helping him to live independently while being there to assist him when needed.
It's hard for me to really fathom what my life could have been like had I not been injured because at this point, it's what I live.
He serves as a spokesman for the Joshua Chamberlain Society, a St. Louis nonprofit that provides long-term support to him and other area veterans who suffered permanent combat injuries while fighting in Iraq and Afghanistan. The group paid to renovate his bathroom to make it accessible and helps him with transportation.
"All the drive in the world wouldn't have made me able to recover without the exceptional care I've had every step of the way and the outstanding support I've had from family and friends,'' Eckhoff said.
A 2003 graduate of Parkway South High School, Eckhoff joined the Missouri Army National Guard with his mother's permission, while he was still in school. He turned 18 during his first tour of duty in Iraq. He was 23 when he suffered his life-altering injury.
"It's hard for me to really fathom what my life could have been like had I not been injured because at this point, it's what I live,'' he said. "I came home after my injury and a number of my friends already had jobs and they were building families and it's almost like my life was 'pause' and then 'reset.' It's been trying to view my experiences through the lens of my peers' experiences, and I constantly have to remind myself that I have my own journey. I never really intended to live the lives these people did because from day one I knew I wanted to serve.''
Eckhoff also always planned to go to college. He was accepted into UMSL's Pierre Laclede Honors College before leaving for his first tour in Iraq.
Eckhoff was determined to complete college after his injury. But he had limited stamina and was able to handle only one or two classes every semester.
"In the beginning, they said I wasn't going to walk again,'' he said. "And then when somebody told me that it wasn't likely that I would return to college and graduate with my degree, both of those statements were more motivation for me than they were denials of the possibilities. It was almost like they lit a fire under me.''
His bachelor's degree is in liberal studies, with minors in psychology and UMSL's honors program.
"I always saw myself as a writer or an editor,'' he said. "So I always wanted a B. A. in English. But after my injury that wasn't really feasible because it takes me so long to write now. My brain just works differently.''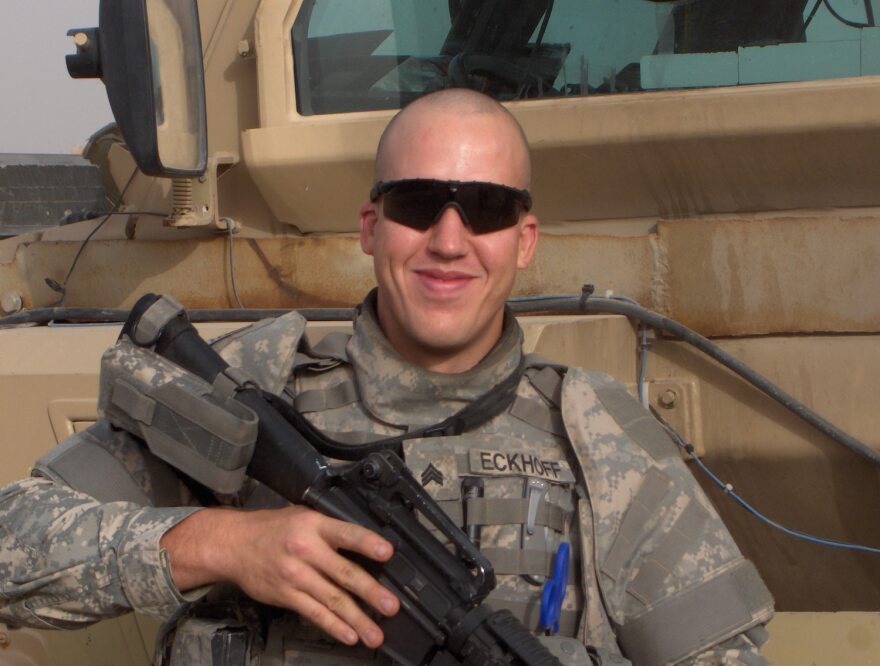 Continuing a life of service
Finding a job is his next challenge. Eckhoff plans to work with an employment counselor but is concerned that potential employers won't relate to his military experience. He left the Army with the rank of staff sergeant.
"I don't know that the hiring managers really are able to comprehend my military experience for what it is,'' he said. "And it's hard because I'm starting my pursuit of a second career so late in life. My hope is to find a position where I feel like I'm making a meaningful contribution to veterans — or to anyone, really. I want to continue a life of service in some capacity."
My hope is to find a position where I feel like I'm making a meaningful contribution to veterans, or to anyone, really. I want to continue a life of service in some capacity.
Eckhoff's profile on LinkedIn sums up his employment goals: "Former highly driven Army leader, looking to serve, and lead again in the civilian world in a capacity, where I am happy to get up each day and passionate that my daily work is making a difference and making the world a better place, and not just adding to some profit margin."
After spending so many years achieving his college dream, he said it's unnerving to be unsure about his next step.
"I've always had a clearly delineated path of what was next,'' he said. "And this is the first time I've kind of come to a time where it's kind of uncertain what's next. I'm finding it difficult being comfortable in that space.''
Battling survivor's guilt
Eckhoff served in Iraq with the 1138th Engineer Company of the Missouri National Guard — a Sapper unit assigned to scout for roadside bombs in Baghdad.
The mission was vital and dangerous.
The Pentagon's Joint IED Defeat Organization estimates that improvised explosive devices were responsible for one-half to two-thirds of U.S. combat casualties in Iraq and Afghanistan. According to the Department of Defense, 5,300 American troops were killed and 52,000 wounded in the war on terror, including more than 1,600 who lost limbs. The Department of Defense estimates that 22 percent of all casualties from Iraq and Afghanistan are brain injuries.
Eckhoff's unit found and disarmed IEDs daily, he said.
"I had previously had these devices engage me, and I had people that had been injured. But I had never really been injured,'' he said. "So I had been through a number of explosions. I always joke with people and say had I not had a penetrating head wound I probably would have had a scrambled egg anyway from all the concussive blasts that I experienced.''
The blast killed Sgt. Brad Skelton of Gordonville, Missouri, a close friend of Eckhoff who was riding with him in the armored vehicle. Eckhoff still struggles with his friend's death because he feels responsible.
"I don't know that I will ever really be able to fully lay that to rest,'' he said. "It's not a logical train of thought because I, of all people, know how uncontrollable combat situations can be. There is still a level of responsibility that you feel for people that you're leading that I don't think I'll ever be able to escape. And I don't know if in a perverse way I feel like I need to punish myself because I feel like I let my friend down. But it's something I am definitely still working through.''
I would argue that hesitance to broach the subject may be why a lot of guys don't get the help they need. And as a veteran — as a warrior — it's not in our minds to ask for help.
Eckhoff said he still struggles with anxiety and depression, but the therapy he's received from VA programs has helped. His case is complicated by his brain injury.
"My final course at UMSL was the psychology of trauma, so I spent a whole semester studying PTSD and traumatic brain injury,'' he said. "For years I wondered why I have friends that struggle so mightily with post-traumatic stress disorder. They can't really diagnose post-traumatic stress disorder on top of my brain injury because so many of the diagnostic criteria overlap. And I think in a very strange way, my brain injury kind of insulated me from some of the really traumatic memories that a lot of guys deal with because I didn't encode those initial experiences the same way someone would have if they weren't so severely neurologically injured.''
Eckhoff's depression has, at times, been severe, he said.
"It is not something I like to think about and relive,'' he said. "But I would hope that my understanding of what it's like to have suicidal thoughts would also allow me to help someone else.''
Eckhoff believes it is difficult but necessary to talk about suicide. The VA reportsthat 20 veterans a day commit suicide.
"I would argue that hesitance to broach the subject may be why a lot of guys don't get the help they need,'' he said. And as a veteran — as a warrior — it's not in our minds to ask for help.''
Eckhoff urges people to reach out to veterans. He believes it's the responsibility of all Americans, not just the VA, to help.
"Find a way to positively engage with that service member and make sure they understand that you value their sacrifice and their experiences,'' he said. "Invite them to tell their story in as safe a way as they can. And anybody that you encounter that you feel has difficulty with depression or might be suicidal, please reach out to that veteran and get them the help they need.''
Follow Mary Delach Leonard on Twitter: @marydleonard