Fight or adapt: Right-to-work law delivers tough choices for Missouri's labor unions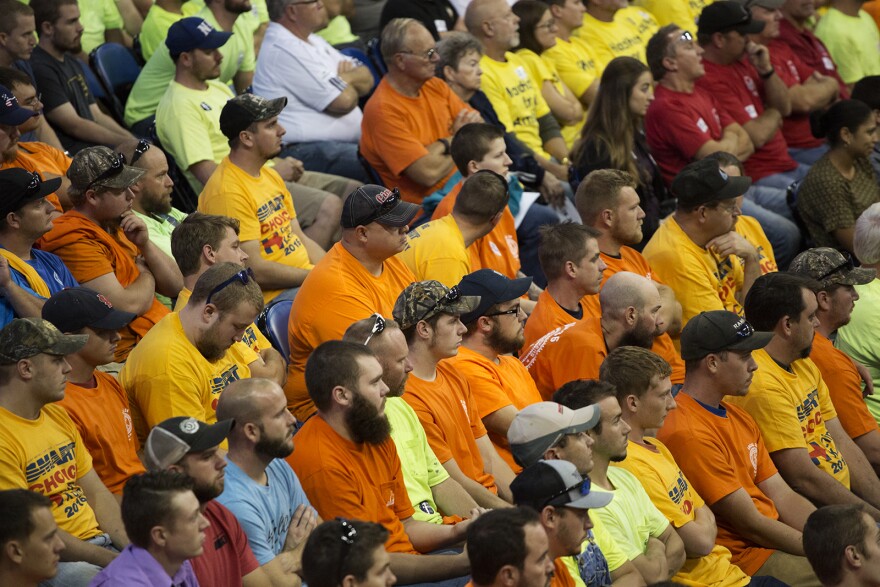 In a purely technical sense, a right-to-work bill was sent Thursday to Gov. Eric Gretiens' desk after it passed through Missouri General Assembly.
But in reality, the seemingly endless fight to bar unions and employers from requiring workers to pay dues ended last November at the Chase Park Plaza. That's when Democrat Chris Koster congratulated Greitens on his victory in the governor's race. At that point, the measure essentially became a done deal.
Greitens campaigned on making Missouri one of close to 30 right-to-work states. So, the House's final passage of Sen. Dan Brown's bill will bring to an end the often contentious and high-stakes battle between organized labor and business groups.
The Rolla Republican's legislation, which passed by a 100-59 margin, would also empower prosecutors and the attorney general to criminally charge anybody who runs afoul of the law's stipulations. Unlike other versions of the right-to-work effort Brown's bill would not affect existing union contracts.
Backers of the right-to-work bill contend that the policy will help lure jobs to the state. Many of the strongest legislative proponents of the policy live close to Missouri's border with Oklahoma, Arkansas, Tennessee and Kentucky. And they say that other right-to-work states snag large-scale business opportunities.
"My underlying premise of almost everything that I speak on in the House is about individual freedom coupled with personal responsibility," said Rep. J. Eggleston, R-Maysville. "The thread of that related to this bill comes down to choice — an individual to choose for themselves what they feel like is best for themselves and their families."
But detractors say right-to-work laws often lead to lower wages and an uncertain impact on economic growth. Legislators unsuccessfully attempted to attach clauses that would have made a right-to-work measure subject to a vote of the people.
"I earned a good living," said Rep. Joe Runions, a Grandview Democrat who spent several decades with International Brotherhood of Electrical Workers. "I have a good pension. I have very good health care. And that's what unions are about. But when we go to right-to-work, it just comes down to the freeloaders who are going to benefit from the hard-working union members that come before them."
Seismic impact
While there's plenty of political disagreement about whether the change will help Missouri, few disagree it will bring major changes to how Missouri's labor unions operate.
If workers in a bargaining unit don't have to pay dues, unions will likely have less money. And that could place organized labor at a weakened position, especially when it comes to unionizing workplaces or providing fundraising support for supportive politicians. Other labor advocates fear that the policy could negatively impact worker-training programs.
But with the right-to-work law set to become a reality, union leaders have a choice: Do they continue to fight the measure at the ballot box? Or do they adapt to a new reality?
For Wes Epperson, the choice is easy. He's a retired Teamster who lives in Independence. And he supports a union-backed ballot initiative that would effectively ban a right-to-work law in Missouri.
"When a guy benefits from what the union's done, the contracts they've negotiated including wages, vacation, days off, funeral leave — all these kind of things that people enjoy, then I don't think it's too much to ask for those people to pay union dues," Epperson said at a committee hearing in January.
The effort to get the right-to-work measure on the ballot faces logistical challenges. For one thing, union members are primarily clustered in St. Louis and Kansas City. And for an initiative petition to be put up for a vote, organizers need to get necessary signatures from six out of the state's eight congressional districts.
Still, Dave Cook of the United Food and Commercial Workers International Union doesn't see a challenge in getting out state Missouri residents to support a ballot initiative.
"I think it's very easy to go to Chilicothe, Missouri, or Joplin, Missouri, or wherever, Missouri, and explain this is more government overreach," he said.
Even if labor unions succeed in getting an effective right-to-work repeal up for a vote, it's an open question if it will find favor in a state where union membership declined by 60,000 people from 2005 to 2015.
"I would remain pretty pessimistic on this score," said Jake Rosenfeld, a sociology professor at Washington University who has written a book on labor unions. "I think for unions in Missouri and other states that look like they're going to tip shortly, the best strategy would be preparing for a right-to-work context."
Opportunity and pessimism
Rosenfeld said that passage of right to work is often a lagging indicator of organized labor's shrinking power.
And from a political standpoint, labor took some tough loses in key elections last year. Besides Koster's defeat, labor-backed candidates for the state Senate, state House and St. Louis County Council lost decisive races. And efforts to defeat candidates that vote against union priorities fell flat.
"Today, I'm voting for the economic interests of everyone that has been taken advantage of by the unions, who haven't been treated fairly by the unions, and who don't even have an option or an opportunity to join the unions because of the practices within the unions that keep people like me out of it," said Rep. Courtney Curtis, a Ferguson Democrat who fended off several union-backed challengers in last year's Democratic primary.
So how do unions, as Rosenfeld suggested, prepare for a right-to-work law? A lot depends on what the legislature does next. If they pass bills cutting project-labor agreements or prevailing wages, then it's possible unions could lose more power.
But Rosenfeld pointed to right-to-work states like Nevada where unions remained strong, primarily because they proved indispensable to members. "Unions (in Nevada) have done a very good job at convincing covered members to pay union dues," he said. "And so, for other unions out there, I think they should be looking to Nevada to find out what they're doing right."
Senate Minority Leader Gina Walsh is a retired member of St. Louis' branch of the Heat and Frost Insulators and Allied Workers. When the right-to-work law takes effect, the Bellefontaine Neighbors Democrat doesn't believe a lot of workers will stop paying dues.
"There are all kinds of benefits. And I could go on and on and on," Walsh said. "You know, if it wasn't beneficial to the members, they wouldn't be joining. And they wouldn't stay in."
Follow Jason on Twitter: @jrosenbaum