The Rundown: A Look At Ferguson Six Months Later
We know that you listen to us on air and check our website for news and information about our region. We hope that you look at our website every day, but we know that's not always possible. So, once a week, on Friday, we will highlight some of the website's top stories of the week.
Where we live
Ferguson Six Months Later: Where Do We Stand?
Six months ago, on Aug. 9, 2014, Michael Brown and Officer Darren Wilson crossed paths on Canfield Drive in Ferguson. At the end of the encounter, Michael Brown was dead in the street, and life in the St. Louis region changed. It suddenly became clearer that the region wasn't built on sturdy ground, but on divides — both social and economic. While the region has changed over the past six months, questions remain: Where are we now? How do we move forward? We asked people from around the community.
'Flawed' Bills Won't Fix Confusion About Deadly Force
One of the key reforms, experts agree, that should grow out of the death of Michael Brown is changing Missouri's statute giving police officers broad authority to use deadly force against unarmed suspects. But the bills now before the Missouri Legislature could make matters worse rather than better, say legal experts.
Voter rolls
Since 2004, St. Louis Has Purged 25 Percent Of Its Voters
Over the past 10 years, the St. Louis Board of Election Commissioners has quietly cut 75,000 people off of its voter rolls. That is more than a quarter of the 281, 316 voters on the city's rolls in 2004. St. Louis' voter list now totals 206,349. The city's Republican elections director says none of the excised voters appears to have been an active voter. Most were people who had moved or died and whose names had simply been languishing on the city's voter rolls for years.
Calling Mr. Greenjeans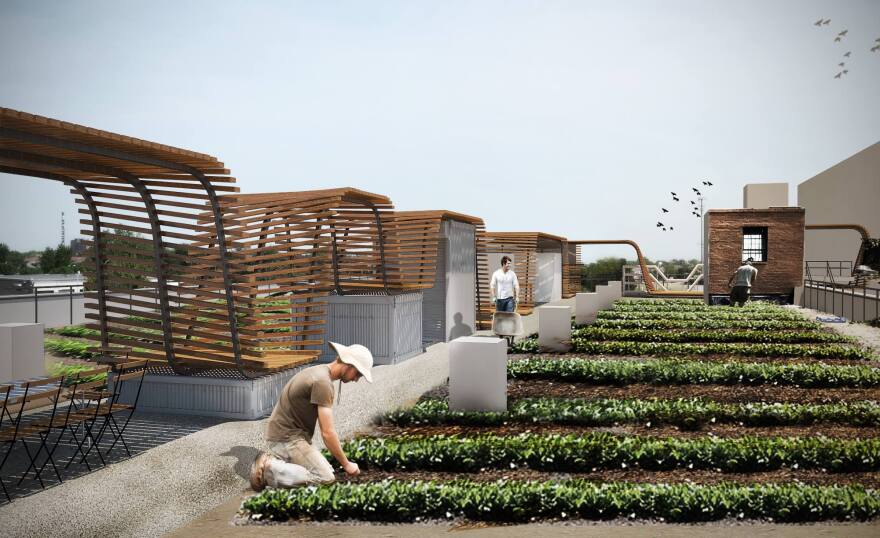 Downtown St. Louis To Sprout Its First Rooftop Farm
St. Louis will soon have its first rooftop farm. Urban Harvest STL signed a lease for the space this week on the roof of a two-story building a couple of blocks east of the City Museum. The 10,000 square=foot rooftop will be more than just a community garden. They will also be raising chickens and tending bees. The farm will also have a greenhouse, so it can keep producing fresh vegetables year-round.
Want A Rain Garden In Your Yard? MSD's New 'Rainscaping' Grants Could Help
The Metropolitan St. Louis Sewer District is offering as many as 50 new grants to encourage local landowners to install rainwater collection systems on their properties. The grants of up to $3,000 would fund projects like rain gardens, rain barrels, green roofs, pervious pavement and other methods that collect rainwater, known as "rainscaping."
A legal puzzle
Downturn In Law School Enrollment Led To More Diverse Classes, But Reasons Aren't Clear
Even as law schools nationally are suffering from waning enrollments, some are seeing a boost in the number of minority students, according to a new study. At Washington University, though, the percentage of minority students enrolled dropped 14 percent between 2010 and 2013. Saint Louis University saw its percentage of minority enrollment grow nearly 8 percent over that same time.
Our town, our history, our future
Following STL250 Celebration, What's Ahead In Year 251 And Beyond?
While St. Louis' 250th anniversary may have lacked the over-the-top pomp and circumstance of previous anniversaries, Cakeway to the West was a hit. Two hundred fifty-six cake sculptures were scattered throughout the region. More than 300,000 people have attended the "250 in 250" exhibit at the Missouri History Museum, the most-visited exhibit since the museum's first Charles Lindbergh exhibit in 1927.
Working With Artifacts Offers Vets A Bridge From Battlefield To Civilian Jobs
These days, Marine veteran Ryan Schatz works a quiet job, painstakingly photographing Native American arrowheads and shards of ceramic pottery unearthed decades ago during construction projects by the U.S. Army Corps of Engineers. Schatz, 33, is employed by the Veterans Curation Program, a Corps initiative that hires veterans as temporary lab technicians to help them transition to the civilian workforce. The digital images he is making will be shared online as part of an ongoing effort to preserve and catalog the Corps' massive collection of artifacts and photographs.
Corps of Engineers Shares Historic Flood of '27 Photos Online
Marshall Gray of the U.S. Army Corps of Engineers took photographs documenting the magnitude of the 1927 flood that inundated about 26,000 square miles, killed more than 200 people died and displaced more than a half-million people. The majority of the displaced were African Americans who faced deplorable conditions in temporary relief camps. The flood contributed to the Great Migration of southern blacks to northern cities.