This Is Ferguson: Residents And Business Owners Tell Us About Their City
A poster at a memorial for Michael Brown outside the Canfield Green apartment complex.
Mary Delach Leonard|St. Louis Public Radio
Demonstrators at ground zero -- the burned out QuickTrip.
Mary Delach Leonard | St. Louis Public Radio
People gather to hear a man describe his experience with police. He declined to give his name.
Mary Delach Leonard | St. Louis Public Radio
For 120 years, Ferguson, Mo. -- currently home to 21,203 people -- has been a little city that has grown in good times and evolved in hard times, with little attention from folks outside the St. Louis region.
That changed in a flash of gunfire last Saturday when a Ferguson police officer shot and killed Michael Brown, an African-American 18-year-old who was unarmed.
Within minutes, the story was hurling across the internet and trending on Twitter: The killing of a black teenager in a predominantly black suburb of St. Louis brought quick comparisons … to Trayvon Martin, the unarmed African-American teenager killed in Florida by George Zimmerman in 2012 … to Eric Garner, the African-American man who died last month in New York after being put in a choke-hold by police.
By Sunday, the city was known by a hashtag.
#Ferguson.
And the whole world was watching.
It's been a long week of hurt, beginning with the stark images of Brown's body on the pavement of Canfield Drive — and a heartbroken mother pleading to know why. The demand for answers — for justice — growing louder, as officials explained again and again that there can be no quick answers. Peaceful demonstrations turning ugly in the night. Looting. Police in riot gear. Armored vehicles. Tear gas. Arrests. More arrests. Ultimatums. Journalists caught in the middle.
And then there were the numbers. The population of Ferguson is nearly two-thirds black and one-third white — a racial makeup that is not reflected in the staffing of the police department, which is 95 percent white. There are three African-American police officers on the 53-member force.
There is still no time table for the St. Louis County Police Department's investigation of the shooting. The FBI, the St. Louis U.S. Attorney's office and the Department of Justice's Civil Rights Division are also investigating.
But there is another narrative about Ferguson that some residents feel is not being told: Ferguson is a good community, they say. That's why they choose to live and work there.
While covering the rapidly changing news in Ferguson this week, we were also listening to what residents were saying about their city. Here are snippets from what we've heard, so far -- the beginning of a series of stories we will produce in the coming weeks: This Is Ferguson.
'This Happens All Over The Country'
"In Ferguson, there's a strong sense of community,'' says Wesley Bell, a Ferguson resident who lost a recent bid for a seat on the St. Louis County Council. "I don't want Ferguson to be painted as some racial hot spot, because it's not that.''
Bell, who canvassed the city's neighborhoods during his campaign, says there is more diversity in Ferguson than people think.
He says the issues that unfolded this week are not confined to Ferguson's city limits.
"It's bigger,'' Bell says. "I'm not saying that it's not a Ferguson problem. I'm just saying that this doesn't define Ferguson. It's a symptom of a much larger problem, and we're talking nationwide. You look at a lot of urban areas, and you will see problems with law enforcement and young people — and that just didn't start last week. This happens all over the country.''
But this week, it happened in Ferguson.
After a peaceful demonstration turned violent Sunday night, Ferguson looked a little like a Midwestern town picking up the pieces after a tornado touched down: The damage was serious but limited in location.
It was along West Florissant Avenue that Sunday night's peaceful protest turned violent — along a strip of businesses within walking distance of where Michael Brown died. Here and there, shops and businesses were looted. Those that could, boarded up their windows and cleaned up the mess, reopening by midweek.
Demonstrators have gathered daily at the shattered shell of the QuikTrip that was burned during the looting. Some refer to the wrecked convenience store as ground zero, and it may be the most photographed spot in the nation right now. It is here where the nightly protests have formed. And it is here where police in riot gear drew the line — and made national headlines.
While people have the right — the need — to demand justice, Bell believes that they also need to be peaceful. He echoed a comment, shared by other residents: that many of the young people involved in the looting Sunday night were not from Ferguson.
"What you're seeing is a lot of anger, but they don't know how to channel that. There's no unifying force — it's random. Young people who are doing their own thing," said Bell, 39, an assistant professor of criminology at St. Louis Community College-Florissant Valley. He is also a municipal court judge in Velda City and a board member of Ferguson Youth Initiative, a nonprofit that offers programs for teens ages 13 to 17.
'I Love Ferg'
People in Ferguson have gone about their lives — or tried to. Children play in parks. Gardeners tend to their flowers. Most restaurants and shops have stayed open. Churches have been organizing volunteers to clean up the mess left by the weekend lootings.
But things have been far from normal. The Ferguson-Florissant school district delayed the first day of school from Thursday until Monday. Missouri Gov. Jay Nixon came to town on Thursday and announced that the state Highway Patrol would take over for the St. Louis County Police Department. Nixon promised a "softer" approach to the demonstrations — and that was the case Thursday night.
Across town, in the historic downtown area — a 10-block area called Ferguson Citywalk — there has been little sign of drama. An exception has been the sidewalk across from the police department, where demonstrators gather daily and passing motorists honk their horns in support.
Journalists from near and far have come to report on the Brown case — and the unrest. A CNN satellite truck staked out a spot on the parking lot across from the police department, while an NBC truck did the same near the ruins of the QuikTrip. Some reporters have been detainedor caught in the chaos, when police shut down the nightly demonstrations.
Bell says it has all been a strange experience.
"We're going to get past this, but what are we going to do after everything settles down? If we're going to go back to living our lives, something else is going to happen,'' he said.
He brought several colleagues from Florissant Valley to the QuikTrip Tuesday afternoon to pass out enrollment postcards from the college.
"With everything being so unsettled, it's hard to say what is needed until the dust has settled,'' he said. "A lot of people involved are college-age students. One way to try and make an impact is to get them information about coming to school.''
Bell said that political change often begins with young people.
"But we have a lot of young people who feel disenfranchised,'' he said. "They feel that they're not a part of something.''
Bell says he is a booster when it comes to Ferguson and all of north county — and that he is not alone in seeing the potential of these communities.
On Saturday, the Ferguson Farmers Market plans to sell "I Love Ferg" T-shirts for $10. Judging from the responses on community FaceBook pages, the shirts will be bestsellers.
'This Is Sacred Ground'
On Tuesday afternoon, David Whitt was keeping watch over a makeshift memorial in the middle of Canfield Drive.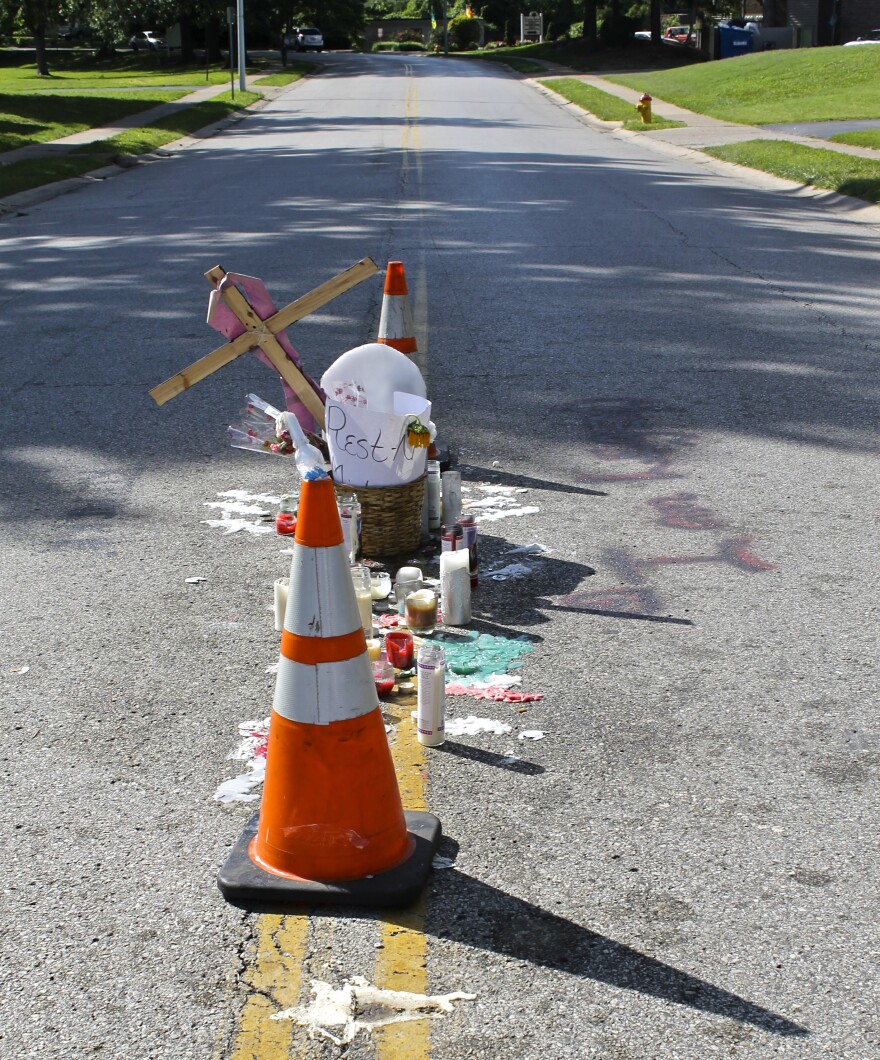 "This is sacred ground,'' Whitt said, pointing to the candles and crucifix on the center line of the road -- the place where Brown died. "We're going to protect that.''
Whitt, 34, lives in the Canfield Green Apartments. He and a group of residents and friends were also shooing away reporters.
"We want folks to be respectful. Nobody trying to be a spectacle,'' he said.
Whitt says that he has been the victim of racial profiling by police, and he understands what happened to Brown.
"We want people to come here and protest peacefully," he said. "I'm not with the NAACP. I'm not trying to get publicity. I just want to get justice.''
Whitt complained about outsiders — the "riff raff" coming into town — and the "young kids" who started the looting Sunday night. They'll go home, and Ferguson residents will deal with the consequences, he said.
"We have to live here when all of this is over,'' he said. "We have to live here while all this is going on.''
And then he put it another way.
"If we're going to burn this [mf] down — excuse my language — we're gonna be the ones that say when we burn this down.'' He grinned. "I'm just hypothetically speaking.''
Whitt, a father of three, said he understands why young men are angry. His goal is to see that Brown is "the last black brother killed unjustifiably."
Whitt said that the Canfield neighborhood had started to come together as a community, even before the shooting.
"Where I live, we have cookouts together,'' he said. "We want to get to know who our neighbors are. People are afraid in their own neighborhoods. We don't want that.''
'This Is How I Feel'
Veterinarian Dan Wentz was busy Wednesday afternoon, tending to dogs and cats at his Ferguson Animal Hospital on Airport Road.
Plywood covered the front windows that had been broken sometime Monday night. On one window, Wentz had spray painted the words Open For Business. On the other, he sent a message: Ferguson Proud.
"That's how I feel,'' said Wentz, who has worked in Ferguson for 23 years. "It really hurts to see the bad press that Ferguson's getting because I believe this is not a reflection of what Ferguson is."
Wentz, a white man who works with an African-American veterinarian, says his customers are white, black and Hispanic.
Wentz said he tells everyone that Ferguson is the best kept secret in north county.
"It's a very nice, diverse community,'' he said. "People get along. They cooperate."
He said that Brown's death is tragic, and he thinks people need to wait until all the facts come out.
He knows a lot of the city's firefighters and police officers personally, and he also cares for the department's dogs.
Wentz is concerned that social media were used outside of Ferguson to organize and take advantage of the situation. He believes there have been two issues: the shooting and death of Michael Brown — and then people taking advantage of the situation.
"My heart breaks to see this poor family trying to grieve and get answers and have all of these distractions going on,'' he said.
'This Is Not A War Zone'
Four days after the death of Michael Brown, the staff of the nonprofit EarthDance farm were in the fields tending to the organic vegetables. But the week's events were not out of mind.
They had been getting texts and phone calls from people outside the area who'd seen the news and were calling to see if everything was all right.
If there is an unexpected place in Ferguson, this is it: 14 acres of farmland tucked into a city neighborhood. On what once was the Mueller farm, the staff produces more than 150 varieties of organic vegetables, herbs and fruits -- and teaches people how to grow their own.
Since 1883, the farm has been feeding the people of Ferguson, says founding director Molly Rockamann.
Rockamann, 33, lives nearby, choosing to live in the city where she works. Her dad was born in Ferguson and has a business here.
"This is my community,'' Rockamann says. "My friends joke. They call me Molly Ferguson.''
Rockamann said she was visiting another farm when the shooting occurred last Saturday, and people immediately began calling her.
"The outpouring of support has been beautiful,'' she said. "On the converse, people all of a sudden are having a fear about Ferguson because of the sensationalized media attention around the lootings. Those are significant things, but Ferguson is not a war zone."
Rockamann said she has concerns about what transpired Saturday afternoon. She believes that the peaceful protesting of people wanting justice is valid.
"But the attention has gone from the tragedy that Mike Brown's family has been feeling to the violence and looting that's taken place,'' she said.
Rockamann believes that real conversations need to take place in Ferguson and throughout the St. Louis area.
"So many of our problems could be solved with more communication,'' she said. "One on one. Not based on social media or what you see on TV. Get out and talk to people.''
Rockamann said that work needs to be done by people at the grass roots, not just at an official level.
"As a society in general — especially in St. Louis — we are far too segregated still. I think this has really struck a chord for so many,'' she said.
She is urging people to come to the Ferguson Farmers Market on Saturday, where, she says, people from all walks of life gather for food and fellowship.
"If you want to show your support, come out to the market on Saturday. Ferguson is not a war zone. There are terrible things that have happened, but Ferguson is not a scary place.''
Some Things You Might Not Know
For a city that is now so well-known, here are some facts about Ferguson that you might not know.
* It is an old railroad town, named for William B. Ferguson, the farmer who agreed to let the North Missouri Railroad — later known as the Wabash — run tracks across his land and build a depot. Ferguson sold lots for businesses and homes, and in 1894, Ferguson Station had 1,000 people and incorporated as a city.
* The old depot is still here — in the heart of downtown — leased by the city as an ice cream shop.
* A Fortune 500 company — Emerson Electric — has its corporate headquarters in here.
* There's a Ferguson Walk of Fame that honors people who were born or lived in the city. Among them: Cardinals Hall of Famer Enos Slaughter and singer Michael McDonald. Louis Maull, creator of the barbecue sauce, once served as police commissioner.
Emanuele Berry contributed to this story.