Major League Soccer commissioner says St. Louis is on right path, but a team's a long way off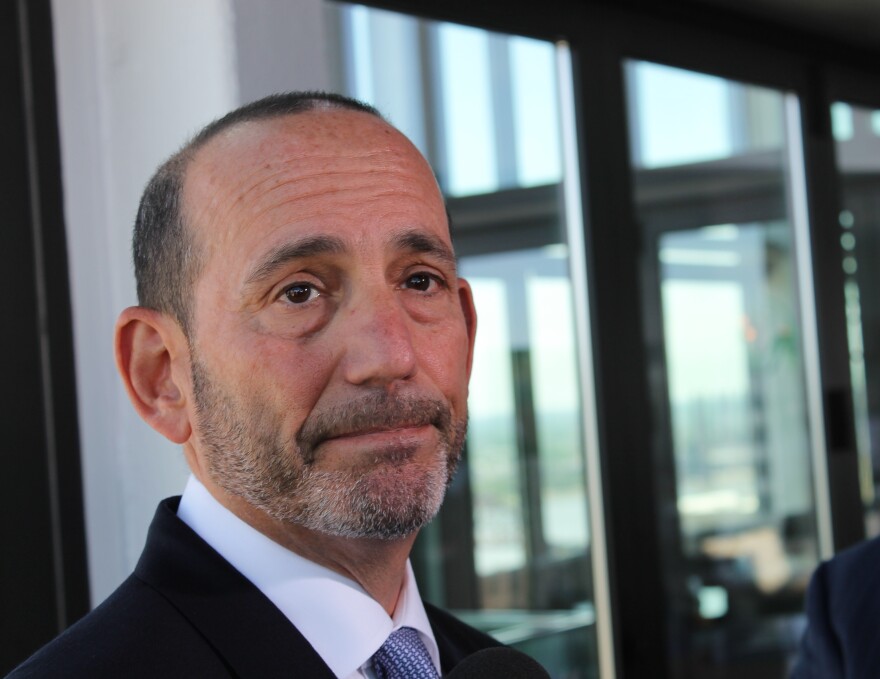 The commissioner of Major League Soccer was in St. Louis on Tuesday to visit the site of a potential stadium on the city's riverfront.
But while expressing optimism that St. Louis could support a professional soccer team, the chief of the country's most popular league emphasized it's way too early to talk about when an expansion would happen.
MLS Commissioner Don Garber met with political and civic leaders about a roughly $1 billion stadium on St. Louis' riverfront. While it's been presented to the public as a replacement home for the St. Louis Rams, the project has also been touted as a potential soccer facility.
Garber said he's impressed by the preliminary plans – and the enthusiasm within St. Louis for soccer.
"The interest in this city for soccer is significant. The value of the league continues to grow," Garber said. "Right now, we know there are three things that matter: A strong, passionate soccer city – this certainly is. A great stadium plan – there's an interesting one being developed. And I think there will be no shortage of people who will be interested in owning a team."
St. Louis recently hosted well-attended international soccer matches at Busch Stadium and the Edward Jones Dome. That sparked speculation that the city may eventually get a MLS franchise – especially if the riverfront stadium is built.
But Garber emphasized that getting the stadium details nailed down will be important. And that's not a done deal, especially since Rams owner Stan Kroneke appears intent on moving his team to Inglewood, Calif. There's questions about whether St. Louis will have to have a citywide vote to approve the project's public financing.
"We need to know that the stadium is done. It doesn't need to be built. But we need to know it's been approved and that it's going to have a tenant," Garber said. "All of the development that's being looked at for that waterfront … is incredibly exciting. It's great for the state. It's great for people that live in this city. And if soccer can fit into that, that's something that very intriguing to us."
Unlike the NFL, Garber said his league wouldn't be able to kick in money to help build the facility. He added, "unfortunately we're not as developed as the NFL is. We don't have that mechanism in place."
He also said it was too early to start talking about a potential ownership group or a timeline for when a soccer franchise may arrive in St. Louis.
"Every World Cup team the U.S. has ever had has had somebody from St. Louis," Garber said. "This is a soccer town. We've never been able to even think hard about a real opportunity to be here. We've got a lot of work to do before we get here. But we think that there's a possibility. And that's really what today's all about. It's our first fact-finding mission -- there's absolutely no timeline."
One other requirement to joining the MLS would be putting up tens of millions of dollars in franchise fee. When asked if an ownership group could get that type of money together, Garber replied: "Without a doubt."
"We've always loved the city of St. Louis market and have believed it's a really passionate soccer city," he said. "So it's good to be back and to figure out where it can fit into our plans."