St. Louis Artist Uses Fiber Masks And Plastic Garbage Bags To Talk About Body Image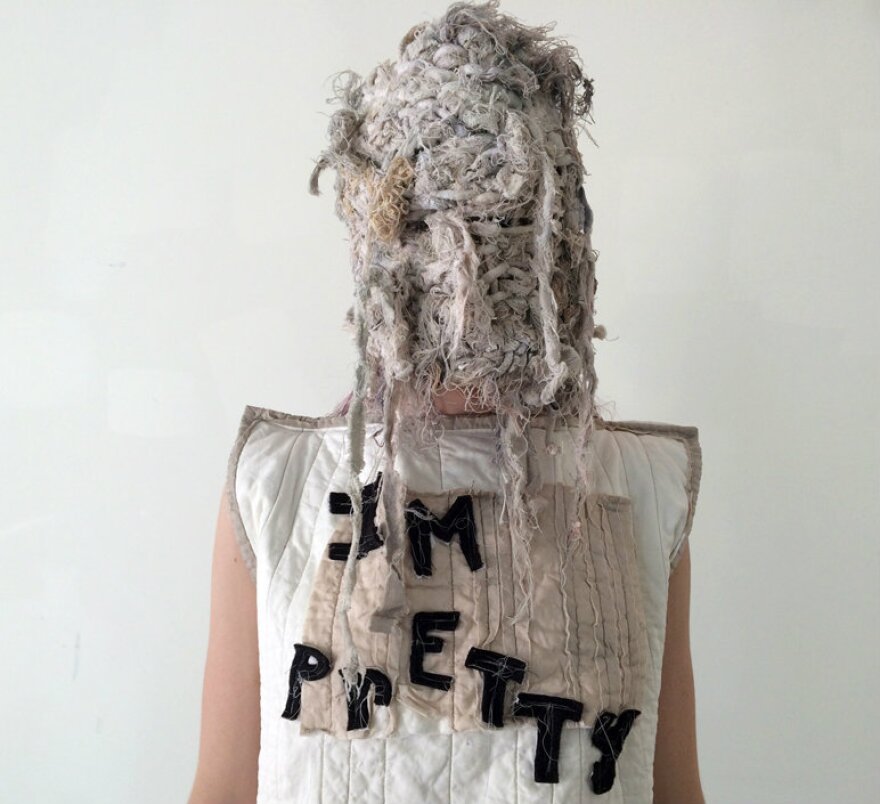 The work of emerging fiber artist Grace Kubilius walks the walk while talking the talk. The conversation is about women and body image.
Like many young women, and all women, really, Kubilius has struggled with questions of appearance and what it means to be a woman.
"How do you sort of resolve that with what's expected or what you think is expected of you?" Kubilius said.
One of Kubilius' pieces is a shapeless black shirt bearing the message, "Oh how I love you" over shiny pants fashioned from melted plastic garbage bags. Another model wears a neutral, quilted top embellished with the words "I'm pretty."
But what does that declaration mean, given that her face is completely covered by a cotton-rope-and-canvas mask whose gray tendrils unfurl like unruly facial hair? For one thing, obscuring the faces keeps the focus on the work, not the model.
"It's a way to create identity but also eliminate identity," Kubilius said. "To me, these garments can be like a skin, they can be like a barrier. They're the things that I feel that are the memories and trauma I carry around in my body."
Kubilius, a 2013 graduate of the Maryland Institute College of Art, came to St. Louis to become an artist-in-residence at Craft Alliance. An exhibition of her work, called "November Valentine," opens Friday night atReese Gallery in the Cherokee Street area. It's paired with heart-inspired sculpture by Jeremy Lampe.
Science shows that Kubiluis' experiences are ubiquitous. Research reveals 97 percent of women have had an I-hate-my-body moment.Studies alsoconfirm that most people believe "What is beautiful is good."
'It's like I can't stop'
During Friday's opening, models will display Kubilius' collection in a kind of runway-style performance. After that, the pieces will be made into sculpture. The idea is that when the pieces are worn, the wearer becomes vulnerable to a viewer's gaze. When hanging, they become relics of something once considered beautiful.
You might have seen Kubilius' work during September's Fashion Week. Her inclusion in the event was a happy accident. Kubilius was approached by Fashion Week organizers who had seen her garments at Craft Alliance, just after she arrived in St. Louis in June.
"And I said, 'Yes, yes, I really want to do it," Kubilius said.
"November Valentine" is a continuation of work Kubilius began before she arrived in St. Louis. She thought she'd finish it and move on to new work. But the attention it received here and her continued curiosity kept it alive and growing.
"I'd need a bottom to go with the top and then the bottom would get too big. So I'd need another top and then, that other thing still needed a bottom," Kubilius said. "Now I want to make socks for them, it's like I can't stop."
'You rap like dynamite'
Kubilius is inspired by fiber artist Sheila Hicks, among others. When asked, the young artist sees similarities to her art in the work of Nick Cave, whose "Soundsuits" are now on display at the St. Louis Art Museum.
"We both deal with the body and movement and human/not human, those kinds of things, and he also uses found objects," Kubilius said.
Sometimes the objects find her. "I actually had someone mail me a box of all this really beautiful wool yarn," Kubilius said. "Their mother passed away, and she was a weaver."
The text on her garments was drawn from Kubilius' recent work with young children at Craft Alliance. One 8-year-old girl inspired the words on Kubilius' black top when she wrote: "Oh how I love you, you give me such great kisses, you fill my stomach with bugs" — or something like that," Kubilius said.
Another memorable poem but one that didn't make it into the project: "You were wrong and I was right … you would rock like dynamite."
This past summer, Kubilius approached Ruth Reese, who only opened her gallery last March, about "November Valentine." Reese chose Kubilius for her fifth exhibition.
"I've been watching her work grow and change and evolve, and I'm really excited about this collection," Reese said.
The collection departs from Reese's previous exhibitions.
"My background is in sculpture and a lot of sculpture is really stationary," Reese said. "I wanted to do something more warm and direct and engaging."
Here's a look at some of Kubilius' work from a 2013 event.
THE BASICS
'My November Valentine'
Where: Reese Gallery, 3410 Wisconsin Ave., 63118
When: 6-8 p.m. Friday Nov. 14 opening reception with live demonstration at 6:30; open Wednesday and Saturday 1-4 p.m. through Dec. 17
How much: Free
Information: Reese Gallery website
Follow Nancy Fowler on Twitter: @NancyFowlerSTL