Morning headlines: Thursday, March 15, 2012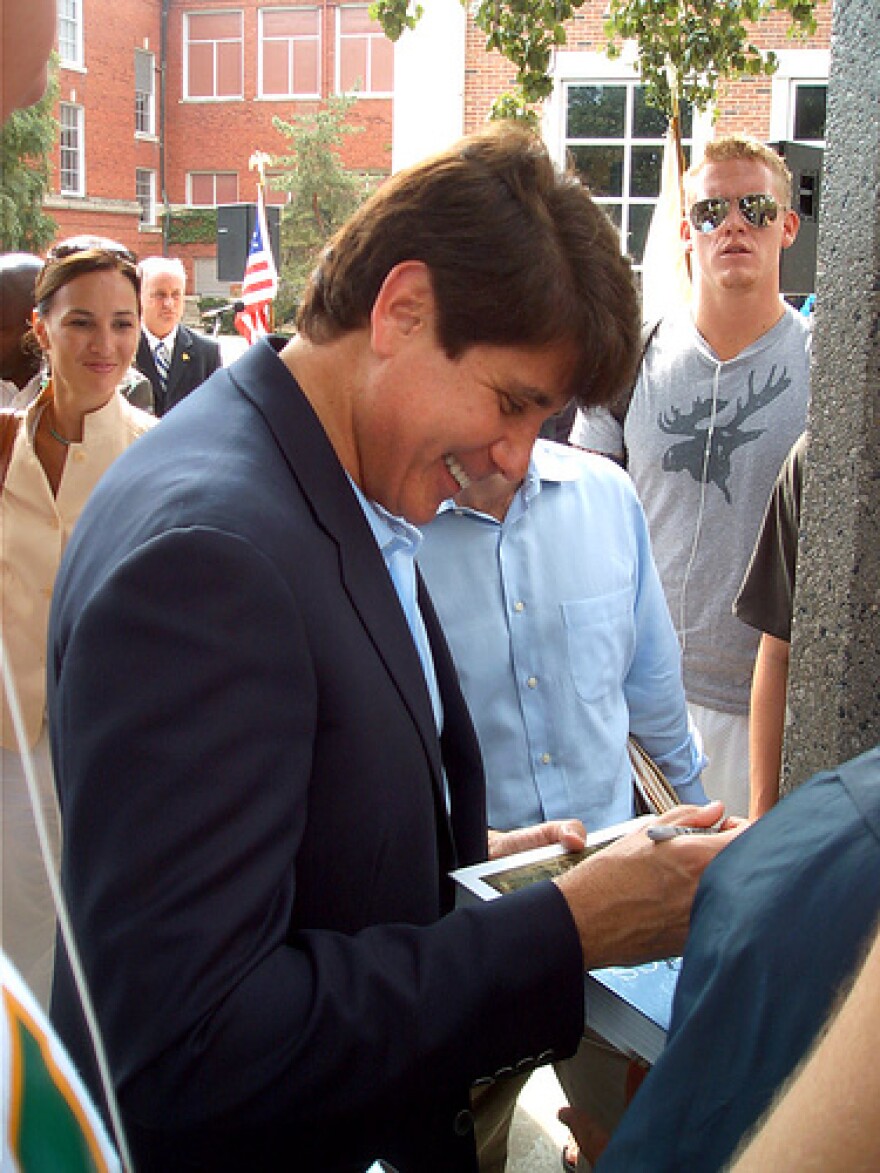 Blagojevich headed to prison today
Former Illinois Gov. Rod Blagojevich left his Chicago home this morning and is heading to Colorado to begin a 14-year federal prison term for corruption.
He is expected to report to the prison by 2 o'clock this afternoon.
Blagojevich is the state's second governor in a row to be sent to prison for corruption.
The famously talkative Democrat embraced the public spotlight one last time yesterday evening, seeming to relish the attention of reporters' microphones and hovering television helicopters.
"It's hard for me to say that I have to go to prison," said Blagojevich outside his Chicago home Wednesday evening. "That's a hard word for me to say."
His 12-minute statement included a campaign-style list of accomplishments, including health insurance expansion and free transit rides for seniors.
"When I became governor, I fought a lot," Blagojevich said to a crowd of reporters and supporters. " And maybe I fought too much. And maybe one of the lessons to this whole story is that you gotta be maybe a little bit more humble."
Blagojevich says he accepts the jurors' decision but has "great trust" in his appeal of the verdict.
Jurors convicted Blagojevich on 18 counts, including charges that he tried to sell or trade President Barack Obama's old U.S. Senate seat.
Arrest made in death of Vashon High School student
A St. Louis teenager is charged with first-degree murder in the strangulation death of Vashon High School's co-valedictorian and homecoming queen.
Authorities say Leonard Johnson was the sometimes boyfriend of 18-year-old Sarah Billingsley-Walker. She was found dead Monday night at a home. An autopsy on Tuesday revealed she had been strangled.
Johnson was arrested and charged on Wednesday.
Relatives told the St. Louis Post-Dispatch that they had warned Billingsley-Walker to stay away from Johnson, who they say had shown signs of violence.
Voters in STL could consider sales tax for riverfront and Arch grounds
St. Louis-area voters could go to the polls later this year to consider a sales tax that would fund much of the$553 million being sought for improvements to the St. Louis riverfront and the Gateway Arch grounds.
The St. Louis Post-Dispatch reports that a bill moving through the Missouri Legislature would allow for the vote, possibly in November, to raise sales tax in St. Louis city and St. Louis and St. Charles counties by three-sixteenths of a cent.
Aldermen and the county councils would ultimately decide whether to put the issue on the ballot. Madison and St. Clair counties in Illinois might also eventually vote on the proposal.