The Career Of Ben Webster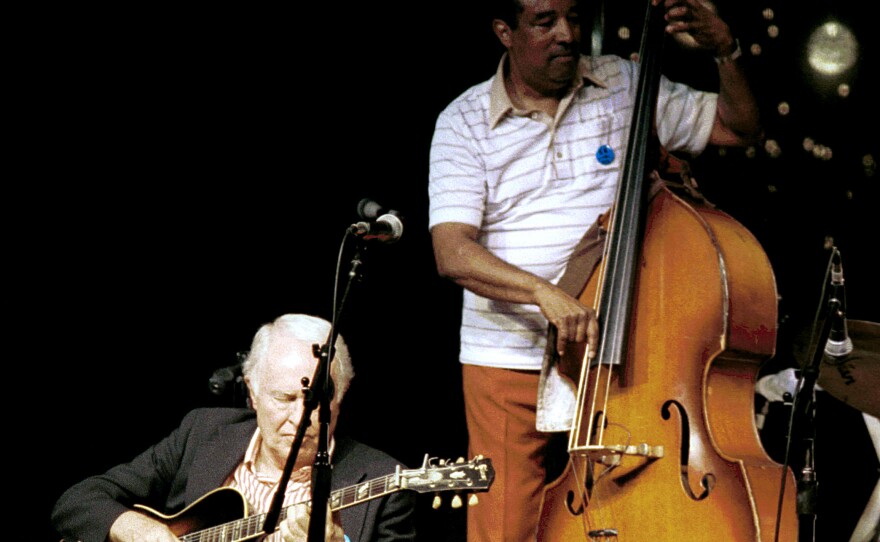 Herb Ellis (g) Ray Brown (b)-1986
Dennis C. Owsley / Copyright Dennis C. Owsley
Doc Cheatham-1988
Dennis C. Owsley / Copyright Dennis C. Owsley
Milt Hinton-1987
Dennis C. Owsley / Copyright Dennis C. Owsley
Barney Kessel-1989
Dennis C. Owsley / Copyright Dennis C. Owsley
Hank Jones-1987
Dennis C. Owsley / Copyright Dennis C. Owsley
Benny Carter-1989
Dennis C. Owsley / Copyright Dennis C. Owsley
Gus Johnson-1986
Dennis C. Owsley / Copyright Dennis C. Owsley
Les McCann-2004
Dennis C. Owsley / Copyright Dennis C. Owsley
Ed Thigpen-1989
Dennis C. Owsley / Copyright Dennis C. Owsley
Jazz Unlimited for September 14, 2018 will be "The Career of Ben Webster." Ben Webster was considered to be one of the three major tenor sax players of the swing era. Nicknamed "the Brute" because of his brutal tone on up-tempo pieces, Webster's career spanned forty-two years. His most notable recordings were with Duke Ellington and his associates, Oscar Peterson, Art Tatum and Gerry Mulligan. We will also hear him with Benny Moten, Billie Holiday, Marlowe Morris, Mildred Bailey, Harry "Sweets" Edison, Fletcher Henderson, Benny Carter, Jimmy Witherspoon, Teddy Wilson, Joe Zawinul, Johnny Hodges, Oscar Peterson, Ella Fitzgerald, Richard "Groove" Holmes and a Norman Granz Jam Session.
The slide show contains my photographs of some of the musicians heard on this show.
This video of Ben Webster (ts), Charlie Shavers (tp), Niels-Henning Ørsted Pedersen (b), Niels Jurgen Steen (p) and Jorn Elnif (d) was shot at Cafe Montmartre, Copenhagen, in 1971.