Family Of St. Louis County Woman With Coronavirus Violated Quarantine By Going To School Dance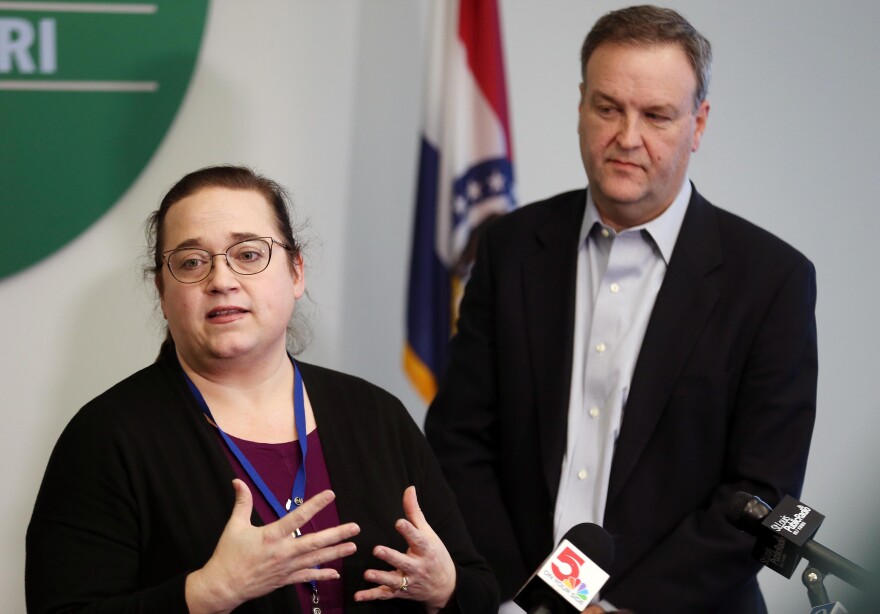 Updated at 9 p.m., March 8 with comments from St. Louis County officials
The father and sister of a St. Louis County woman who recently tested positive for coronavirus violated a self-quarantine on Saturday evening.
St. Louis County Executive Sam Page expressed frustration during a Sunday evening press conference, where he announced that the St. Louis County Public Health Department may institute a formal quarantine that would legally require the family to not leave the house.
"Quarantine means stay in your home," he said.
The county health department instructed the family members to isolate themselves in their Ladue home on Thursday, when the infected woman called the county's hotline to report symptoms of a high fever and a cough.
Doctors tested her for coronavirus on Friday, and the results came back positive the next day. Health officials interviewed the woman, as well as her family, between 6 and 6:30 that evening for about two hours. Page said they are still learning about what she did after returning to the U.S. from studying in Italy.
Local officials announced Saturday she is presumed to be the first person in the region to test positive for the virus.
During the press conference, Page said health officials learned Sunday afternoon that the woman's father attended a father-daughter dinner dance Saturday evening at the Ritz-Carlton in Clayton with his younger daughter. The event was put on by Villa Duchesne and Oak Hill School, which she attends.
The county health department sent the family a letter Sunday, informing them that they must follow its guidelines. The quarantine is supposed to last 14 days after the woman has stopped showing symptoms of the virus, and it applies to all family members.
"The way the family has reacted to this situation is really a tale of two reactions and a study of how people should and should not react to the coronavirus," Page said. "The patient had conducted herself responsibly and maturely, and she is to be commended for complying with the health department's instructions."
Page said that to his knowledge, a court-ordered quarantine hasn't been imposed anywhere in the country. "This is a very new, emerging law surrounding coronavirus. This is a new disease process; we're all still learning about it," he said.
Page said there is no test for people who do not show symptoms of the virus, and other family members have not been tested. He said it is possible that someone without symptoms could spread the disease because symptoms can be mild, but because this is a new disease, he said he can't be sure.
Between the positive test announcement and Sunday morning, the county hotline received 63 calls from people with questions about the case.
Villa Duchesne, an independent Catholic school, announced Sunday it will close on Monday, after learning that the 20-year-old infected woman is the older sister of one of its students.
In a statement, Director of Communications and Marketing Alice Dickherber said the school is communicating what it knows with the St. Louis County Department of Public Health.
"We will work with officials to ensure we are doing everything possible to mitigate risk and to maintain our safe environment," she said.
Dickherber said she doesn't know yet whether the school will close for a longer period of time.
Woman traveled from Chicago to St. Louis by train
St. Louis County and Amtrak officials confirmed new details Sunday about the travel movements of the woman who is infected with the coronavirus.
Doug Moore, director of communications for Page, said county health officials interviewed the St. Louis County woman in depth on Saturday about what she did after leaving Italy. The officials also checked in with her on Sunday, he said.
The woman flew into Chicago O'Hare International Airport after studying in Italy, where doctors presume she was exposed to the virus. There, around 17 million people are under quarantine and more than 300 people have died, according to the Wall Street Journal.
Moore said the woman, whose identity is not being released, stayed in Chicago with a friend before boarding an Amtrak train to St. Louis on Wednesday.
Moore said county health officials are still trying to account for the woman's interactions between the time she arrived at the train station in St. Louis and when she called the county's hotline.
County officials arranged for her to see doctors at Mercy Hospital St. Louis, where she was tested for coronavirus. The hospital discharged her that day because she was not deemed sick enough to be hospitalized. The patient returned home to isolate herself.
In a statement released Sunday afternoon, Amtrak confirmed that the woman traveled on Amtrak train 303 between Chicago and St. Louis on that day.
Amtrak said it is notifying passengers and employees who may have been on the train. As a precaution, the company said it has taken the train out of service for "comprehensive cleaning and disinfection." The company also plans to disinfect the Chicago and St. Louis stations.
"We are working in close contact with public health and emergency management teams to have the best available information to be able to share with our customers and employees who might be affected," according to the statement.
Travelers take precaution
While waiting for an Amtrak train on Sunday, Sally Pyne of Bloomington, Illinois, said she took the train into St. Louis along the same route as the infected woman a day later, on Thursday.
"I'm not going to freak out or anything, but it's a little closer than I would have liked," she said.
Pyne, a frequent Amtrak rider, said there's not much anyone can do except wash their hands and take other precautions.
"I'll just be glad when we're out of this scare; I know it concerns a lot of people," she said. That includes her father, who didn't want her to make the trip to St. Louis to attend the Arch Madness college basketball tournament.
At St. Louis Lambert International Airport on Sunday, Patricia Doyle was facing pressure from her husband to cancel a planned four-day cruise leaving Florida for Mexico.
"The cruise, I mean what can you do? Don't touch anything without washing your hands after, watch out for finger food," she said.
Doyle said she bought a facemask to wear while on the plane but later heard that the mask wouldn't protect healthy patients, so she hasn't bothered putting it on.
She said she doesn't see a reason to cancel her trip, despite her husband's concern. "I don't want to have to give in to this — all the hype," she said.
Another woman flying out of Lambert on Sunday, Evelyn Esechie, said she's taking precautions, but she's also not too worried about catching or spreading the coronavirus.
As a health care worker, the Phoenix resident said she's used to practicing good hygiene like washing her hands frequently.
"Right now, I'm not really concerned," she said. "But as soon as I get inside the plane, I'm going to put on my mask and my glasses so in case anybody sneezes, it doesn't get into my eyes."
In the wake of the positive coronavirus case, Lambert is increasing the level of cleaning in public areas and adding public hand sanitizer stations, Lambert's head of communications, Jeff Lea, said in an email Sunday.
"We are engaged with public health officials at every level, and if there's new guidance that is issued in the days ahead from health agencies, we will follow those recommendations," Lea said.
Lea also said the airport has also made sure airlines and tenants have "focused on the best standards of cleaning."
A food service worker said he noticed an informational sheet of paper about coronavirus taped to his workstation a few days ago. The information comes from the Centers for Disease Control and Prevention and the Metropolitan Washington Airports Authority.
It includes answers to frequently asked questions about the virus and notes that airport management teams are staying in close coordination with local, state and federal officials to get the latest information.
MORE: The county health department letter to the family of the infected 20-year old, informing them to follow the quarentine guidelines:
Our priority is you. Support coverage that's reliable, trustworthy and more essential than ever. Donate today.
Follow Corinne on Twitter:@corinnesusan
Send questions and comments about this story to feedback@stlpublicradio.org