Will The 'For The Sake Of All' Research Stay In The Ivory Towers?
After 14 months of preparation, the "For the Sake of All" authors released their final report Friday at the Missouri History Museum. Hundreds of St. Louis community members attended the presentation. Researchers from Washington University in St. Louis and St. Louis University showed how poverty, race, and education can impact health and life expectancy for African Americans in the region.
Dr. Jason Purnell of the Brown School of Social Work at Washington University in St. Louis led the research team. He noted that some of the report's findings, such as how your zip code can be a significant determinant of socioeconomic well-being, aren't that surprising. But the multi-disciplinary report is impressive in the scale of its research topic. The final report, released Friday, includes six recommendations for action:
Invest in quality early childhood development for all children. Help low-to-moderate income families create economic opportunities. Invest in coordinated school health programs for all students. Invest in mental health awareness, screening, treatment, and surveillance. Invest in quality neighborhoods for all in St. Louis. Coordinate and expand chronic and infectious disease prevention and management.
Purnell is hopeful that the calls to action will be answered. He said he already sees small efforts where communities are implementing some of the changes suggested in the report. He hopes the community will make the change on a broader scale.
But not everyone is as optimistic. Former state legislator, Robin Wright-Jones, explained that she's seen dozens of reports like these since the 1970s. Each new report was eventually forgotten. So she is worried that the For Sake of All recommendations will stay on the pages of the study and never make it to the streets of St. Louis.
"Many of us want it to happen. And the issues are very real," Wright-Jones said. "But it's really those in power, in leadership, that step on the throat of these types of issues. And they never never come to any kind of fruition that makes any kind of real difference."
Wright-Jones said she will be more hopeful when Mayor Francis Slay, County Executive Charlie Dooley, and the region's business leaders start the conversation on how to make real changes.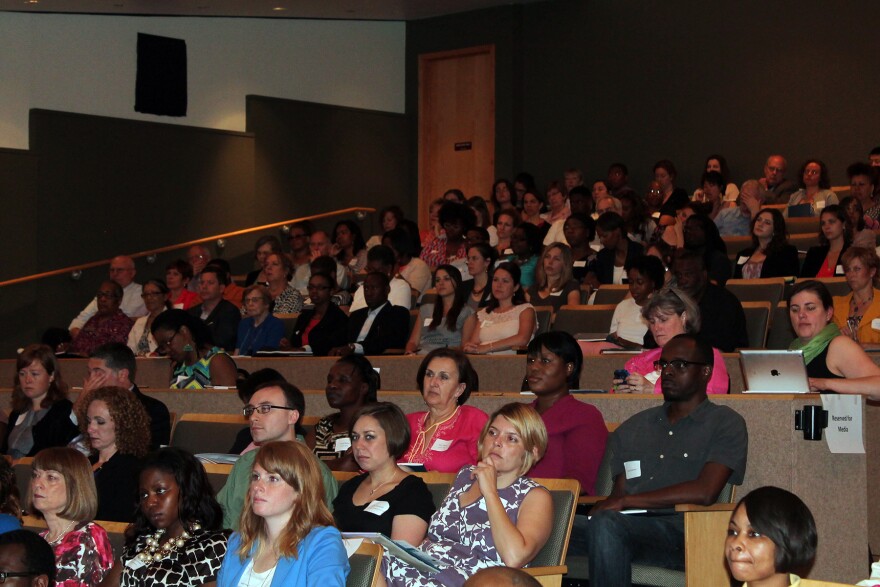 Chris Krehmeyer, President and CEO of Beyond Housing, also noted that the auditorium was filled mostly with academics and researchers. Policymakers and community organizers were not well represented. Eleven state legislators were there, and Sens. Claire McCaskill and Roy Blunt sent representatives. Krehmeyer explained that the real challenge will be to "move policymakers, and cajole and push and prod them to change policies and change how they allocate resources."
Krehmeyer doesn't think the conversation has to begin with politicians and corporate leaders, however. "There are a lot of great organizations in this region, a lot of great not-for profits. But we don't work together. We're going to have greater results for the populations we serve if we can find ways to work together," he said.