One Year Later, No End In Sight To School Transfer Turmoil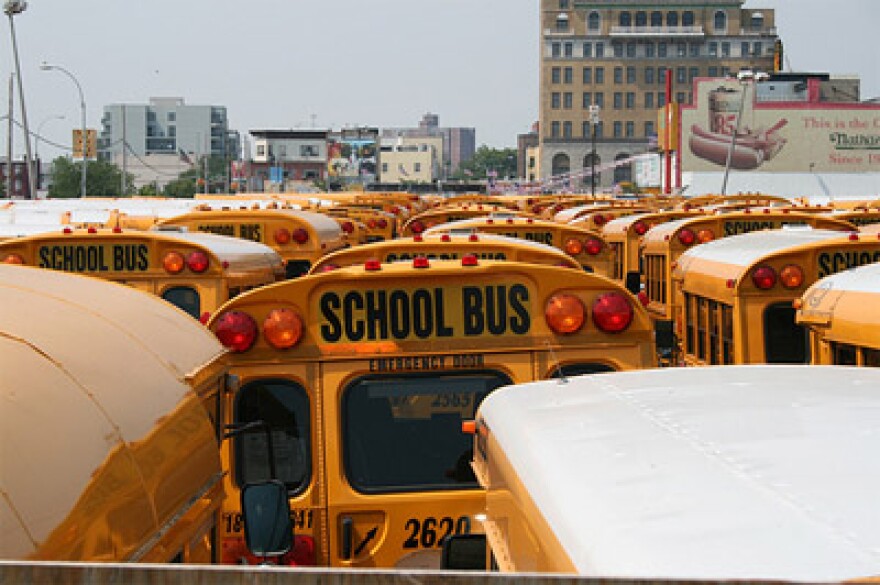 One year ago Wednesday, the Missouri Supreme Court threw the lives of thousands of students, teachers, parents and school administrators into a turmoil that shows no signs of stopping.
By unanimously overturning a lower court ruling and allowing students in unaccredited school districts to transfer to nearby accredited schools, the court enforced a 20-year-old law in a way that no one had foreseen would ever happen.
As a result:
More than 2,000 students elected to leave their neighborhood schools in Normandy and Riverview Gardens, many of them taking long bus rides to unfamiliar areas.
The Normandy school district narrowly averted bankruptcy, only to be set for a state takeover on July 1, under the name of the Normandy Schools Collaborative, unless a lawsuit stops it.
Lawmakers who immediately set to work last summer to come up with what they considered to be needed changes in the law passed a 135-page, wide-ranging bill that Gov. Jay Nixon has promised to veto because it would let public money pay for tuition at private schools.
So with no changes in sight, the transfers are likely to go ahead for a second year, though with some restrictions. Missouri education officials say a cap will be placed on tuition paid to receiving districts – the main factor in Normandy's financial slide. And to further reduce the drain on the district's budget, only students who transferred this past year will be allowed to continue going to different schools.
'We're going to see things spiral, and we're going to see more unaccredited schools and it will just be a mess.' -- Eric Knost, Mehlville superintendent
Eric Knost is the Mehlville superintendent whose district was chosen by Riverview Gardens as one of two where transportation costs would be paid for transfer students. Like many educators, he says that too much attention has been paid to details of moving kids from one place to another and too little has been paid to how to prevent the need for transfers in the first place.
"Until we have legislation and practices that focus considerably on those things," said Knost, who is leaving Mehlville to become superintendent in Rockwood on July 1, "we're not going to have an answer. We're going to see things spiral, and we're going to see more unaccredited schools and it will just be a mess."
'The sky did not fall'
The transfer case worked its way through the state's court system for years, ending up twice at the Missouri Supreme Court. There, the judges overturned on June 11, 2013, a ruling by St. Louis County Circuit Judge David Lee Vincent. He had thrown out the transfer law because, he said, it required action without providing money to pay for it.
Testimony at the trial in Vincent's court had projected a picture of thousands of students taking advantage of the transfer option, costing hundreds of millions of dollars. Most of those effects would have come from the St. Louis Public Schools, which were unaccredited at the time of the trial but later gained provisional accreditation, which exempted them from the transfer law.
Elkin Kistner, the lawyer who handled the case for original plaintiff Jane Turner and later for plaintiff Gina Breitenfeld, said in an interview this month that he thought the projections presented at the trial were overblown, and that the Supreme Court ruling would create an atmosphere where legislators would amend the law to fix some problems.
"Obviously," he said, "that hasn't happened and is not likely to happen this year. That surprised me."
But, Kistner added, neither did the dire consequences painted by school districts that fought to have the law declared void.
"The sky did not fall," he said.
For the two men who took over on July 1 as superintendents of the unaccredited districts – Ty McNichols in Normandy and Scott Spurgeon in Riverview Gardens – the on-the-job training experience was not what they expected when they were hired.
Though the districts had a few weeks to begin planning before the new bosses came on board, Spurgeon said he was "behind the eight ball" from day one, concerned how to best provide services for students who chose to remain in Riverview Gardens and still make sure the transfers moved smoothly.
In Normandy, board president William Humphrey said that when he first realized what the impact of the transfer law would be on the district, "I immediately identified the actual transfer statute as a bad public policy decision. With that being the case, from that day to the present day, I continue to tell people that it was a bad law."
As the year went on, and Normandy had to close an elementary school and lay off more than 100 staff members to stanch the bleeding from its budget, Humphrey called the events "a comedy of errors."
"I understood from day one that it was a flawed decision and we would end up where we are now," he said. "When you look at the numbers," he said, "you can never spend more than you take in an expect to be fiscally responsible."
Anger in Francis Howell
Meanwhile, Normandy had designated Francis Howell as the district to which it would pay for transportation for its transfer students. Superintendent Pam Sloan says she had known that the transfer ruling would have a strong impact on some area districts, but she wasn't sure hers would be so directly affected until McNichols told her about the transportation decision at a superintendents' meeting.
Just one month after the court ruling came down, Francis Howell held an informational meeting to let its residents know what was going on. It lasted for nearly three hours, twice as long as scheduled, and Sloan seemed shell-shocked after hearing jeers and boos from members of the crowd who expressed their fears about Normandy students coming to St. Charles County.
She recalled that not too long before, a St. Louis Post-Dispatch article had appeared calling Normandy High School the most dangerous school in the area, and that stoked residents' concerns, Sloan said.
"I expected people were going to come and be upset," she said in an interview this week, "and they were."
Though subsequent meetings were calmer, and residents from Francis Howell showed up at meetings in Normandy to smooth the waters, Sloan said she and her staff set to work immediately to make sure the transfer students would have the best academic experience possible and the district would see minimal disruption.
"We were not going to overwhelm any one school with a volume of new students," she said. "We have great teachers, we have great administrators, we have great support at our district office level. I thought that the number of kids who were moving into the individual schools was a number that our staff would be able to handle. They're professionals. They do great work with kids.
"Kids began school, and we had to figure out where everybody's level of performance was and put some supports in place for kids who needed them. We spent most of the year building systems of support for the students – transportation systems, learning systems, activities for them to be involved in, kids going home on the bus, making sure they weren't hungry for a long bus ride."
In Mehlville, Knost said the experience was similar.
"I never really worried much at all about the kids coming and how they would do and whether or not we would be able to give them an appropriate education," he said. "That was really the least of my worries, because I knew that that would work.
"They had success like all of our students. Some of them did very well, some of them struggled. Some of them had zero behavior issues, others had some behavior issues."
'A logistical nightmare'
Still, Knost said, he would have liked to see lawmakers come up with a package that would have fixed problems with the transfer program and also put in place interventions to keep districts from sliding into unaccredited territory.
"I still feel that the whole thing is a logistical nightmare," he said. "I don't think we've had any success in forging the conversation or the direction of being pro-active about impoverished communities and success with schools in impoverished communities.
"When schools are unaccredited, all these people don't get behind the scenes to look at what's going on and realize that there are actually good programs and good things you could highlight going on in these schools. They're called failed schools over and over again, and if you're a kid in that school, you're going to feel like a failed student."
Humphrey, in Normandy, said the policy of transfers was wrong from the start, and lawmakers who could have fixed it missed their chance with the package that they passed.
"It was such a bad public policy," he said, "there are really only two solutions to it. The first one was to repeal the law altogether and start over. The second one was that if you want a transfer law to exist, you have to provide fiscal equity to allow the sending district to have adequate resources to educate the children that remained in the district."
Kistner, the lawyer for the plaintiffs in the case, said there was a simple fix available for the law – "to amend it to say that we are hereby creating this agency, the unaccredited school district transfer agency that's going to have authority to promulgate regulations in accordance with the statute.
"Presto, what do you have? You set up a body with expertise. You have to stay within the framework of the statute. That type of concept is fairly simplistic, I understand, but that type of concept is one approach. Why didn't they do it? I don't know."
As things stand, with Nixon's expected veto of the transfer bill, students will once again be moving from Normandy and Riverview Gardens to adjacent districts come August. In Francis Howell, Sloan expects this year to go more smoothly, if only because the district has a year's experience to draw on.
"A lot of the heavy lifting is over," she said, "so if student return, there would certainly be some refinement of those systems. What might we be able to do better? What kind of different supports will kids need to be successful?"
And, she says, even if the lengthy bill passed by the General Assembly doesn't become law, the fact that quality education has been a major topic of conversation around the state for past year is a plus.
But in Normandy, Humphrey says the effects of having a state-run school district and an appointed board supplant the elected board are sending the wrong kind of message.
"The thing that makes best sense would be to leave the elected school board in place, that understands the nuances of the district and the history, and you add any additional people that you want to appoint from the state board, to assure accountability. That was the proper move. We understand the kind of parameters that it takes to start school. They act as though they've never been involved in a school system before. It's ludicrous.
"I'm standing on the top of the roof shouting this. You cannot have a district called the Normandy Schools Collaborative and refuse to collaborate. The underlying purpose of the name of the district is to have people come together to figure out what's in the best interests of kids. We have been confronted with a monologues, not a dialogue. Monologues do not make for collaboration."