Sweet on St. Louis: A peek inside Bissinger's new chocolate factory on the riverfront
At Bissinger's, which has been making chocolate in St. Louis since 1927, Easter bunnies are still decorated by hand. To see the process, view the slideshow.
Maren Leonard | For St. Louis Public Radio
Molds are decorated and filled in assembly-line fashion.
Maren Leonard / For St. Louis Public Radio
Each worker applies a color to the unfilled molds.
Maren Leonard / For St. Louis Public Radio
The decorated molds are filled with melted chocolate,
Maren Leonard / For St. Louis Public Radio
Paula Wilson checks the weight of a 2-pound semisolid bunny.
Maren Leonard / For St. Louis Public Radio
The bunny molds take a ride on a "spinner." Centripetal force helps the walls of the semisolid rabbits form evenly as the chocolate solidifies.
Maren Leonard / For St. Louis Public Radio
The cooling tunnel completes the solidification process. Dave Owens, Bissinger's chocolatier, checks on a mold.
Maren Leonard / For St. Louis Public Radio
Gloria Stevens unmolds a rabbit, as chocolatier Dave Owens explains the process. Stevens, who has worked at Bissinger's for 12 years, leads the molding section.
Maren Leonard / For St. Louis Public Radio
A completed centerpiece rabbit waits to be packaged.
Maren Leonard / For St. Louis Public Radio
The door swings open to the production floor of Bissinger'snew candy factory on the St. Louis riverfront, and . . . oh, my . . .
CHOCOLATE.
"You can feel the smell when you walk through the door, right? It surrounds you?"
That's chief chocolatier Dave Owens, who pauses to let his suddenly-distracted visitors breathe deep and savor the moment.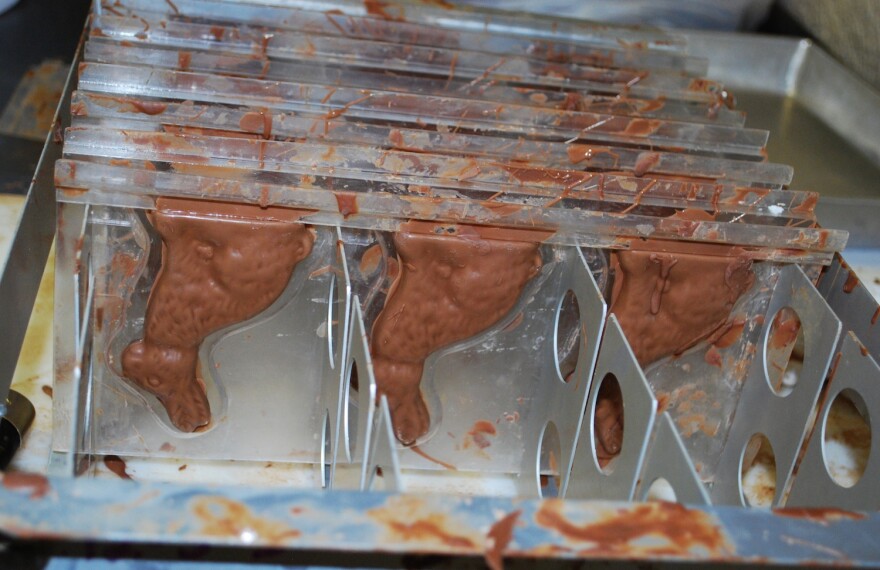 Wafting through the air is the sweet, rich aroma of melted chocolate that's being formed into bars and Easter bunnies and poured over molasses puffs and caramel lollipops.
Owens, who is also known officially as the vice president of taste, is leading this tour through the confectioner's new digs in a renovated railroad freight depot at 1600 N. Broadway, near the foot of the Stan Musial Memorial Veterans Bridge. The St. Louis landmark, which has been crafting high-end confections in the city since 1927, moved its operations here last fall from its longtime facility on Gratiot Street.
The new manufacturing area is sprawling, with a clean, open-air feel in an industrial space that's more than a century old. That historic feel was preserved during the renovation work. New windows on the building's exterior match the originals. Turnbuckles that once helped move railcars of "the Katy " -- the old Missouri-Kansas-Texas Railroad -- are still in the ceiling above the production floor.
On the bunny trail
This time of year, things are hopping in the molding department. Since January, they've been making chick-shaped lollipops and Easter rabbits in an assortment of sizes ranging from petite two-ouncers to 11-pound behemoths nicknamed Harvey, after the old Jimmy Stewart movie.
At the moment, they're making hand-decorated "centerpiece" bunnies: 2-pound pink-nosed fellas with bright yellow baskets who stand 15 inches tall and sell for $50. Only five of these chocolate rabbits can be produced at any one time because Bissinger's has just five molds in this style.
A group of sure-handed "painters" with thin paintbrushes apply colorful details to the insides of the candy molds before they are filled with melted milk chocolate. It is an assembly-like process, with each painter adding a detail.
Crystal Reed, who was carefully applying dark chocolate to form eyes and basket straps, says she was hired in October to decorate turkeys for Thanksgiving.
"I caught on real easy because I like to paint,'' she says.
Down the line, Paula Wilson was filling a decorated mold with melted chocolate and checking weight on a scale.
This bunny was a perfect 2 pounds.
"You get the feel of what it's going to weigh,'' says Wilson, who's worked at Bissinger's for three years.
The filled molds then take a ride on a "spinner," which looks a bit like a Ferris wheel. Centripetal force helps the walls of the semi-solid bunnies form evenly as the chocolate solidifies. A trip through a cooling tunnel completes the process, which takes about 45 minutes from start to finish.
Since its move to the riverfront, Bissinger's has introduced free toursof the plant. Chocolate fans suit up in crisp white coats and frumpy hair nets to observe the candy-making process up close. Reservations are required.
Owens is proficient at explaining the mysteries of chocolate: the unique properties of cocoa butter, melt points, tempering and all that.
"There's this aura, this mystique about chocolate. It really is a special thing,'' he says. "When people think about the manufacture of chocolate -- or chocolate confections -- it can grab a hold and mesmerize them."
A new front door to the city
If the proposed new football stadium is built on the city's north riverfront, it will be Bissinger's next-door neighbor. In the meantime, Bissinger's considers itself a new front door to the city, says Tim Petron, the company's chief operating officer.
The company installed a large lighted Bissinger's logo on the north side of the building that is visible to drivers using the Musial bridge. And, as it turns out, the sign is visible from the air because it is in the flight path of planes heading to Lambert.
The red brick structure, which was constructed in 1910, is designated on the National Register of Historic Places, as part of the North Broadway Wholesale and Warehouse District. The building once housed Switzer Licorice.
Petron said that company officials looked at various locations to house its expanding business, but they were committed to remaining in the city.
"St. Louis has always treated Bissinger's just so well,'' he says. "We know this area needs an anchor to come in and show that you can bring jobs -- manufacturing jobs -- into the city and make it work. We really do view this as a great place to do business, but it's also a great way for Bissinger's to give back to St. Louis.''
About 100 people are employed at the facility, some of them temporary workers who help with seasonal production, according to Petron. The company added about a dozen jobs after acquiring Bochner Chocolate of Iowa City, Iowa in 2012.
The four-story building has 220,000 square feet for offices and manufacturing – and a special event space dubbed The Caramel Room that can be rented for weddings and parties. That space includes a rooftop patio with a spectacular view of the Stan Span.
The project cost about $15 million, including the building purchase. The company made use of historic tax credits and $5 million in new market tax credits from the St. Louis Development Corporation.
"We had plenty of spaces that were presented to us that, in all honesty, would have been a lot cheaper and lot easier,'' Petron says. "When we came down and saw the building at 1600 North Broadway we fell in love.''
Petron said the goal from the get-go was to maintain the historic look of the building, while creating a space for producing its high-quality confections.
"And on top of it, is this beautiful space overlooking the new bridge and the river,'' he says. "This is a one-of-a-kind location anywhere in the country."
A taste for all seasons
Bissinger's completed its move to the new factory in late summer, while gearing up for Christmas and Easter -- the biggest holidays for the confectioner, Owens says.
But the factory produces all-season favorites like molasses-caramel lollipops all year long.
"If we stop making those, we might as well stop being in business,'' he says.
The company, which traces its roots to 17th-century France, has been adding new treats lately, such as quinoa crunch bars with a splash of agave, chocolate-covered wine grapes and blackberry hibiscus gummy-pandas.
"We really like to sit at the crossroads of Old World tradition,'' Petron says. "We date back to the 1600s but with new flavor profiles.''
The signature stripe on bear claws is still made by hand, and in the candy kitchen, caramel is still hand-stirred, just as it has been for centuries.
Bissinger's has two stores in St. Louis and sells directly to customers through its catalog and website. The candies are also available in airport gift shops and retailers like Whole Foods Markets, Straub's, Neiman Marcus and Crate & Barrel.
Owens says that California and Texas account for the largest volume of sales, which he attributes to density of population. The most loyal fans are St. Louisans, who have spread the word around the country.
"I meet people all the time who say, 'My grandmother used to send me the molasses lollipops every Christmas,' '' Owens says. "They all have a story. And we really cherish those stories -- and those customers we've had for their whole lives."
Making sweets for 350 years
The Bissinger's tradition began in 1668 when the family was named as confectioners to the French royal court and served other nobles throughout Europe. Treats produced for the royals included toffee, caramels, fondants and sugared nuts. Chocolate didn't enter the picture until the late 1800s.
A few milestones:
1668: King Louis XlV bestows the title "Confiseur Imperial" on the Bissinger family.
1845: Karl Frederick Bissinger, a Bissinger descendant, emigrates to the U.S. and opens a store in Cincinnati, Ohio.
1927: Bissinger's son moves to St. Louis and opens a store on McPherson Avenue, where it will stay for 80 years. Candy was made in the back room.
1982: Candy kitchen operations move to 3983 Gratiot Street.
2007: The longtime store on McPherson relocates to 32 Maryland Plaza.
2012: Bochner Chocolate of Iowa City, Iowa, is acquired.
2013: Bissinger's buys an old railroad freight depot at 1600 North Broadway on the St. Louis riverfront to renovate as a new factory.
2014: Ribbon-cutting at the new factory on Oct. 15. President and CEO Tim Fogerty presents Mayor Francis Slay with a chocolate bar commemorating the 250th anniversary of St. Louis.