The Missouri Legislature opens it 2017 session on Wednesday. Here's what you should look for.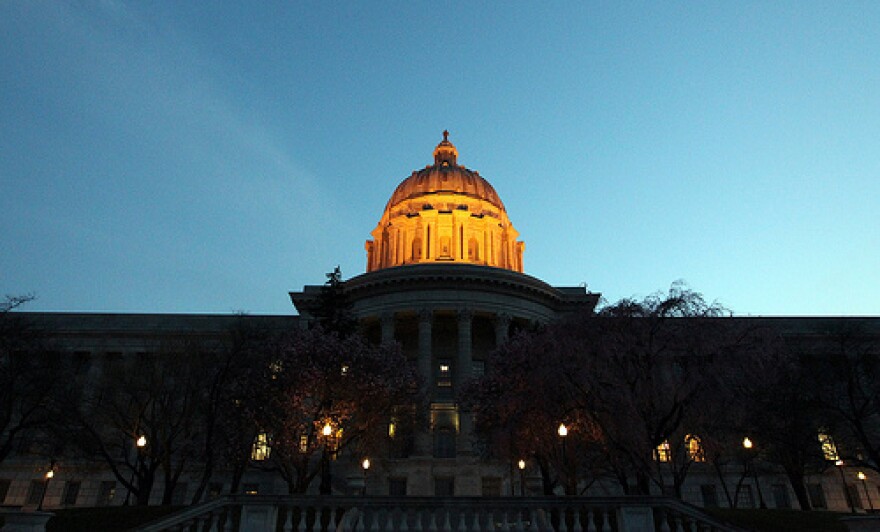 On Wednesday, January 4, the Missouri Legislature will open for its 2017 session. What will the year in legislation look like?
On Tuesday, St. Louis on the Air has assembled a panel to answer that question and give us a look at the year to come including St. Louis Public Radio reporters Marshall Griffin and Jo Mannies as well as Terry Jones, Founders Professor of Political Science and Public Policy Administration at the University of Missouri-St. Louis.
More than 500 bills have been pre-filed so far this year. Among them are bills dealing with right-to-work, tax credit and school transfer legislation.
What does the GOP dominance at the legislative session mean at the Capitol?
"Well, for starters it means they will get a lot of things accomplished in a little bit quicker time and they won't have to rely on veto sessions to get major things passed, which has been the norm for the past four years," said Griffin. "Gov. Nixon has vetoed a lot of their top priorities, which a lot of them, they've been able to get in September. I don't think that's going to be the case this time around. Gov.-elect Greitens is on the same page with House and Senate Republican leaders, and vice-versa as well. We might see some fracturing eventually."
Jones added that it's hard to tell what exactly Greitens' agenda will be and how he will go about achieving those goals.
"The Republican legislators have been assuming their agenda is his agenda, but I'm not sure it's going to play out that way on many issues," Jones said.
What will change and what could cause fractures?
Right to work is a given, said Mannies, and Greitens has promised that it will become a reality for some time. On other issues, like ethics reform, which Greitens has shown himself to be stricter on than legislators, there could be some fracturing between governor and legislature. Mannies said you won't see that in the first few weeks of the legislature, however.
Related: Pro & con: As 'right to work' nears certain reality in Missouri, what will it actually be like here?
Greitens has been going on a goodwill "thank you tour" across the state. Mannies said there's a point to such a tour and she believes Greitens is trying to bolster his standing with legislators.
"He doesn't know that much about state government, so when he does have differences with the General Assembly, he hopes this good will help push his ideas forward," Mannies said.
Will this legislative session be business-friendly?
"I would say so," Griffin said. "Lawmakers are excited to have someone they believe will be on the same page with them when it comes to the economy. I'm predicting there will be some conflict over the role of tax credits. There's a differences among Republicans about what the role of tax credits should be. That would be one area of contention that could pop up after the honeymoon is over."
Mannies said that historic tax credits, one of the state's largest expenditures when it comes to tax credits, could become an issue in the urban-rural divide of Missouri. Historic tax credits have been used to great extent in urban areas.
"Nixon and Blunt both tried to curb in state tax credit programs on such issues and weren't successful," Mannies said. "Greitens is already staking some ground by making it clear he won't support tax credits for a stadium."
Education and school-choice will be major issues.
The Governor-elect has promised to do something to improve education in the state of Missouri and with a lack of funds to do so will have to look at changing how the system works, Mannies said. Greitens will inject more choice for students, possibly with statewide charter schools. Public funding to private or parochial schools will need a vote of the people, though, Mannies said.
Greitens could also have a secondary impact on the Department of Elementary and Secondary Education in that he will be able to fill vacancies on the state Board of Education.
"One issue that was big two years ago and three years ago but was ignored last year was trying to fix the student transfer law," Griffin said. "The reason it didn't go anywhere was because of the two vetoes in 2014 and 2015 by Governor Nixon. There are a lot of lawmakers, both Democrat and Republican, who want to revive the student transfer fix. That might have a better chance of including school-choice vouchers. At this point, nothing is officially filed but there are several pre-filed bills at this point."
Listen for more insights into how gun control, LGBT rights, abortion and more will fare in the upcoming sessions:
St. Louis on the Air brings you the stories of St. Louis and the people who live, work and create in our region. St. Louis on the Air host Don Marsh and producers Mary Edwards, Alex Heuer and Kelly Moffitt give you the information you need to make informed decisions and stay in touch with our diverse and vibrant St. Louis region.