How 2020 Completely Reshaped Missouri And St. Louis' Politics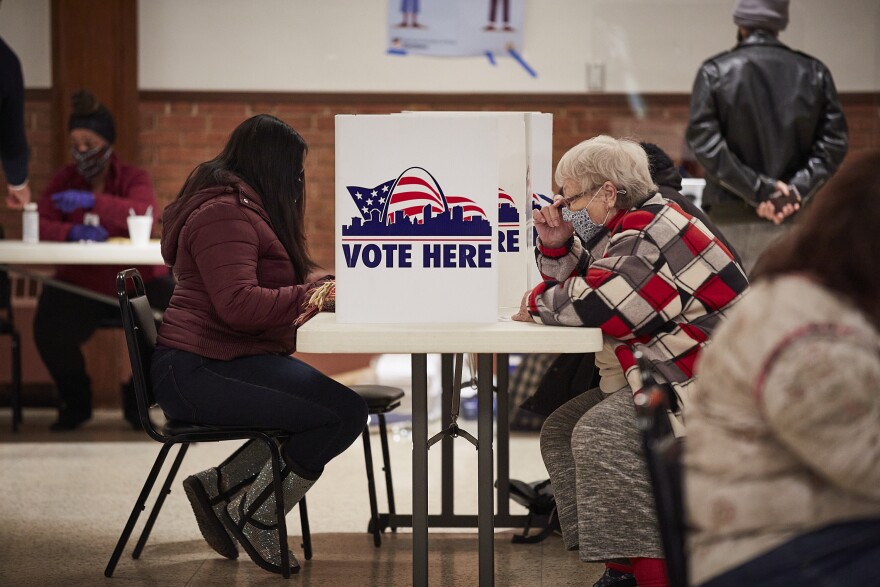 Say what you will about 2020. One thing this cursed year didn't do was follow a script.
At the beginning of the year, the big storylines in Missouri and St. Louis politics included what would come of the dormant Board of Freeholders process or whether the Legislature could do much during an election year. Those issues took a back seat to two things that dominated the national conversation: the COVID-19 pandemic and protests over police killing Black people.
How 2020 upended Missouri politics
St. Louis Public Radio's Jason Rosenbaum breaks down what stories made waves in 2020.
The virus and protests for racial equity played a huge role in the last 365 days in Missouri and St. Louis-area politics, as seen in the top stories from St. Louis Public Radio's political reporters and editors. And even though pretty much everyone wants to see 2020 thrown in a dumpster and lit on fire, there's little doubt that the consequences from this past year will have a political impact for years to come.
But before we get into the full list, here are some stories that didn't quite make the cut but were still important:
Honorable mentions
While this list will be Missouri centric, St. Louis Public Radio Metro East reporter Eric Schmid nominated thefailure of a bid to reconfigure Illinois' income tax as a top story. And St. Louis Public Radio Rolla reporter Jonathan Ahlpicked the rollout of legal marijuana in the Land of Lincoln on his list. Both of these events will have a big impact on the perennially cash-strapped state.
St. Louis Public Radio's justice reporter Rachel Lippmann singled out the passage of Proposition D in St. Louis, which institutes so-called approval voting for most of its offices. Not only are the city's mayor and aldermen running as independents, but the measure allows St. Louis residents to vote for as many candidates as they want in March, ahead of an April runoff election.
Speaking of St. Louis, St. Louis Public Radio political editor Fred Ehrlich chose St. Louis Mayor Lyda Krewson's decision to not run for a second term. There's little doubt that Krewson inherited a tough situation in a city with declining population, rising crime and finite financial resources. And her departure means a wide-open melee for mayor next year.
St. Louis Public Radio statehouse reporter Jaclyn Driscoll picked a very odd Missouri General Assembly session that featured long breaks because of the COVID-19 outbreak and a number of special sessions to deal with policy and budgetary issues. And St. Louis Public Radio executive editor Shula Neumanselected lawsuits over debtors prisons as a top story.
As for me? All five of my choices for top political stories made the list.
5. The surprising demise of Clean Missouri
In a year full of surprises, perhaps the one that caught both Republicans and Democrats off guard was the passage of Amendment 3 in November.
That constitutional amendment repealed a state legislative redistricting system that was widely known as Clean Missouri. That plan approved in 2018 gave much of the power to a demographer who was empowered to draw House and Senate maps based on a formula stressing competitiveness and partisan fairness. Missouri Democrats saw the system as a way to dig out of their perennial super minority.
But even though opponents of the initiative received millions of dollars from largely left-of-center groups, and the underfunded proponents essentially only had the Farm Bureau to tout their message, Missourians ended up narrowly passing Amendment 3. Many point to the ballot summary that appeals court judges crafted as pivotal, since it described marginal changes to lobbyist gift and donation limits before a simplified description of how the redistricting system changes.
Because Amendment 3 passed, either bipartisan commissions or, more likely, appellate judges will draw House and Senate maps next year. And because the criteria is much different than what was in Clean Missouri, it's not likely that Democrats will see a significant change in fortunes in the General Assembly.
4. Republicans romp through Missouri elections
In a year defined by a presidential contest that saw Democrats regain the White House, 2020 in Missouri will forever be known as a historic blowout for Republicans.
Despite Democrats' hope that state Auditor Nicole Galloway would wage a competitive contest, Gov. Mike Parson won one of the most decisive wins for a GOP gubernatorial hopeful in modern history. And all of the Republican statewide officeholders won huge victories over their Democratic adversaries.
Republicans even won races where Democrats invested a lot of money and effort: U.S. Rep. Ann Wagner defeated Democratic state Sen. Jill Schupp in Missouri's 2nd Congressional District, while Republican Sen. Andrew Koenig won decisively over Democratic state Rep. Deb Lavender. The only bright spot for Missouri Democrats was barely taking over a Springfield-based House seat, one of the thinnest silver linings for the party in a general election.
Whether Missouri Republicans can keep this forward momentum going with Donald Trump leaving the political scene is an open question. But Republicans aren't going to lose meaningful statewide elections anytime soon without major erosion in rural and exurban counties where they are now dominant.
3. After years of advocacy, Medicaid expansion finally passes
So it's been well established that Missouri Democrats did not have a good 2020. But arguably their biggest policy goal of the past 15 years did make it across the finish line:expanding Medicaid.
Unlike Amendment 3, the August ballot initiative to expand Medicaid under the auspices of the Affordable Care Act followed a familiar pattern with Missouri ballot initiatives. With big donations from hospitals and left-of-center political nonprofit groups, the pro side of the Medicaid expansion swamped opponents with a television ad campaign that dominated a primary season devoid of any meaningful intraparty statewide races.
And since backers of the initiative made their proposal a constitutional amendment, the GOP-controlled Legislature will have a hard time not following through with expanding Medicaid. Major changes could require another ballot initiative to pull off, and that may not come to pass until after Medicaid expansion is implemented.
But Medicaid expansion is about more than just about a win or loss for the state's political parties. It will have a huge impact on the financial health of hospitals, especially those in rural areas, and be a potential life-changer for working-class Missourians whose income was above the previous eligibility bar.
2. COVID-19 rocks state and local governments
There's little doubt that COVID-19 touched every facet of human life in 2020. The virus led to widespread disruptions in consumer industries, education, the arts and sports. And it also led to a health care crisis that overwhelmed hospital systems and killed hundreds of thousands of people across the country.
So it's not surprising that COVID-19 was a dominant aspect of both Missouri and Illinois politics in 2020. It prompted governors, county executives and mayors to take drastic actions in an attempt to curb the virus. Things like whether to mandate masks or place restrictions on restaurants became explosive politics issues, playing a big role in Missouri's gubernatorial contest and St. Louis County executive's race.
While Parson's decision to devolve most of the decision-making power to local jurisdictions didn't have much of an impact on his political trajectory, the same can't be said for St. Louis County Executive Sam Page. Despite winning another two years in office, Page's COVID-19 response engendered lots of criticism. And he's moving into 2021 without a stable majority of supporters on the county council, placing his ability to move through significant pieces of legislation in serious doubt.
One of the big storylines of 2021 will be how the rollout of COVID-19 vaccines could lead to the dissolution of restrictions and a return to something resembling normalcy. Yet with COVID-19 infections and deaths still at dangerously high levels, the virus will continue to consume policymakers' attention in the months ahead.
1. Cori Bush makes history in defeating Lacy Clay
Cori Bush's win in the August Democratic 1st Congressional District primary was monumental. The Florissant Democrat not only marked an end to the history Clay congressional dynasty, but also became the first Black woman and first demonstrator from the Ferguson protest movement to make it to Congress.
But it wasn't just the groundbreaking nature of Bush's win that led most of St. Louis Public Radio's political team to deem her victory over Lacy Clay the political story of the year.
Thanks to Democrats having a slim majority in the U.S. House, Bush, a longtime ally of Vermont Sen. Bernie Sanders, will have a ton of leverage to influence the flow of major legislation. She'll also get to play a major role in criminal justice-related legislation as a member of the House Judiciary Committee.
Bush also has the potential to exert considerable influence in St. Louis-area politics. As Bill Clay noted in a 2012 St. Louis American article, members of Congress play a sizable rolein affecting local politics. The elder Clay noted "power emanates politically from a congressional district," adding that such power and influence lead to Black candidates winning offices for key state legislative and citywide posts. Bush will have the same opportunity to influence city and county politics that Bill and Lacy Clay had.
That's not to say that Bush will face smooth political and policy sailing. There's no guarantee that Congress will adopt some of Bush's desired health care and environmental proposals, especially if Republicans maintain control of the U.S. Senate. And while Lacy Clay is bowing out of the political scene, many officials who received his backing remain in elected office and could emerge as political rivals in the years ahead.
Yet there's little question that Bush ushered in a new era in St. Louis politics that has the potential to have a seismic impact for years, if not decades, to come — for reasons beyond just the groundbreaking nature of the event itself.
Follow Jason on Twitter: @jrosenbaum