On the Trail, an occasional column by St. Louis Public Radio political reporter Jason Rosenbaum, takes an analytical look at politics and policy across Missouri.
Jefferson County could be canary in coal mine for Missouri GOP
Control of the United States Senate could depend on how well Democrats like Bob Butler fare in Jefferson County.
That might sound like hyperbole, but it's not too far from the truth. Butler, an attorney who unsuccessfully ran for the House in 2014 and 2016, is one of two Democrats seeking to oust state Sen. Paul Wieland, R-Imperial.
Democrats like U.S. Sen. Claire McCaskill and state auditor Nicole Galloway need strong performances in Jefferson County to win their elections — and will depend on people like Butler to bring Democratic voters to the polls.
It won't be an easy task. While Jefferson County is traditionally Democratic, voters have increasingly cast their ballots for Republicans in recent election cycles. If those recent trends continue, it's not a good sign for Democrats like McCaskill or Galloway: In 2008, 2012 and 2016, statewide candidates that won Jefferson County also won their respective elections.
That's where people like Butler may come into the equation. Back in 2006 when McCaskill first ran for the U.S. Senate, the then-auditor got a boost in rural Missouri when Democrats Wes Shoemyer and Frank Barnitz won highly competitive state Senate races. McCaskill ended up getting more than 35 percent of the vote in all but two of the 21 counties that represented those Senate districts — which contributed to her 50,000-vote margin over incumbent Sen. Jim Talent.
She will need to either win or come close to winning Missouri's suburbs if she wants a third term. And while Butler isn't running against Wieland to specifically help McCaskill, the attorney does view his campaign as helping Democratic interests.
"I am aware that me getting in will hopefully bring out Democratic votes," said Butler, whose decision to run was spotlighted by the Missouri Democratic Party Twitter account. "I viewed it that in Jefferson County; I think we have other races for state rep that this time will be competitive. And I felt like if someone like myself did not get involved and run and be a credible candidate, then that is going to free up Paul Wieland to really help out other candidates — which was going to hurt a lot of the candidates down-ticket."
If Butler manages to gin up enough Democratic support to win his race and help other Democrats running for Jefferson County seats, it could be a signal to Republicans that their candidates for auditor and U.S. Senate are going to have a hard time prevailing. An open Jefferson County executive race may also be a canary in a coal mine.
Wieland, though, said he's gone into all of his elections since the mid-1990s with an expectation of competitive races. So he doesn't necessarily feel any additional pressure to win re-election to help his GOP brethren.
"Everybody's got to run their own race," Wieland said. "We've won elections, we've lost elections. Sometimes you do everything right, but the people up the ticket from you don't do well — and it kind of drags you down. Over the years, I guess I've become immune to really getting obsessed with that. All I can do is what I can do: work as hard as I can work. Whatever happens above me or below me is out of my control."
Labor pressures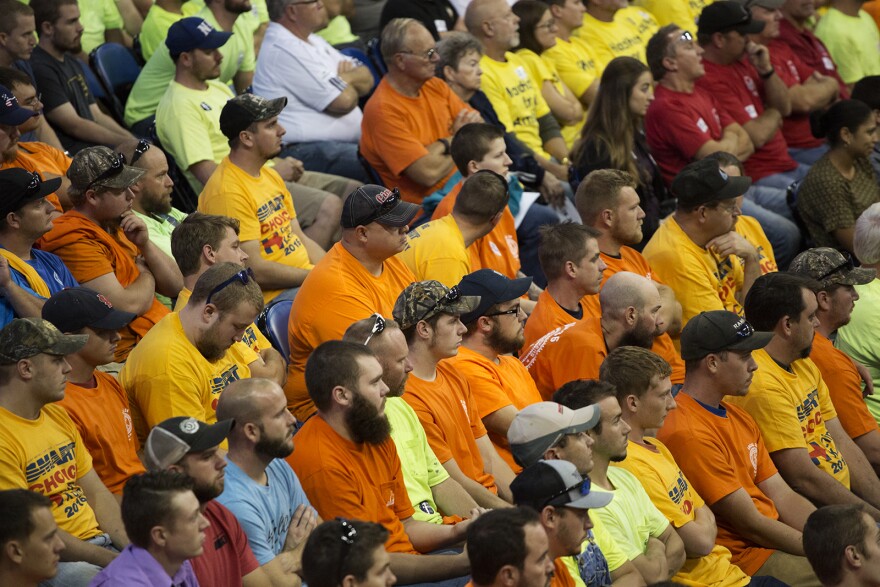 Perhaps the biggest variable in this year's slate of Jefferson County elections are ballot measures over right to work, which bars unions and employers from requiring workers to pay dues as a condition of employment. Organized labor has developed a solid foothold in Jefferson County over the past few decades.
Labor unions managed to get a right-to-work law that the General Assembly passed in 2017 up for a public vote — which will occur either in August or November. While Wieland hasn't always voted in organized labor's favor or received their backing in elections, he has consistently voted against right to work. That may make it harder for Democrats to attack him.
"I've always said for years that Jefferson County is a conservative area. And there's three legs of the stool," Wieland said. "There's pro-life, there's pro-Second Amendment and there's pro-labor. And as long as you're those things, you're representing the majority of the people here in Jefferson County.
"I don't have any fear that I can be the pro-labor candidate, the pro-life candidate and the pro-Second Amendment candidate," he said. "I've proven it year after year after year."
Butler, who identifies as socially conservative and called himself "pro-life" in 2016, disagrees that Wieland is a particularly strong advocate for labor unions. He said Jefferson County residents need lawmakers who are going to go to Jefferson City to "fight for working people, as opposed to somebody who is more passive."
"Paul Wieland is a little squishier on labor, and he has done some favorable votes. And there will be, to some extent, some people who will still be compelled to support him," Butler said. "But he hasn't gone out of his way. He certainly never sponsored anything to help labor. And he's certainly not somebody that you can count on if he wins re-election to continue to help labor."
It's up to the Missouri General Assembly whether to move the right-to-work referendum from November to August. While repealing the law may be successful no matter what, it's widely assumed that keeping it in November will be a turnout mechanism of sorts for Democratic candidates. (Conservative groups are also circulating ballot initiatives that would effectively enshrine right to work in the Missouri Constitution.)
Wieland, however, said he has no preference on when right-to-work comes up for a vote. "I think it's probably a bad thing for Republicans and people up-ticket to have that on the November ballot," he said. "But for me, I don't think it makes a difference."
Greitens' shadow
While national attitudes and labor issues will likely influence Jefferson County voting behavior, it's an open question whether Gov. Eric Greitens' political woes will affect the outcome of Missouri General Assembly races.
Some Republicans who are not the biggest fans of the governor think so. But Wieland said it's too early to say. By November, he said, Greitens could be out of the legal and political woods — especially if he's found not guilty of felony invasion of privacy. Or Republican Lt. Gov. Mike Parson could end up taking over Greitens' job.
"If the election were in April, I would be very concerned," Wieland said. "But we've got a long way to go. And in politics, six months is an eternity."
Wieland hasn't always seen eye to eye with Greitens. Even after he won the GOP primary in 2016, he described his relative ambivalence about Greitens' candidacy: "I can't get excited and say, 'I want to spend all my time, talent and treasure helping this guy get elected. Because it's like, 'Eh, you know? Eh.'"
On the Trail weaves together some of the intriguing threads from the world of Missouri politics.
Follow Jason on Twitter: @jrosenbaum