As Missouri Democrats gear up for elections, a divide emerges about Greitens' future
HANNIBAL — Near the beginning of her remarks at one of her party's most endearing Democratic gatherings, U.S. Sen. Claire McCaskill took a moment to pay tribute to a longtime friend and onetime rival.
She heaped praise Saturday on former Gov. Bob Holden, who McCaskill upended in a heated 2004 primary. As Holden listened on, McCaskill noted that Democrats held the Missouri governorship for 20 years where "there was never a whiff of personal scandal."
"These guys are in there for less than a year and it's a mess," said McCaskill, to a round of applause.
McCaskill was alluding to the political and legal woes of GOP Gov. Eric Greitens, who is fighting to stay in office after he acknowledged he had an extramarital affair before he was governor. He was recently indicted for allegedly taking a photo of a partially-nude woman without her consent, which prompted a debate among Republicans about whether Greitens should resign or stay in office.
Attendees at Democrat Days in Hannibal are also divided about what should happen to Greitens. Some, like former state Rep. Ed Schieffer, believe Greitens' conduct is disqualifying.
"When I was a state representative for eight years, I believe strongly if I had done half the things that supposedly the president and the governor's done — I would have been put out of office justifiably," said Schieffer, who lives in Troy. "And I also think even my family would say, 'Hey, if you did these things, you need to resign and get on with your private business.' Take time to maybe have some counseling and some healing, if you will."
But Schieffer's views aren't universally shared with Democratic officials or activists. After news of the indictment hit, none of the Democratic Party's political leadership — including McCaskill, Missouri Democratic Party Chairman Stephen Webber and Senate Minority Leader Gina Walsh — explicitly called for Greitens to resign.
"I think it's fine for people to be critical of whether or not the investigations occurred as they should or if the right people investigated or investigated thoroughly enough," said McCaskill, a former prosecutor who criticized Attorney General Josh Hawley in her remarks for his report clearing Greitens' office of violatingthe state's open records laws by using a confidential texting app. "But what I said is once a criminal case is filed and once there was an indictment by a grand jury, that's where my training kicks in. And I think it is inappropriate to try and characterize the evidence or to postulate on what should happen.
"Because now it's up to the criminal justice system to determine what will happen," she added. "And I'd rather have the facts and evidence speak — as opposed to a bunch of politicians opining about what should happen. I'm just going to resist that temptation and let the evidence speak for itself in a courtroom.
Some attendees at Democrat Days felt it was better for Greitens to stay in office — and not only because Democratic candidates like McCaskill can use his woes as a bludgeon against GOP candidates.
UAW Local 2550 President Glenn Kage is concerned that if Greitens does step down, then the GOP-controlled legislature will work more cohesively with Lt. Gov. Mike Parson.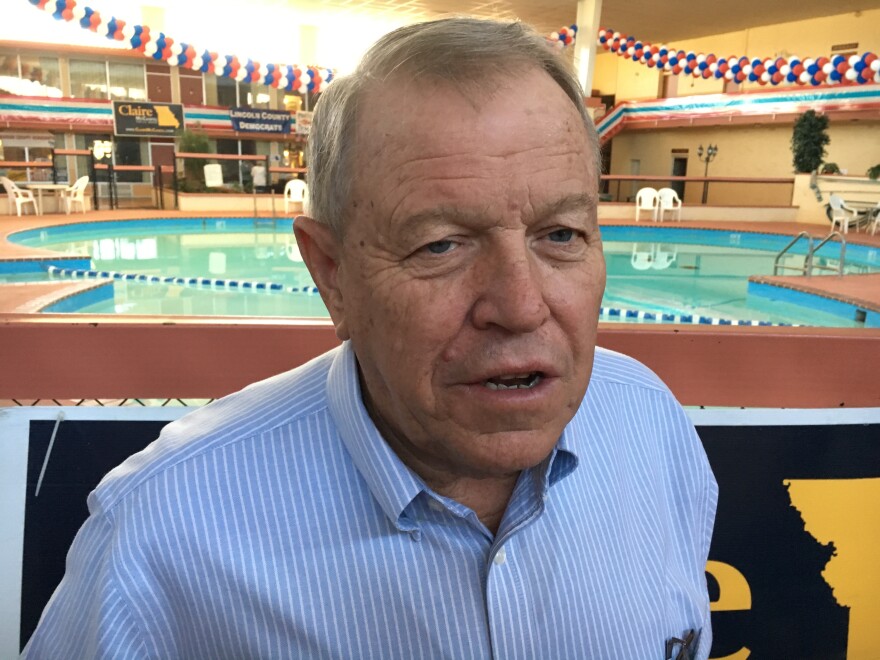 "If he's gone, is that going to open the floodgates for the next guy to come in? And he could be just as anti-labor," Kage said. "I mean, he's not been friendly to labor throughout his career, and I don't see that changing once he assumes the role of governor. So the longer Greitens is in there, and the Republicans don't want to work with him, the better it is for us."
Shelby County Commissioner Tom Shively served with Parson in the Missouri House. He said the Bolivar native is more collaborative than Greitens, which in turn could lead to better policy outcomes for Democrats toiling in legislative super minorities.
"Will it hurt or help the Democrats if they hold this off until November? I'm not sure. I think a lot of people have already kind of made up their mind," said Shively, who served for six years in the House before losing his seat in 2012. "[Greitens] did some things that were not correct. Whether he took the pictures or not? I don't really care so much about that as I do that he's kind of lied to us in the past. Once you lie to people, it's kind of hard to get their trust back."
Comeback in rural Missouri?
Democrat Days has been a marquee political event for rural Democrats for more than four decades. But this year's celebration comes at a time when Republicans have gained a dominating foothold in northeast Missouri, so much so that Democrats now hold no state legislative seats in the region.
But Webber has said the state party plans to recruit and support candidates in GOP-leaning parts of the state. Competing in that area is critical for candidates like McCaskill and state Auditor Nicole Galloway, who likely need to get about 40 percent of the vote or higher in some rural counties to win this November.
"People want an independent watchdog, not a Jefferson City lapdog," Galloway said. "They want an independent watchdog that is going to fight for them in government — no matter who the party is even if it's difficult. They want someone who is going to root out the waste and fraud of their tax dollars."
McCaskill said she was heartened that dozens of young people showed up to Democrat Days. She believes that she can make a case to rural voters that Democrats have their interests at heart when it comes to health care, transportation infrastructure and education policies.
"Why is it that the Republican Party is not being more helpful to the very areas that are so supportive of them?" McCaskill said. "If we don't make it about party, but make it about policy, I think we can gain a lot of ground not just with young people — but with a lot of voters that really don't see things through the prism of one party or the other."
One issue that may energize Democrats is a ballot measure to repeal right to work, which bars unions and employers from requiring workers to pay dues as a condition of employment. Mark Dalton of the Carpenters' Union said members of organized labor are eager to turn out — regardless of whether the ballot measure comes up for a vote in August or November.
"I've often talked to Republicans and told them the best way to keep labor away from them is just not to attack them. So if they keep stirring the hornet's nest, we're going to have to keep playing in these races pretty big," Dalton said. "That was shown there. And I think it will be shown this fall. A lot of labor is going to show up for right to work, whether August or November. And they're going to continue to show their support for pro-labor candidates on both sides of the aisle."
Both Schieffer and Shively said that rural voters may flock back to the Democratic Party if both Greitens and President Donald Trump continue to experience political turbulence. Both men, though, said Democrats have to be accepting of candidates who oppose abortion rights and gun control.
"There's a lot of us who were independent-minded, and we voted the way we wanted to," Shively said. "And that's probably part of the reason why we didn't get a lot more political contributions on the Democrat side, because we spoke our own minds and did what we thought was right."
Schieffer said it will likely take a couple of election cycles before Democrats gain significant ground — especially in the legislature. John Yancey, who co-founded Democrat Days 47 years ago, said he's realistic about his party's prospects in northeast Missouri.
"I don't think they'll do nearly as well here as they do in maybe the city," Yancey said. "Because I think the people out here are a little more conservative than they might be in Kansas City or St. Louis. While I'm sure people in Washington don't please them completely, I'm sure that they probably see a lot of things happening that they're in favor of. I don't think you'll see a big blue surge in northeast Missouri."
Holden, though, said he's optimistic that his party can retain a U.S. Senate seat and the state auditor's office — and make gains in rural Missouri.
"I think it's important because of who these people are," said Holden, referring to McCaskill and Galloway. "The ethics that they hold, the vision that they have — I think they can be true leaders for our party moving forward as they've been in the past."
Follow Jason on Twitter: @jrosenbaum