St. Louis is divided over whether soccer can be a savior
Recovering from the slow-motion heartbreak of losing its NFL team (and, to a greater extent, watching the Rams grossly underperform for a decade), St. Louis is jostling with 11 other cities for a Major League Soccer expansion team. Building a stadium is critical to that effort, and an ownership group known as SC STL is trying to secure city taxpayer dollars for the facility.
But with St. Louis facing a raft of economic and public safety issues, opponents believe subsidizing professional sports is a misplaced priority. They also question whether a soccer team is going to provide much benefit to residents in struggling neighborhoods.
"It is difficult for me as an alderman from an area filled with poverty and disenfranchisement to become excited about projects that are really based upon the profit motivations of people with money," said Alderman Terry Kennedy, who represents the 18th Ward, in north-central St. Louis.
The possible MLS team's ownership group has been whipping up support for the stadium in various ways, including a rally scheduled for Monday night with the league's commissioner and former national team player (and St. Louis native) Taylor Twellman.
The ownership group also could be found — along with a crowd of fans — on the Amsterdam Tavern's outdoor patio on a February morning. It wasn't for a beer special or Premier League game, but a question-and-answer session with U.S. Men's National Team coach Bruce Arena.
There was more on the crowd's mind than whether Clint Dempsey would return to the national team in time for the 2018 World Cup. Justin Hager was thinking about how to get his Lindenwood Park neighbors to vote in favor of the two ballot initiatives that would direct money toward the stadium.
"I think the future of soccer in St. Louis is bright," Hager said. "We have … a big base here. We have a lot of fans. We have already established ownership group and team with St. Louis FC. We're a great city. We've got the heritage.
"This is about building something that's going to embody this city – both our past and our future," he added.
Arguments for a package deal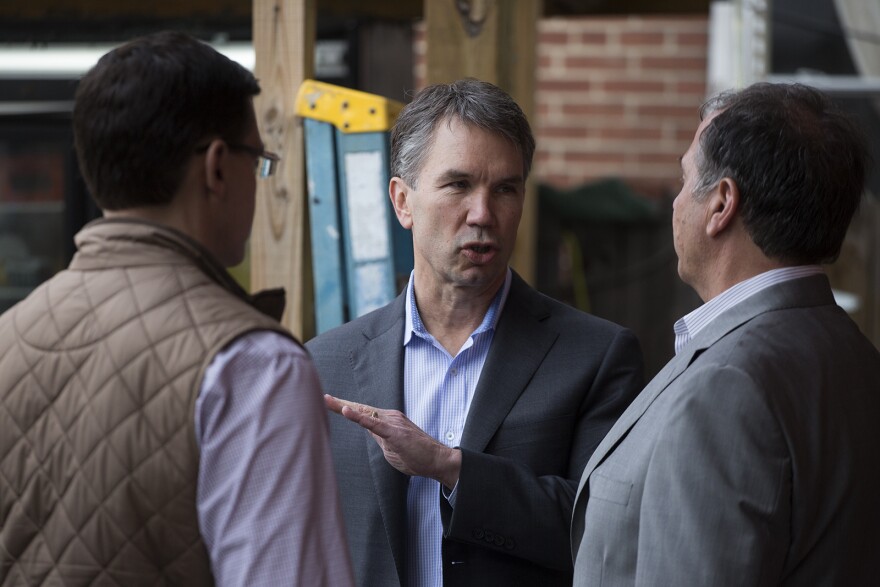 SC STL, the ownership group, wants to build a stadium close to Union Station in Midtown. To do that, two ballot measures must pass, in tandem.
Proposition 1 imposes a half-cent sales tax increase, with the proceeds going toward such things as light rail expansion and public safety initiatives. If Proposition 1 passes, it automatically raises the use tax that businesses pay on out-of-state purchases. Proposition 2 would direct that tax increase toward the stadium.
If both pass, about $50 million from a use tax increase could go toward the stadium. The city could also contribute up to $10 million from 50 percent of the sales tax money generated in the stadium to pay for the facility.
SC STL's Paul Edgerley said there are practical and philosophical reasons that city taxpayer dollars should go toward the stadium.
"There's a point economically where [a stadium without public financing] just doesn't work," said Edgerley, adding that the ownership group is contributing $95 million toward stadium construction and $150 million for the MLS expansion fee.
"So we're not trying to make great money. But you have to have something that economically works. We also think that the community that's going to get some benefit wants to be part of this. If the community doesn't feel like it's the right priority for the community, I think that probably says something as well."
Soccer fans like Johnny Garcia contend professional soccer can be a cultural asset that stokes pride and excitement throughout the city.
"St. Louis welcomes tens of thousands of students every year — some of the brightest and the best," Garcia said. "And I see that they leave often. A venue like the one proposed and the development it would trigger would go a long way towards keeping them, retaining them, and attracting new residents."
Skewed priorities
Some St. Louis residents, though, say soccer isn't the priority that Edgerly believes it to be.
"Since the financial crisis, we've seen a growing inequality across the nation," said Phillip Weeks, who spoke out against the stadium financing plan at a recent Board of Aldermen committee hearing. "When we have such a growth in inequality … It's important not give money to billionaires — but to invest it in the average citizen."
St. Louis Treasurer Tishaura Jones doesn't want city taxpayers to bear the cost alone, and said she's dismayed that surrounding counties weren't asked to contribute to funding the stadium.
"The moment where I say 'yes' we should put public money is when we have all of the counties of the region at the table," Jones said. "And we don't."
There's also the argument that city residents would be choosing sports over vital social services if they approve the propositions. Glenn Burliegh with the Metropolitan St. Louis Equal Housing and Opportunity Council said that the city's use tax goes toward affordable housing and public safety programs.
"If you talk to the people about why they're leaving the city, never heard people say it's because we do not have a MLS team," Burleigh said. "I've heard lots of people say because we don't have enough police officers. I've heard lots of people say there's not enough jobs."
Stadium backers point to an extensive community benefits agreement, announced last week, that would invest in minority hiring programs and youth soccer initiatives. But elected leaders like Kennedy are skeptical that that's enough to persuade people in his ward to vote for it.
"The city needs to be thinking in a different way," Kennedy said. "How do we solve these issues of poverty? How do we solve these issues of disenfranchisement? And what are the money-generating activities or projects or programs that can be implemented to solve them?"
The next steps
SC STL isn't taking any chances with the propositions, given the sentiment against sending taxpayer dollars to stadiums. A scuttled effort to build a riverfront stadium for the Rams barely found enough support to pass out of the Board of Aldermen, especially after backers of the plan decided against putting the proposal up for a public vote.
They've poured $1 million into a campaign committee called AspireSTL, which has purchased billboard advertising close to major highways, sent mailers to voters and is behind the "Yes to Proposition 1 and 2" yard signs.
"We're going to build a stadium next to Union Station that really bolsters up the overall ecosystem for St. Louis," said SC STL's Jim Kavanaugh. "And with the attraction that MLS soccer and just soccer in general relative to the Millennials, we think this is a good thing for the city."
But the stadium isn't a done deal even if the two propositions pass: MLS would have to award a franchise to St. Louis, and the Missouri Highways and Transportation Commission would have to sell or lease land they own so the stadium could be built.
Republican Gov. Eric Greitens, who has spoken out against publicly funding stadiums, said this year he's receptive to having Missouri's transportation department spruce up state land to make way for the stadium. That said, the commission, not the governor, would make the final decision on any sale or lease.
St. Louis Public Radio's Ryan Delaney contributed to this story.
Follow Jason on Twitter: @jrosenbaum