St. Louis voters could decide on tax increases for MetroLink, soccer stadium
Separate initiatives designed to be on the city's April ballot could fund a host of projects, including MetroLink expansion and a professional soccer stadium.
Two St. Louis Board of Aldermen bills were introduced on Wednesday. The first would have voters decide on a one-half cent sales tax increase. The proceeds, estimated at more than $20 million annually, would go toward things such as a North-South MetroLink line, infrastructure improvements and security cameras:
According to St. Louis Mayor Francis Slay, $10 million would go toward the "first alignment" of North-South MetroLink. The goal is to get federal matching funds that would be enough to build to "build out a significant piece of the alignment."
Another $2.5 million would go toward "neighborhood revitalization" programs.
Another $2.5 million would pay for security cameras.
Another $2.5 million would go to "workforce development" programs.
The last $2.5 million would pay for infrastructure improvements for streets, alleys, waterworks, public buildings, and parks.
"We must build on those strengths, but ensure that this growth reaches more people, and work to grow existing momentum in the central corridor to neighborhoods north and south. St. Louis is at a turning point," Slay wrote on his blog. "The events of Ferguson shone a spotlight on the myriad challenges facing our region: racial disparities and poverty chief among them. These challenges are not new – they are a product of systems, policies and institutions that have haunted us for decades — and solving them will not be easy."
Passage of the sales tax proposal would trigger an increase in the city's use tax. Businesses pay that tax on out-of-state purchases. A second bill introduced on Wednesday would place a separate item on the ballot asking whether proceeds from that use-tax increase should go toward a professional soccer stadium located in Midtown.
If voters approve the sales tax hike but reject the stadium proposal, proceeds from the use tax increase would into the city's general revenue coffers.
'Something responsible for St. Louis'
Alderman Christine Ingrassia is handling both bills. The 6th Ward Democrat said she's aiming to "roll up my sleeves and work alongside my colleagues to ask some challenging questions and get to a place where we think we are offering something responsible to the residents of St. Louis.
"I think all the research points to the fact that having a robust public transit system is really good for residents. It's really good for economic development," Ingrassia said. "And it's good for making cities more sustainable and stronger. And we have a real missing link with respect to the North-South line not being available for resident and tourists and folks that are visiting for business to be able to use."
Ingrassia told St. Louis Public Radio last week that she has concerns about the amount of public subsidy for the proposed soccer stadium. She said on Wednesday that officials with St. Louis Mayor Francis Slay's administration are working with SC STL, a group of people aiming to bring Major League Soccer to the Gateway City.
One source of opposition to an unrelated bid to build a riverfront football stadium was that potential revenues for the facility weren't enough to cover the public costs. Ingrassia said "I'm not comfortable, and I don't think many people would be, with a revenue loss," adding that "revenue neutral or revenue generating is where I would like to get."
"I do know that the mayor's office, the folks that are working directly with the owners' group, I think the reason it's taking so long is because there's a real meaningful effort to make sure if we move forward with an agreement to a MLS stadium and a team, that it's done in a way that's responsible for the city – especially in light of the fact that we already have difficulty keeping up with the Dome, the Convention Center, and Scottrade Center," said Ingrassia. She said she had not spoken with SC STL as of Wednesday morning. "I think most research shows you have to be really careful with respect to public ownership of these types of venues. They're just ridiculously expensive to maintain. They get outdated quickly. And [they're] really easily a way for cities to lose money."
In a statement to St. Louis Public Radio, SC STL spokesman Jim Woodcock said "the local ownership group working with MLS pledged that no public investment by the city would be made without a vote of its residents, so we are very happy with the board bill and commend Mayor Slay's office for working toward a measure that both speaks to the potential of the project and will give the public a voice."
"It bears repeating that the ownership is committing $240 million to $300 million in private investment, not including the responsibility of cost overruns, daily operations and maintenance of the facility," Woodcock said. "The objective for the local ownership group led by Paul Edgerley has always been to balance the risks that would come with launching an expansion MLS team in a medium-size Midwest market like ours while ensuring that any public entity contributing could justify the investment and enjoy a positive return. We are confident we've done that."
Expansion plans
In a conference call with reporters, MLS Commissioner Don Garber said 10 cities (including St. Louis) have expressed interest in four possible expansion slots. He cities have until late January to apply for expansion, adding that two cities will be selected at some point in 2017.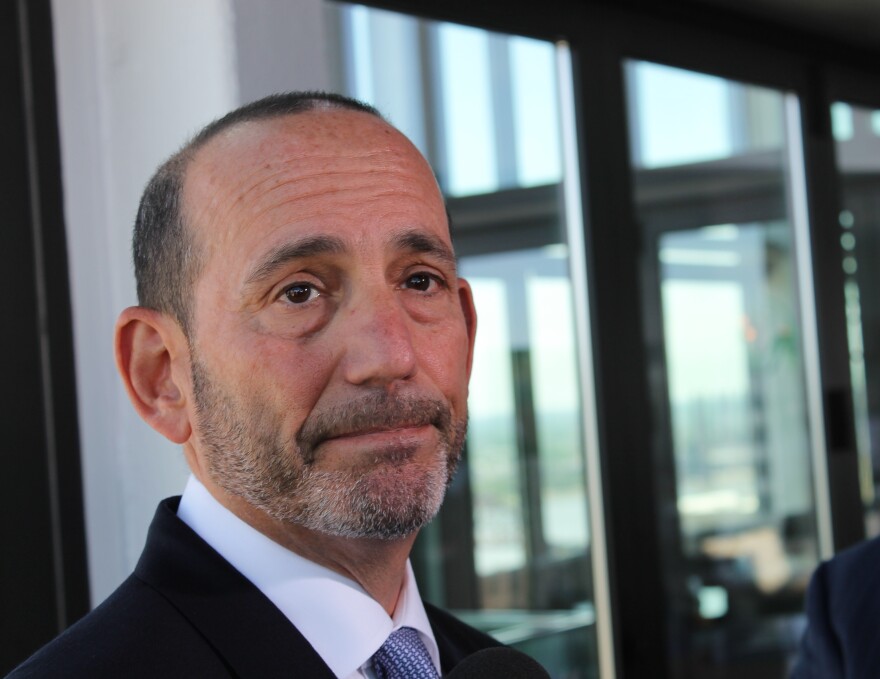 He announced that the expansion fee for the first two teams would be $150 million, about $50 million less than what SC STL estimated in its filings to the Missouri Development Finance Board. (SC STL vice chairman Jim Kavanaugh said that development would not decrease the amount of public money his ownership group is seeking.)
Garber said he's met a lot with representatives from SC STL, including Paul Edgerly and Dave Peacock. He said the league is "very encouraged by what we see."
"St. Louis has always been an attractive market for us on a variety of levels," Garber said. "It starts with the deep and historic soccer roots in the city. And it kind of moved to the next generation of support that will lead to what we think will be a great for the sport, should we be able to expand there."
Asked if the city's chances would be dampened if voters reject the proposed ballot initiative, Garber said "if the vote fails, I think it's in many ways a referendum on behalf of the community as to whether or not they want to support a plan for a stadium downtown."
"The St. Louis ownership group needs to determine whether or not the public support exists," Garber said. "I think the question as to whether or not they remain an expansion candidate would probably be a question for them, much more so than for MLS if they don't get the public vote."
Too high?
If the sales tax increase passes, it would push St. Louis' sales tax to 9.179 percent. In parts of the city with transportation development districts or community improvement districts, the proposal could move the sales tax past 11 percent. (The city's use tax is at 8.013 percent now, so the ballot item would increase that to 8.513 percent in places without a CID or a TDD.)
Asked if she was concerned about the city's sales tax getting too high, Ingrassia replied: "I do understand that argument and that challenge.
"And that's why I think it's best that we ask the voters what their opinion is. ... I think we need a more comprehensive approach to figuring out ways to bring in revenue. But in order for us to have everything aligned the way we need it to be in order to qualify for the federal New Starts grant, I would like to see something happen sooner rather than later."
The North-South MetroLink line would also go into St. Louis County. But it's not an assurance that the county will sign on to that route. Still, Ingrassia said it's time for the city to act.
"I think we're just at a point in time where addressing crime and poverty in some of our city neighborhoods, this expansion of MetroLink is key to the city moving forward," Ingrassia said. "I don't think we can wait for the county."
The deadline to get a ballot item on the April 2017 ballot is Jan. 24. That means aldermen will have to work relatively quickly to pass Ingrassia's legislation.