After tumultuous start, Ferguson Commission gets down to business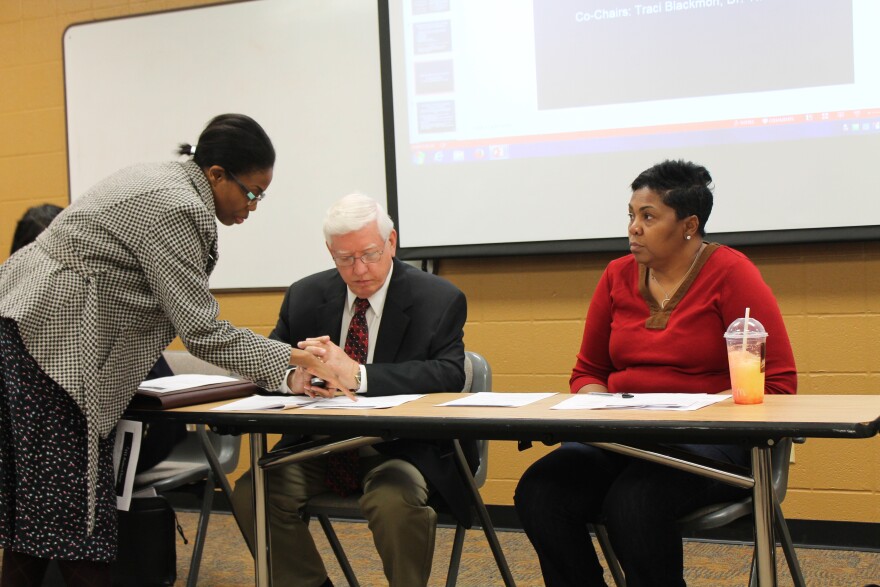 When the Ferguson Commission first met last December, its members bore the brunt of pent-up anger and frustration. It was just days after a grand jury decided against indicting former Ferguson Police officer Darren Wilson for shooting Michael Brown.
At that first gathering, the 16-member commission was beset by livid audience members and skepticism about the commission's ultimate value.But recently inside a classroom on the University of Missouri-St. Louis campus, the tensions of last year seemed far away.
There, a small audience witnessed rousing discussion and debate about the future of the region's municipal courts. There, a mayor, city manager and municipal court judge clashed with academics and activists who feel the current system is unsalvageable.
After competing ideas were written on large pieces of paper taped to the wall, Commissioner Traci Blackmon said she liked what she saw.
"I think it's wonderful that we can have this conversation and be challenged and have to sit here together and figure it out," Blackmon said.
Months after meetings started, the Ferguson Commission is getting down to brass tacks. Commissioners are leading "working groups" examining specific ways to change the region's policing, education system and municipal structure.
"Now people are 'we hear you, we believe you really are sincere about this work, now we need to get down to the business of unraveling,'" said Commissioner Becky James-Hatter. "How did we get here? Where are we really? Where are we going? And what are the recommendations that are going to get us there? I think that is the work that is happening now."
Through these groups, the commission will produce recommendations for Gov. Jay Nixon, who set up the commission in the midst of intense criticism of his leadership and judgment.
Still, will the commission be able to get policymakers to follow through on recommendations? And -- a greater question -- is the public policy arena the appropriate venue to heal decades of racial tension and distrust.
Nose to the grindstone
The commission's early meetings featured moments of intense passion – and anger – from audience members. Whetherit was a spontaneous interruption during a meeting in Ferguson or a clash between protesters and St. Louis Police Chief Sam Doston in the Shaw neighborhood, the commission's early gatherings were hardly a lovefest.
Managing director Bethany Johnson-Javois said that shouldn't have surprised anyone, especially since Brown's shooting death stirred emotions and tensions throughout St. Louis.
"When people have been frustrated, when individuals have not felt validated, they have a right and a pent up anger or a pent up emotion that they want to get out," said Johnson-Javois, who took a leave of absence from her job to work full time with the commission. She said that as the purpose of the meetings to find solution becomes clear, the tension and resistance fade.
"So when you talk about solutions, the energy shifts from frustration to a creative energy that says 'OK, here's the five things that I think I really want,'" she said.
Since the earlier days of the commission, crowds have generally dwindled – especially at last week's meeting in Clayton. And a great deal of work is being done in work groups divided by various topics.
James-Hatter's child well-being and education equity work group, for instance, is looking at changes to the state's school transfer law, mental health infrastructure at schools and access to higher education. Other groups are looking into municipal governance, policing and economic disparities.
"We've now created kind of a platform of how we're moving from information to recommendations," James-Hatter said. "And that work is happening in partnership with the community. But we're also now bringing in the experts."
In the aforementioned task force looking into municipal governance, people like Better Together's Dave Leipholtz, municipal court judge Frank Vatterott and Hazelwood city manager Matthew Zimmerman provided their perspectives on how to change local courts.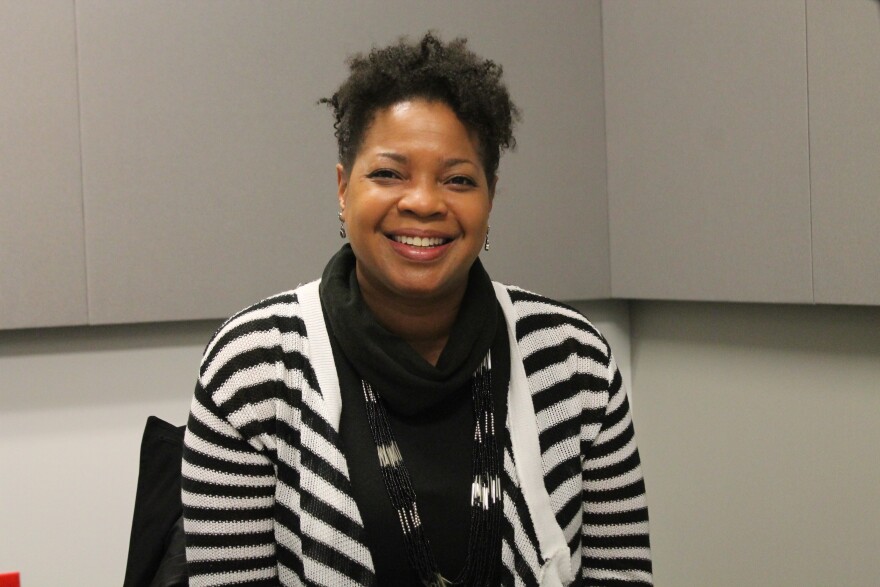 Commissioner Felicia Pulliam, who co-chairs a working group on economic inequity and opportunity, said her group wants to tailor the work of national experts "so that it will meet the specific needs of our community."
"And we've learned a lot about health disparities and how that impacts the community," she said. "Investing in early childhood education, and how that has an impact on ending inter-generational poverty. We've done a lot of learning."
Commissioner Kevin Ahlbrand is president of the Missouri Fraternal Order of Police and a member of a citizen-law enforcement working group. He said one reason the tone of the commission's meetings has changed is because "we're really getting into the nuts and bolts of the work."
"As far as the first few meetings being confrontational, part of the problem was out-of-town people that were there to, I know that for a fact, cause problems," said Ahlbrand, who is one of three law enforcement-related officials on the commission. "I think now when the outside agitators figured [it] out -- to be honest with you, it's getting a little boring for them now. Now that we're really getting down to the nuts and bolts of work, we see pretty much the same people at every meeting. And we know that those people are energized and want to help us to do our work."
Follow-through?
One of early criticisms of the commission was that it would simply issue a report that would "sit on a shelf" – and not accomplish much.
Lt. Gov. Peter Kinder, for instance, noted that policymakers set up commissions after riots during the Civil Rights era that didn't do very much."I have not found one person – Democrat, Republican or independent – who believes that a commission sitting and taking testimony and producing a report that is going to gather dust on shelves is going to be a big part of the solution to Ferguson," Kinder said last year.
Commissioners interviewed for this story say they've met with local and state elected officials – including Republican leaders like House Majority Leader Todd Richardson, R-Poplar Bluff, and Democratic officials such as St. Louis County Executive Steve Stenger. They said coming up with recommendations that actually have a path to implementation has been a common point of discussion.
Senate President Pro Tem Tom Dempsey, R-St. Charles, said last week he's also met with commissioners.
"They're very interested in some of the work that we're doing on municipal courts reform, on the student transfer issue," Dempsey said in an interview with St. Louis Public Radio's Marshall Griffin. "They didn't come up and say 'here's all the things we think you need to do be doing.' But those were a few items that we touched on in our meeting. And they said they were having good dialogue in St. Louis related to their meetings."
Indeed, the legislature is deliberating on measures that are a big focus for the commission – including municipal courts and student transfers.
But Ahlbrand, who often talks with lawmakers as president of the Fraternal Order of Police, said commissioners are realistic that their suggestions aren't going to be adopted instantaneously.
"I think people who aren't familiar with how the legislative process works, it's hard to get a bill passed from filing it and getting it done the first year," Ahlbrand said. "But the discussion, the important thing is to file a bill and get those discussions started. ... Sometimes it takes three to four years to get a bill passed, but the important thing is to get those discussions started."
Ahlbrand said he's also trying to provide commission members with realistic expectations. For instance, he said many people wanted to boost the amount of training police have to undertake – which he said may not always be logistically possible.
"I think most importantly is explaining to citizens and other commissioners why we do certain things and why don't do certain things," Ahlbrand said. "Just getting them to know the whole nuances of enforcing the law is important. We are also really able to explain why certain things may not work or be difficult get through – and some of the recommendations. And we have been pretty good at saying 'Hey, let's try this because I think this has a real good chance of passing.'
Systems or people?
But perhaps the more vexing problem for the commission has little to do with the fickle nature of legislative politics.
Solutions to longstanding racial, economic and social divides may not be found within the public policy arena – but, rather, within the hearts and minds of St. Louisans. They're the type of problems that require interpersonal changes, as opposed to alterations to statutes and ordinances.
Both Johnson-Javois and James-Hatter say they're realistic about the timeline. In fact, some experts told them that wholesale changes to St. Louis society could take decades.
"What we learned from the Kellogg Foundation when they came in is they said very clearly if you're talking about generation – which is what we are – we're talking about 25 years commitment .... ," James-Hatter said. "So that's the type of life cycle that we're thinking of."
Johnson-Javois said the commission is planning meeting specifically on interpersonal changes. But there are other worries. Starsky Wilson – the co-chair of the commission – expressed concern at last week's commission meeting at Clayton High School about a "Ferguson fatigue." He was dismayed by a relatively sparse crowd at a meeting about changing people's attitudes toward race.
"Because this is your region and it is hurting," Wilson said.
But Johnson-Javois said commissioners want to make their work long-lasting – both in law and in society. She added "it's very critical for us in order to point to success and point to something tangible that this wasn't just talking heads and this is not a Blue Ribbon panel."
"I think that's part of the legacy that we want to leave," she added. "Yes, on paper, the charge that the governor gave us was to generate a study. To look at root cause issues. But we've embraced that charge a little bit more broadly to say 'not just a study with research and data.' But how do we actually document this moment in time in the movement?"