Labor unions promise 24-hour workdays to build riverfront stadium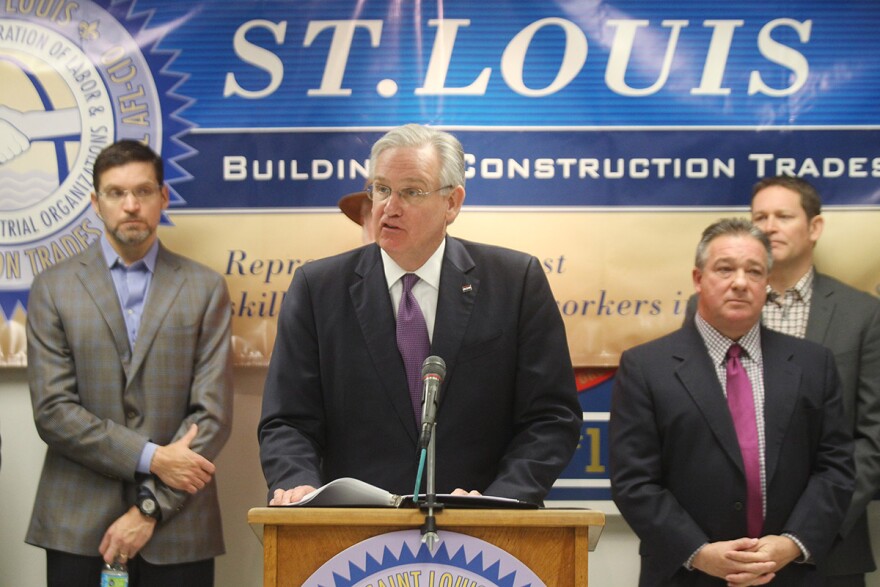 St. Louis labor unions are willing to work 24-hours-a-day without overtime to build a stadium on the city's riverfront.
It's a move that Gov. Jay Nixon said showcases how serious the city and state are about building a stadium aimed at keeping professional football in the Gateway City.
"The working men and women of Missouri bring a toughness, a tenacity, a willingness to overcome any challenge that is quite simply unmatched," Nixon said. "We build strong. We build safe. We build to last. The bigger the job, the harder we work."
At a press conference in south St. Louis Thursday, Nixon announced that the St. Louis Building and Construction Trades Council, the Eastern Missouri Laborers' District Council, and the Carpenters District Council of Greater St. Louis agreed to work three, eight-hour shifts, five days a week.
It's a move the governor's office said will get the project done sooner and save about $40 million in construction costs compared to two 10-hour shifts. And it's a plan that will provide several million work hours to laborers.
St. Louis Building and Construction Trades Council secretary-treasurer Jeff Aboussie said agreement would be mutually beneficial for workers, contractors and the region.
"These are things that we think are creative to a developer, they're creative to the economic environment that affects our city," Aboussie said. "But more importantly, you can't do these things without capacity. And right now in our region, we have the capacity of the workforce of the most well-talented, skilled women and men in the building trades in our construction industry."
Labor unions came to a similar arrangement to work 24-hours shifts when Missouri was trying to lure production of the 777X to the St. Louis area. Those overtures, however, weren't enough to get Boeing to move production of the aircraft.
The outdoor stadium proposal comes as St. Louis Rams owner, Stan Kroenke, is seeking to build a state-of-the-art stadium in Inglewood, Calif. Most of the stadium's cost could be paid for with private dollars, which has stoked fears that the Rams' days in St. Louis are numbered.
It's possible that the outdoor stadium proposal could be use to prevent such a move, since NFL bylaws favor cities with definitive stadium proposals.
"Clearly keeping what you have – keeping the Rams – would be the priority," Nixon said. "But, secondarily really, what we're dealing with is meeting an NFL standard here. That's why we've been working directly with the league. That also helps us guarantee the necessary private investment that's a pillar to what has been done in these deals."
Backers of the project have also contended it could be used to lure a professional soccer team to St. Louis – which is popular throughout the region. But Nixon said he hasn't had any discussions with Major League Soccer about that prospect.
"We believe that the MLS continues to look for expansion sites," Nixon said. "We believe that as you look at that, if you're going to put together a facility of this nature – there are ways to design it so that it would have a dual purpose."
Nixon reacts to state bond vote proposal
When former Anheuser-Busch President Dave Peacock and attorney Bob Blitz unveiled their stadium proposal earlier this year, one of the mechanisms proposed to pay for the facility was "extending" state and local bonds currently paying for the Edward Jones Dome.
Since that time, some legislators – including Sens. Ryan Silvey, R-Kansas City, and Rob Schaaf, R-St. Joseph – proposed bills requiring legislative or voter approval to extend state bonds for the St. Louis Regional Convention and Sports Complex Authority.It's a reactionto Office of Administration chairman Doug Nelson's contention that Nixon can extend the bonds himself.
"The measure isn't about whether or not we should make an effort to keep a professional sports team in Missouri. It's not even ultimately about this particular governor, although his current actions are the catalyst," Silvey said in a statement. "This legislation is about establishing in law that the executive branch does not have the authority to put our state into debt without legislative or public approval. It's critical we immediately stop what could set a very dangerous precedent in this state."
When Nixon was asked about that proposal, he said "the legislature gets to vote on the bonds each and every year."
NIXONQASTADIUM.mp3
Nixon answers questions from the media about the labor agreement to build the stadium.
"The current bonds, and all of the bonds of the state, must go through and -- do go through -- the appropriations process, and have to be approved in order to maintain our AAA standards," Nixon said. "So they'll be involved in that decision-making process. I think it's up to us to put forth a proposal and to meet the timelines we're involved in here."
Nixon said the announcement about the 24-hour shifts by labor unions "is another way we can help make any payments that the state might have on those bonds … less dollars."
"But it's also important to not forget the private sector dollars that are involved here and how that helps make this something that's good for taxpayers," said Nixon, alluding to how money from the Rams and the NFL could be used toward the stadium.
St. Louis and St. Louis County have either ordinances or charter amendments requiring a vote before approving any public assistance to stadiums. But some – including St. Louis County Executive Steve Stenger – have contended that the provisions may not apply in extending bonds.