Politicians, Others React To Death Of Antonio Martin
The death of 18-year-old Antonio Martin at the hands of a white Berkeley police officer is drawing more muted responses than the shooting death this summer of Michael Brown.
Gov. Jay Nixon released a very brief statement Wednesday, saying that "the events in Berkeley are a reminder that law enforcement officers have a difficult, and often dangerous, job in protecting themselves and law-abiding citizens." None of the St. Louis-area's U.S. Congressmen or Senators made any public comments.
Cornell W. Brooks, the president of the NAACP, sent his condolences to Martin's family, and asked the community to "exercise peaceful protest and refrain from any violent retaliation."
"A violent response, as the families of so many recent victims of violence had said so often, does nothing to honor and in fact desecrates the memory of their loved ones. The tears of grieving families are neither police blue no racially brown or black, they are colorless. All lives matter. Particularly during this season that so many Americans hold sacred, the NAACP is calling for patience and peace as the circumstances of Mr. Martin's death are thoroughly investigated."
State Sen. Maria Chapelle-Nadal, one of the most vocal protesters in Ferguson following Brown's death, said she saw three similarities between the Brown and Martin cases.
Another young black man was killed in America.
The police officer was not wearing a body camera.
The use of force laws in the state are still too broad.
"Other than that, it's a different narrative completely," Chapelle-Nadal said. "Anytime someone has a gun, and is posing it to you, you have a right to protect yourself. This is a stand-your-ground [situation]. And let me tell you, if I was that cop, I would have stood my ground." She also noted that state law in Missouri forbids anyone under the age of 19 from carrying a concealed weapon.
Back in August, Berkeley mayor Theodore Hoskins told a crowd at an NAACP rally that, "You don't forgive this because if you forgive this, you are next." His reaction to the shooting in his city had a different tone. At a press conference on Tuesday, he said that his initial review of surveillance video led him to believe the shooting was justified and urged the public not to jump to conclusions.
"You cannot compare this to Ferguson," Hoskins said. "We had a policeman responding to a call, protecting the residents of the city of Berkeley. Everybody doesn't die the same. Some people die because the police initiated it. Some people die because they initiated it. And at this point, our review indicates that the police did not initiate this, like Ferguson."
He said experts would review surveillance footage of the incident released by the St. Louis County Police Department.
Former state Senator Jeff Smith said the political demographics in Berkeley meant the response from its leaders to Martin's death would be much more sensitive than the reaction in Ferguson.
Berkeley's all-black leadership, he said, understands the anger in the majority black community.
"And on the other side, you probably have a community that may be more willing to give the benefit of the doubt to the city, given the racial composition of the city's power structure," he said.
Non official reactions haven't been as forgiving.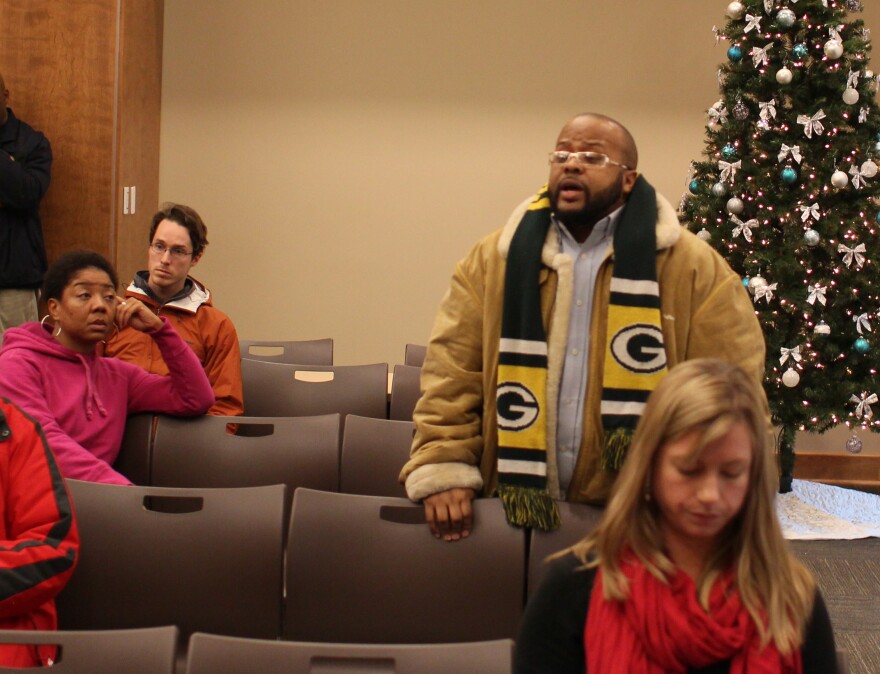 At the press conference held this morning, Mayor Hoskins interpretation of the situation surrouding Martin's death was challenged by Reverend Jason Keith Coleman. Coleman insisted that the characteristics of Martin and Brown's deaths are linked.
"This has to stop happening right now and call it what it is," said Coleman. "A police officer has killed another young black man and this has to stop."
He said this death highlights issues of police brutality and prejudice.
"The police have a license to kill a black man and all they have to do is say they feel threatened," Coleman said.
Coleman's feelings were shared by many on social media. Some challenged officials directly.
Others insisted Martin's death is another example of underlying racial issues in the area.
Some Ferguson protest leaders criticized the mayor directly, calling him out for not expressing more outrage.
Mayor Hoskins stated there would be two independent investigations carried out regarding Antonio Martin's death: one conducted by the St. Louis County Police Department, and another by the Berkeley Police Department. Hoskins said he expects information from these investigations to be available next week.
St. Louis Public Radio's Jason Rosenbaum contributed information to this article.