St. Louis Religious Leaders Declare Opposition To 'Right-To-Work' Law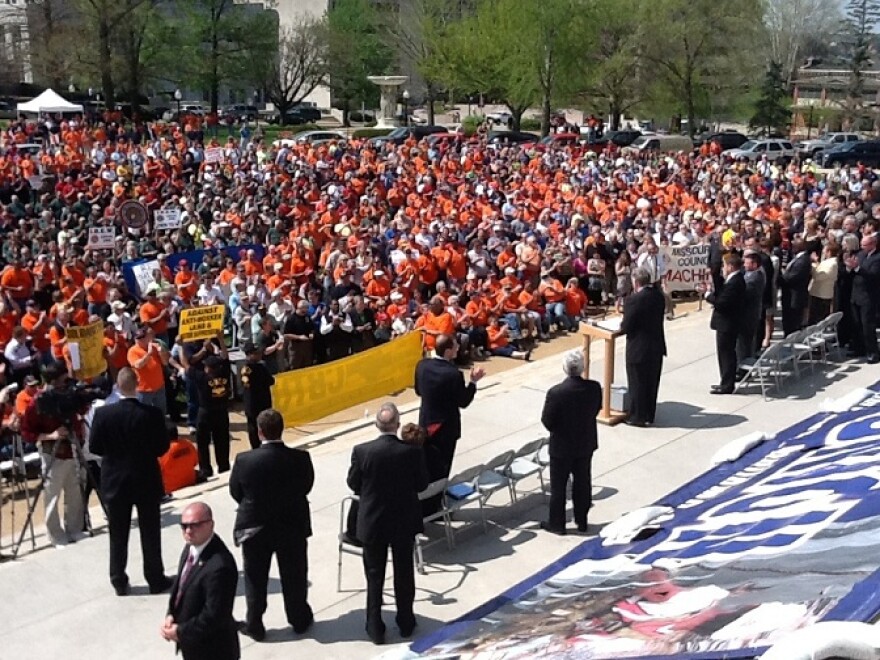 Top religious leaders in St. Louis — led by Catholic Archbishop Robert J. Carlson — announced Friday that they oppose legislative efforts to pass "right-to-work'' measures that would restrict labor rights.
The cabinet of the Interfaith Partnership of Greater St. Louis says it also opposes putting the issue on a statewide ballot.
"Working for economic justice is an integral element of our faith traditions," the cabinet said in a statement delivered Friday to Bob Soutier, president of the Greater St. Louis Labor Council.
"The right of freely founding unions for working people and the right of those working people to bargain collectively are essential for economic justice," continued the statement, which was signed by Carlson, chairman of the council's cabinet. Also signing was its vice chairman, the Rev. C. Jessel Strong of the African Methodist Episcopal Church.
The statement went on: "So-called 'Right to Work/Freedom to Work' laws proposed under the guise of freedom to the individual worker actually weaken their ability to equally bargain for fair compensation in the workplace, and are obviously and admittedly anti-union in their intent and render impossible or at least weaken the process of collective bargaining between management and labor."
Labor leaders believe the religious leaders' stance could bolster their effort to block such legislation. "It speaks volumes,'' Soutier said. He added that he had first approached the Interfaith Partnership a month ago.
Under "right to work,'' dubbed by some allies as "freedom to work,'' unions and employers would be barred from requiring all workers to pay dues or fees if a majority votes for labor representation. Labor leaders say the ban actually would lower wages and curb workers' rights.
Hundreds of labor allies participated Wednesday in a rally outside the state Capitol opposing such bills, which are sought by some Republican legislative leaders, particularly House Speaker Tim Jones, R-Eureka. Gov. Jay Nixon declared at the rally that he would veto any such measure.
Jones and some business groups, including the Missouri Chamber of Commerce and Industry, maintain that a 'right-to-work' law would make the state more attractive to businesses. Jones also points to passage of such laws in 24 other states, most recently the previously pro-labor states of Michigan and Indiana.
Missouri voters rejected a proposed "right-to-work" law in 1978. Soutier said that was the last time that religious leaders officially weighed in on the issue.