Cook Gets Two Years In St. Clair County Heroin Case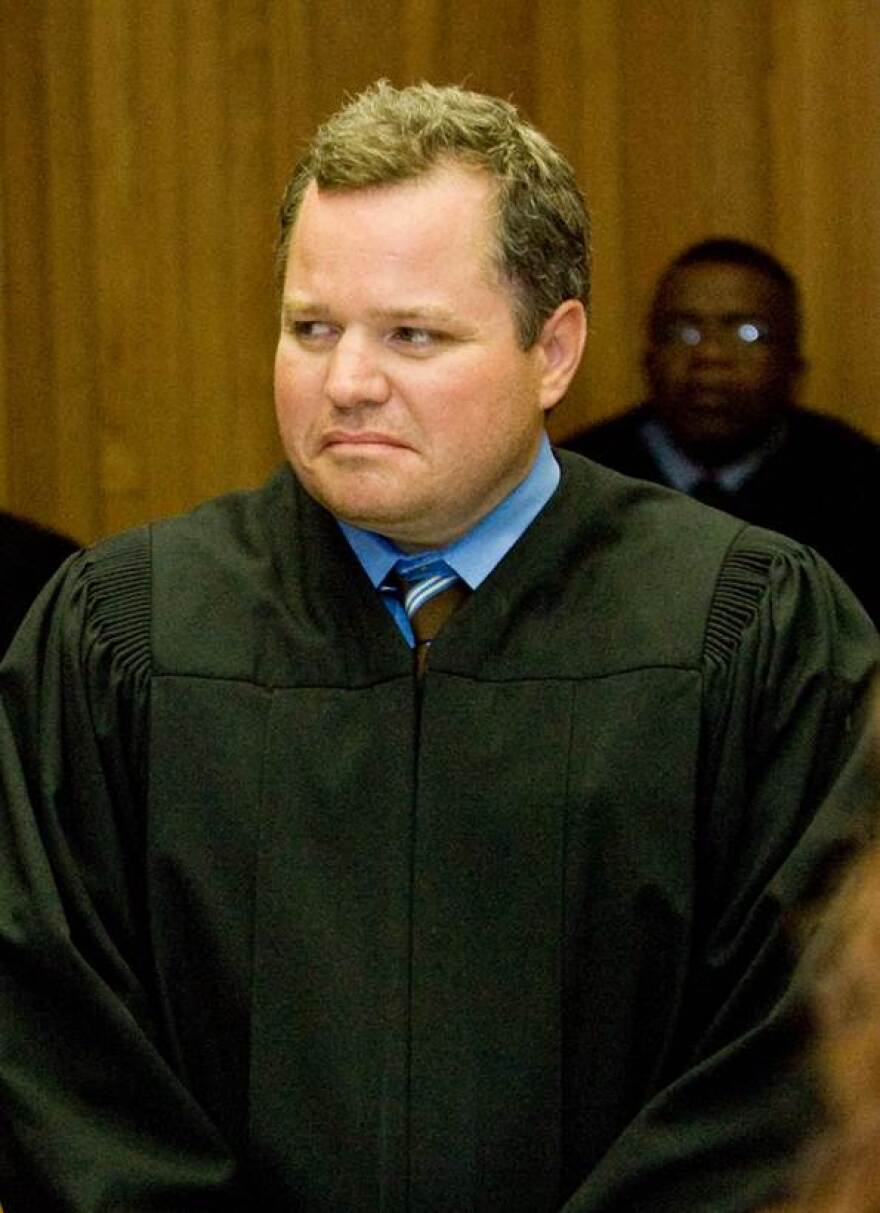 A former St. Clair County judge will spend two years in federal prison for federal drug and weapons charges.
"When judges fall from grace, we expect them to land a little bit harder than the rest of us," said Judge Joe Billy McDade when he handed out the sentence to Michael Cook this afternoon. Cook pleaded guilty in Novemberto heroin possession, and to being a drug user in possession of a firearm.
Cook's attorneys and federal prosecutors had reached a deal on an 18-month sentence, which McDade rejected in February on the grounds that it was too lenient. Both sides decided against reaching a deal this time and instead put the length of Cook's sentence solely in McDade's hands.
Sentencing guidelines mean Cook could have gotten as little as probation for the crimes, especially as a first-time offender. But U.S. Attorney Stephen Wigginton told McDade that probation alone would not have been appropriate. He asked for the original sentence of 18 months.
"The noteworthy aspect of this case was that Cook was a drug court judge," Wigginton said. "Those courts are set up with the purpose of helping people. No longer was he a good role model. It was hypocritical, and it could have been used by critics of those treatment programs."
Cook's attorney, Bill Lucco, in arguing for a six-month sentence for his client, repeatedly pointed out to McDade that addiction is a disease, and that U.S. Supreme Court rulings have recognized it should not be criminalized. And, because it is a disease, Cook should not be punished for being a drug addict in possession of a firearm.
"We respect the government's position. At one point, we agreed with it," Lucco said. "But we were never happy with it. I don't know that a harsh sentence can deter other addicts."
In his extensive remarks, however, McDade noted that Cook had abused heroin, cocaine and prescription drugs for almost as long as he'd been on the bench in St. Clair County. Addict or not, Cook's actions had caused a loss of confidence in the county's judicial system, which McDade said was evident in letters sent to local newspaper editorial boards.
Cook's attorneys seemed somewhat relieved at the two-year sentence, which also includes three years on probation. One of the lawyers, Thomas Keefe, the former interim dean of the Saint Louis University School of Law, flashed a thumbs-up to Cook's family as McDade finished the sentencing. Neither Cook's family nor his attorneys commented on the outcome, though the former judge did speak at today's hearing.
"I have dreaded and looked forward to this day for closure," Cook said. "I have embarrassed the bench, the bar, and I have hurt my family. I will serve my sentence with gratitude."
Going forward
Cook's attorneys have 14 days to decide whether or not to appeal McDade's sentence. In addition to the prison time and probation, Cook must pay a $10,000 fine and about $66,000 to cover the costs of his incarceration and supervised release. He will surrender to a yet-to-be assigned federal prison on May 28.
Wigginton, the federal prosecutor, says there are a few loose ends still to tie up, including who sold the cocaine that killed another circuit judge, Joe Christ, in March 2013. The overdose happened at a hunting cabin owned by Cook's family. The death, Wigginton said, spurred him to push investigators harder to find the evidence needed to arrest Cook.
"[Cook] continued to use after Christ died," Wigginton said. "We were concerned about him staying on the bench, or overdosing."
All 250 of Cook's cases were assigned to judge Robert Haida, who ordered retrials in three of them. One man entered the same plea he had before of being guilty of burglary. Two other men -- both of whom are charged with murder -- will go to trial in April.
All together, nine people have been arrested and charged in the scandal, including a former probation officer, James Fogarty, who dealt drugs to judges Cook and Christ. Seven people, including Fogarty, have been sentenced. One has pleaded guilty and will be sentenced early next month, and another has decided to go to trial.
Follow Rachel Lippmann on Twitter: @rlippmann