Normandy Lobbyist Draws Criticism, Support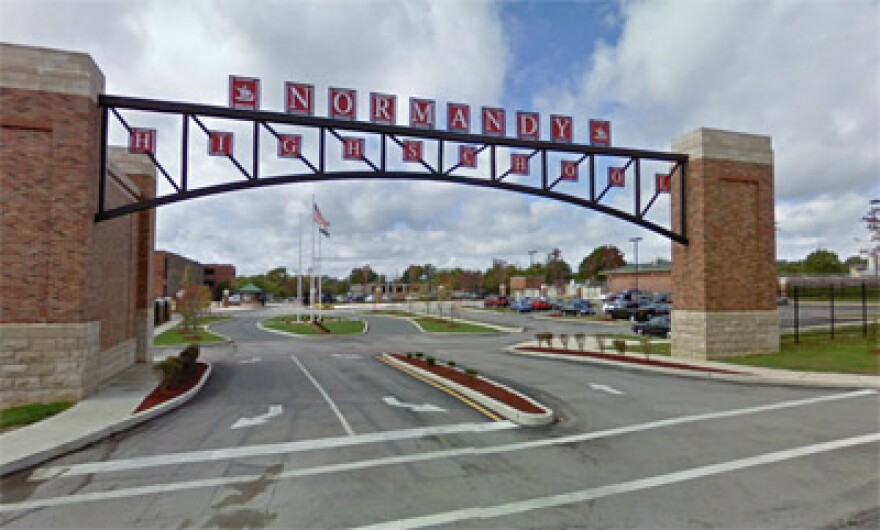 Updated 7:41 a.m., Tues. Jan. 28, with details of contract vote.
The Normandy School District, which faces the possibility of being dissolved this spring, is paying a lobbyist $10,000 a month to help persuade lawmakers in Jefferson City to provide enough money to help the district survive until the end of the school year.
Gov. Jay Nixon has asked for $5 million to help Normandy bridge the financial gap created by its payments for tuition and transportation for students who have transferred to nearby accredited school districts. But the request hasn't drawn a very favorable response from legislators, and when news broke Monday of the lobbyist's contract, the district's cause did not seem to be helped any.
"A school district that would pay $135,000 for a lobbyist to get $5 million deserves to go bankrupt," state Sen. Rob Schaaf, R-St. Joseph,told the Associated Press, which broke the story.
But state Rep. Clem Smith, D-Velda Village Hills, whose north St. Louis County legislative district includes part of Normandy, called the expenditure a reasonable investment to keep the school district alive.
"I don't know the details of the contract," he said in an interview, "but it almost seems like at this point, whatever has to be done in order for the district to survive, we have an obligation to the residents of that area. If it takes hiring a professional to make that happen, I think that's something that's wise."
According to a contract approved by the Normandy school board on Nov. 7, the district will pay the Jefferson City firm of Scheimann Rackers Francka & Blunt $10,000 a month for nine months, plus possibly another $40,000, to help press its case in the state capital. The contract was approved by a vote of 4-1, with two abstentions. No payments to the lobbying firm have been approved by the district's board as yet.
Lead lobbyist for the district is Andy Blunt, brother of former Gov. Matt Blunt and son of U.S. Sen. Roy Blunt.
According to the contract, which began in November and is set to run through July, the goal of Blunt's efforts is "to find a legislative branch and/or executive branch solution to the challenges facing Normandy from the lack of their state accreditation."
About 1,000 of the district's 4,000 students chose to transfer out of the unaccredited district at the beginning of this school year under a 20-year-old state law that was upheld by the Missouri Supreme Court last summer. The district has tried to cut costs by closing Bel-Nor Elementary School and laying off more than 100 teachers and other employees, but it still needs the $5 million in extra funds to avoid going bankrupt by April.
If the district does lapse, state education officials have said its students will be assigned to other area districts to finish out the school year.
As part of its duties to try to secure the extra money, the lobbying firm is charged with several responsibilities, including monitoring relevant legislation, providing weekly updates, maintaining relationships with lawmakers and appropriate state departments and presenting the district with concise summaries of information related to its future.
The contract stressed the lobbying firm's ability to move quickly and provide the most current information to Normandy officials.
"The members of the lobbying team are in a position to learn about developments on key issues as they occur," the contract says. "The relationship network developed with other lobbyists, organizations, legislators, and legislative and department staff provides a great deal of information as events unfold. As team members receive information of substance on key issues, it will be conveyed to Normandy and its designees in a prompt and concise manner."
Besides the $10,000 monthly fee, the contract calls for additional fees of up to $40,000, expenses included, for hiring additional consultants acceptable to the district.
Daphne Dorsey, spokeswoman for the district, defended the expenditure, calling it a matter of survival.
"We're doing what we need to provide for the district," she said in an interview. "We would hope that people in Jefferson City would understand that.
"We just felt this is too important of an issue not to have the support that we need. We're doing everything that we can to represent the Normandy community and advocate on behalf of the students and the communities that we serve."
She said it was important that lawmakers on both sides of the aisle have a clear picture of how the costs of the transfer program have drained Normandy's finances.
"We're doing what any corporate entity would do to survive," she said. "We look at our partnership with Scheimann Rackers Francka and Blunt as a way to get this done."
Smith, the state representative, noted that while Superintendent Tyrone McNichols is a powerful and articulate advocate for the district, he can't do the job all by himself.
"He's a great salesman," Smith said of McNichols. "But there are 163 members in the House and 34 senators, and one person alone would not be able to do that. If that was the case, everybody would just send one person up there."
Brent Ghan, spokesman for the Missouri School Boards Association, said as far as he knows, only school districts in St. Louis, Kansas City and Springfield, have full-time lobbyists in Jefferson City. He said his association is working on Normandy's behalf to secure the money it needs to finish the school year, just as it works for other members on other issues.
A spokesman for the Clayton School District said it employed a lobbyist during the 2011 legislation session to monitor debate on possible changes to the school transfer law.
"The vast majority of school districts do not do their own lobbying but work through organizations like ours," Ghan said.
"We're certainly supportive of their efforts to get an additional $5 million. We think the state of Missouri should not abandon these kids and should make every effort to keep the district alive."
That view wasn't shared by members of the General Assembly who talked about the Normandy lobbying.
Rep. Steve Cookson, R-Poplar Bluff, who chairs the House Elementary and Secondary Education Committee, questioned whether a district that is so short of money should be spending any of it on lobbying.
"I have a strong belief that the resources of a school district should go to providing the best opportunities for students in the classroom," Cookson said in an interview. "I think that is what taxpayers expect us to do with the money."
Cookson, who said he is a former school superintendent in southeast Missouri in one of the poorest areas of the state, said when he served in that position, he felt like he was the lobbyist for his own district.
As far as Normandy goes, he said that he doesn't feel the district helped its cause by hiring a lobbyist, and he doesn't think many of his fellow lawmakers are favorably disposed toward the district's efforts either.
"They didn't do anything toward convincing me that they need they money, I can tell you that" Cookson said.
"I would say right now that there are several of my colleagues that I have talked to who are not seeing that as a viable alternative. When you start down that road, you set a precedent for all of the other districts. I know that in the past, districts in rural areas that lost their accreditation were consolidated with other districts."
Rep. Rick Stream, R-Kirkwood, who heads the House Budget Committee, said at this point, he feels there is just a 50-50 chance that the additional money for Normandy will win approval. He said even if it does pass, it is likely to have some strings attached.
He said in an interview that he didn't see any reason that McNichols and other Normandy officials couldn't have lobbied for the money themselves without hiring an outside firm.
"We're going to be asking a lot of tough questions," he said as the issue makes its way through the legislative process.
Stream also said he is working on a bill he plans to file soon that would ease Normandy's financial burden by limiting the amount of tuition it would have to pay to districts accepting its student transfers. He said the bill would have an emergency clause that could limit the district's financial exposure this school year if it moves quickly enough through the General Assembly and is signed by the governor.