Commentary: Normandy School Reform Is Already Light Years Ahead of State Officials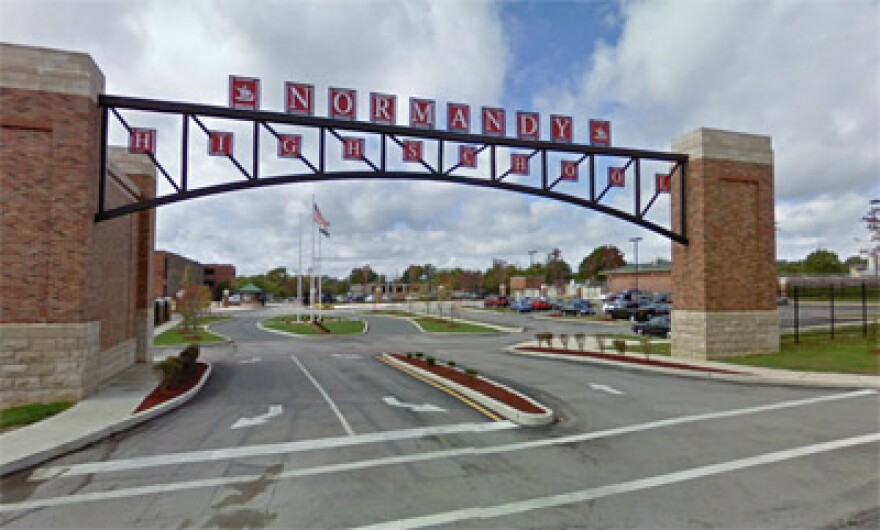 Normandy School District.
Now is the time to change how these three words take on meaning in our collective awareness. As one of the instructional coaches brought in by the district's new leaders last summer, I offer a couple of images to help outsiders — especially our state legislators and Department of Elementary and Secondary Education — see us for real.
12 Years A Slave
Last week, about 10 English teachers — including those serving in special school district — sat around a large table in the classroom of our department chair to collaboratively craft an assessment for students to whom we had shown the Oscar-nominated film, 12 Years a Slave. We had screened the movie in what we call "The Little Theater," a wood-paneled, somewhat rundown gem where we now gather for important conversations, presentations, and debate. The "Little Theater" is starting to feel like the beating heart of the humanities at Normandy.
12 Years a Slave presents the excruciating experience of a free man captured and enslaved. For much of the movie there was dead silence in the audience; you could hear a pin drop. Now faculty were trying to decide on questions, trying to figure out what they wanted to know about what our high school students had come to know and understand from watching the film. It wasn't easy; showing these scenes to children who are mostly poor and almost all African American raises profound questions about their lives, liberty, and opportunities today. It certainly raised painful questions for us, their teachers.
Jazz Studies Unit
Today, alongside an 8th grade language arts teacher and two technology coaches, one of whom is a jazz singer, I spent more than an hour planning curriculum for a multi-week Jazz Studies unit. A couple of musicians from Jazz at Lincoln Center are coming to perform at the middle school next week, and we need to figure out which eighth graders should go interview them, which should take their pictures, and how we can weave this experience into a project to be shared with the whole school community.
These activities, typical of what current research shows will lead to improved academic engagement and performance, are possible because of superintendent Ty McNichols, leader as of July 1. McNichols has been empowering coaches and teachers to aim high, to give our kids the best of the best — an education that will expand their worldview, increase their skills, and make possible their full participation as moral, engaged citizens in our shared world. Speaking only for the middle school and high school, everything that we have been doing since August 5, the first day of school, has been an effort to make this vision real in classrooms.
It has not been easy. Among us adults it has, in fact, been messy. Scary. Risky. Upsetting. Overwhelmingly moving. We have been laughing and crying. We have, at times, been hurting each other's feelings. Driving each other crazy. Stepping on toes. Apologizing. Making up. Moving on. Trying to put the bad old days behind us without forgetting what made them bad.
Everyone is focused.
Enter The Department Of Elementary And Secondary Education
Given what I am describing, imagine the surprise and rage I felt this week, when I drove over to Normandy's administrative headquarters to hear the state education commissioner share with our school board the various plans DESE is weighing for improving our district. The boardroom was packed with the usuals: Fox 2 News. Channel 5. Parents, teachers, community boosters, representatives from Beyond Housing, leaders from the University of Missouri St. Louis. The room was stifling hot.
Let me tell you something about these plans, which you can look up on the DESE website: dese.mo.gov/divimprove/sia/msip/unaccrediteddistricts.html
First, the artifact that DESE is calling "The Normandy School Improvement Plan" is not our plan for reformation. It is the power-point presentation Ty McNichols prepared for DESE when DESE came to campus back in November 2013. These slides describe the conditions in the district when he arrived on the scene. They detail the cost-cutting measures the district took late last year.
One slide shares Normandy's new aims, which I copy below:
Commit to the development of a student-centered organization.
Develop successful children preparing them for the 21st century and to be good citizens.
Use a constructivist model throughout the organization in order to support our vision.
Align our curriculum with our vision.
Provide support to the teachers and the staff to help transition to a problem-based learning environment.
Include staff in the decision making process.
Use data to inform instructional and organizational practices.
Work closely with the stakeholders of our community to help achieve greater impact.
Engage and help transform the community.
Be accountable. Lead.
Thanks to incredibly dedicated, talented teachers and the administrative support behind me, everything I have accomplished as a coach in my corner of the district since Aug. 5 has moved us toward realizing this vision.
Obviously, we have a long way to go. The structure and flow of the district's administrative systems need to be reformed. Our integration of social supports (district-embedded wrap-around services) with curriculum and instruction, our understanding and practice of student assessment and district self-assessment — these are complex processes that are being carefully thought through and described in our plan.
How these processes will be realized, the plan for the way we will move forward, is a work in progress. But everyone knows we are under the gun, and so our plan will be done by Feb. 1.
Including The People Of Normandy
Or perhaps I should put it this way: The best version we can produce will be done by the state's deadline. Our plan will be a living document made by the people of Normandy for the people of Normandy. It will describe the roles and responsibilities of individuals I have come to know and respect. It will expect and take into account the best of the people who are here so that this district grows into a healthy and sound learning environment for our students.
Why did DESE publish a power point from last November that was not ever "our plan" and call it our plan? Why set a dated power point beside a glossy, 78-page, $400,000 creation. Have a look at the organization that made the Kansas City plan: publicimpact.com. Have a look at the column I wrote for the Beacon about it five months ago.
DESE has lined up these two texts — one a power point for an hour-long presentation; the other a polished booklet months in the making — as if they were apples and apples. Doing so does nothing but publicly shame Normandy and Riverview Gardens.
As for the other so-called plans: they are embarrassing. Two are unsigned. The "Missouri Opportunity District," released on Jan. 6, is two-and-a-half pages long. No specific plan. "A New Path to Excellence": two pages. I happen to know this was submitted by Missouri state superintendents, but you'd never know from looking at the document itself. These "plans" by outsiders suggest what to do, now how to do it.
None of these documents describes a specific plan that has fidelity to the specific place that is Normandy or reveals trust in the people of Normandy I get to work with every day.
The only plan to believe in is the plan that is already underway in the district, rolling out as I write.
Note: Inda Schaenen writes and teaches in St. Louis. She is an instructional coach in Normandy School District.