Analysis: Even with public disclosures, Ferguson donations are hard to track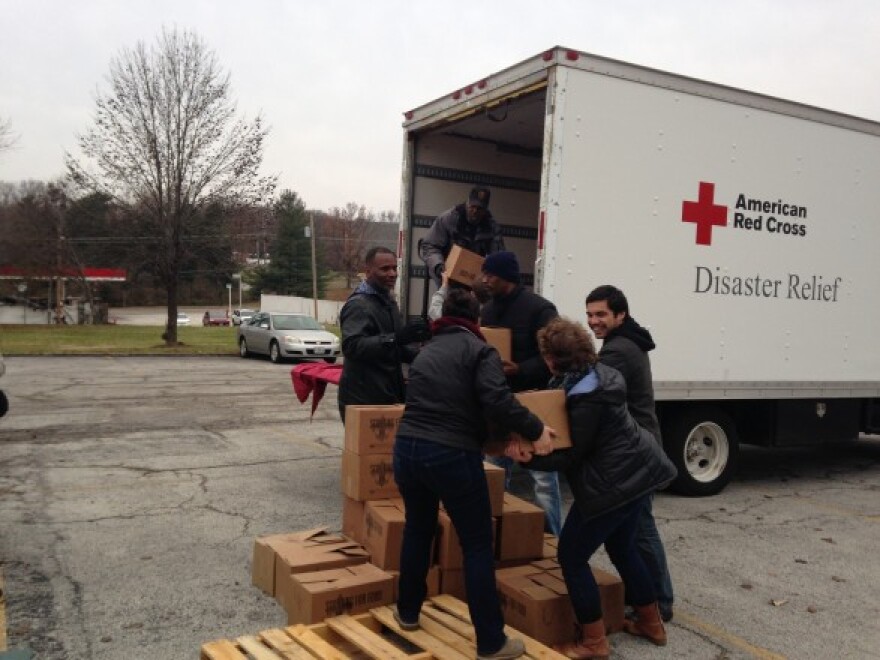 Updated at 5:20 p.m. on Wed., August 19 - A detailed accounting of donations aimed at helping Ferguson shows that Emerson Electric's Charitable Trust is providing more that $8 million in mostly new funding, with major contributions also coming from the United Way of Greater St. Louis and Deaconess Foundation.
The three organizations provided St. Louis Public Radio with a clearer picture of what programs their donations supported and how funding decisions were made.
"Advocates for Youth also wondered about both sustainability of programs once the new funding ends and the status of programs whose regular allocations were diverted to Ferguson-related agencies by donors." -RAP press release
That comes after a group called St. Louis Advocates for Youth released its preliminary "Resource Accountability Project" (RAP)reportlast month highlighting these three organizations' donations, while raising concerns about whether those funds have made an impact on the area's young people.
The "RAP" report estimated some $8 million to $12 million have come in to the St. Louis area in the aftermath of the Ferguson unrest. But it highlighted the difficulty of obtaining and parsing through the numbers to come up with an accurate tally. It also questioned whether companies made donations after consulting with the North County community, whether those donations were sustainable, and whether they merely replaced financial commitments to other needy programs.
St. Louis Public Radio has been able to track the organizations' donations (scroll down to see charts) through interviews, emails and publicly available press releases.
Emerson reported donating a total of about $8.36 million in the aftermath of the events in Ferguson that it says are on top of existing financial contributions. According to an email from the company, those funds supported 51 different programs, creating what it estimates are 300 scholarship and 200 jobs, and impacting more than 3,000 North County residents.
The United Way of Great St. Louis said it has distributed about $2.53 million of Ferguson-related donations that it says have touched more than 2,000 Ferguson and Dellwood households. A majority of these funds were donations it has allocated on behalf of corporate donors to specific programs.
Deaconess Foundation said it raised and leveraged more than $550,000 "in response to civil unrest and on behalf of area youth," according to an email. Shortly after the "RAP" report release, it made its donation accounting publicly available on its website, noting it provided funding for "advancing youth organizing, community-informed development, networked leadership and wrap-around supports for African-American young men."
The "RAP" report also questioned what financial commitments came from other corporations located in North County such as Boeing. In an emailed statement, Boeing said the company invested almost $20 million in the St. Louis region in 2014, supporting "organizations that have a presence in North St. Louis County and includes Beyond Housing, Family Resource Center, and many others." It also said it provides scholarships, mentoring and educational opportunities for students from the primary to post-secondary levels.
Due diligence and openness
Patrick Sly, Emerson's executive vice president and manager of the Emerson Charitable Trust, admitted to being "a little bit taken aback" by the RAP report.
"We've been very open about what we are doing for the community," Sly said. "We've worked 24/7 on due diligence to make sure our money is well spent."
Sly said he is willing to discuss "major portions" of the company's commitments, but didn't want to make them all public because "there's probably 30 to 40 organizations wondering why they didn't get the same amount." Still Sly, a member of the Ferguson Commission, said he has been available to discuss the company's donations with members of the public.
He also defended how Emerson determined where to give its money.
"I spent a great deal of time talking with people at the United Way, the Urban League," Sly said. "We've talked a lot of clergy in the area, a lot of academic institutions, the Ferguson-Florissant School District, other school districts, superintendents, others involved in the programs. We've done a great deal of due diligence through other funding organizations and directly with contacts in many, many meetings that I've had at Emerson and on-site."
"We've worked 24/7 on due diligence to make sure our money is well spent." -Pat Sly, manager of the Emerson Charitable Trust
Similarly, Deaconess Foundation said it determined where to allocate the donations it had received through a grant application process that included an open session for organizations. Advocacy and communications director Alex Stallings said the foundation also hosted a Twitter chat to answer community questions and held an open forum at the Ferguson Community Center.
Stallings pointed to the foundation's president and CEO Rev. Starsky Wilson, who is also the co-chair of the Ferguson Commission, as evidence of its connection with the community.
"I think that the questions from the community are fair, and the organizations and foundations can readily be part of the process to build trust where needed and be as transparent as possible," Stallings said immediately after the RAP report's release. "Deaconess' mission involves health and hope in the community, so with that comes a responsibility to the families, to make sure they trust and understand that is happening in the community."
United Way communications director Ashley Gammon said in an email that the group "works with and invests in a wide variety of nonprofit organizations – both large and small" in the region. She also said some donor/investors "had a clear direction of where they wanted to support," while the organization worked with other donors to suggest potential donation recipients.
"We are introduced to groups in a myriad of ways and send out RFPs [requests for proposals] to more than 200 nonprofits," she said in the email. "Our goal over the next six months is to expand the visibility of emerging and established organizations doing powerful and measurable work to achieve better outcomes for children and families."
While the United Way regularly sends out press releases on major Ferguson-related donations, not all of the sources for the United Way's Ferguson Fund were provided upon request. That could be because the United Way often works with individual and corporate donors who wish to remain anonymous.
"Our goal over the next six months is to expand the visibility of emerging and established organizations doing powerful and measurable work to achieve better outcomes for children and families." -Ashley Gammon, communications director for the United Way
Sustainability and accountability
The "RAP" report also questioned whether many of the donations made in the aftermath of Ferguson were actually new, or merely re-allocations of previous donations that would now take money away from other needy programs. St. Louis Advocates for Youth's leader Jamala Rogers specifically pointed to Emerson's funding of scholarships at the University of Missouri-St. Louis for low-income students as an example.
Emerson's Sly disputed both characterizations, saying almost all of the company's donations given in the aftermath of Ferguson were "new commitments." He also said Emerson's funding for UMSL scholarships had expired this past year, and the company was looking to fund new opportunities that could assist young people in the North County area.
"We had specific scholarship programs that were ending and we renewed the scholarships but restricted them to recipients only within the Ferguson area," he said. "As a matter of fact, we took our college budget up by $3 million this year, so that most of what we did for the Ferguson area this year would be incremental and wouldn't take away from other programs."
Sly also said several other donations were made on top of existing funding. For example, Emerson donated $750,000 to create 100 new six-month long jobs for young people from the Ferguson and North County areas to work at more than 40 Ferguson and North County businesses through the STL Youth Jobs program. Sly said this donation was separate and apart from the 25 summer jobs it funded through the city's STL Youth Jobs program. Sly said after bringing STL Youth Jobs into Emerson last year, he was "impressed with what they are accomplishing" and asked them to develop and expand the program for the Ferguson area.
Sly pointed to the youth jobs program's 70 percent completion rate as an example of how the company is tracking the impact of its donations - another concern raised in the initial "RAP" report. According to Sly, Emerson's funding provided jobs for 108 Ferguson and North County residents ranging from their teens into their early 30s. Sly said 75 young people completed the program, with 24 getting commitments with their employer for future work and five securing outside employment. Of the 33 that left the program, 19 were terminated and 14 left voluntarily.
Responding to concerns about the sustainability of its funding, Sly said its scholarships (offered at UMSL, Harris Stowe, Ranken Technical College, Cardinal Ritter College Preparatory High School, Lutheran North High School, Incarnate Word Academy, North County Christian School) are funded for the length of the education of the receiving student. The company will have to wait until the receiving students complete their studies to know the impact for accountability tracking, he said.
Similarly, Sly said the company wanted to ensure a certain amount of sustainability for the programs it funded, often requiring multi-year commitments. That's why he said the company dedicated half of the monies it annually contributes to the United Way to go to Ferguson-related causes, and plans to do so for at least another year.
"The reason for that is that many of our commitments are multi-year and we wouldn't be able to do that without that understanding from the United Way," Sly said.
But linking sustainability and accountability, Sly said other future funding depends on proven results. Some donations, like the $15,000 to the Normandy High School robotics program, are currently "one-shot deals," Sly said, and future funding will be based on results such as improved test scores and drop-out rates.
"We're from the Show Me state," he said. "We want to see if our funding made a difference, moved the needle, and if so, we'll probably continue to fund them."
But with other donations, such as the $7,500 to the Girls on the Run program at Johnson-Wabash Elementary School in Ferguson, the impact is harder to measure.
"The 'Girls on the Run' program … the only way we can measure that is talk to the people who were involved in the program and see if they felt it was effective," Sly said.
"Deaconess' mission involves health and hope in the community, so with that comes a responsibility to the families, to make sure they trust and understand that is happening in the community." -Alex Stallings, advocacy and communications director for Deaconess Foundation
Deaconess Foundation had fewer details on how it plans to hold the programming it funds accountable. More than a dozen of the programs it supported were one-time events, mostly related to education and advocacy training. It also spent significant funds on the "Selma for Students" program that paid for young people to see the award-winning film.
Deaconess described its purpose as engaging in advocacy on behalf of young people and providing grant support to "youth organizing to empower young people to advocate for themselves," Stallings said in an emailed statement. Because the response to Ferguson required a "resource quilt" of varied opportunities, Stallings said some funding went to traditional programs, while "some of the nonprofit advocacy and particularly a youth organizing stream that was created went to empowering youth in this moment, training them around non-violent tactics, educating them around history."
The United Way also indicated that many of its donations were new commitments, noting that it "invested more in our region in 2014 than any year in our 93-year history." It also said in an email that many of its donations were directed giving, or when a donor specifies where they want their monies to go. For example, Emerson reported that $1.2 million of its corporate and employee donation to the United Way were to be spent specifically on Ferguson-related causes.
Gammon said United Way is also working to ensure accountability in the programs it funds.
"Our position has always been there are three phases to this work in Ferguson and beyond, immediate or crisis response, intermediate, where the region develops a plan and long term where the region executes and hold ourselves accountable for impact. In the intermediate United Way has begun to advise investors to tie their financial and human resources to proven strategies," she said in an email.
Perhaps more applicable to the concerns of the "RAP" report, the numbers also do not show exactly how many of these donations go to help young people and exactly how many young people were served. Emerson estimates that 90 percent of those programs assisted young people aged from early childhood through their mid-to-late 20s. Deaconess said it works generally "on behalf of area youth."
The United Way's Gammons estimates that more than 2,000 Ferguson and Dellwood households were assisted, including many young people. She also points out that the Community Resource Drop-in Center (which cost about $165,896 for operations costs and to reimburse agency partners that provided services and follow-up case management) and Multi-Agency Resource Center had kids' zones, where about 269 kids participated in activities.
What the numbers do – and don't - show
Using the self-reported donation numbers from Emerson, United Way and Deaconess, about $11.44 million has been donated to Ferguson-related initiatives.
But an analysis of those numbers by St. Louis Public Radio finds a direct accounting of only about $8.69 million, or about 76 percent, of those funds. The analysis shows even when organizations make information publicly available, it can be difficult to obtain a complete picture of where all donations went.
This analysis included a basic attempt to remove duplications, or "double-counting," of donations. This is particularly problematic when one organization's donation is administered through another agency or nonprofit, as noted in the "RAP" report's concerns.
Emerson, Deaconess and the United Way reported Ferguson-related donations totaling about $11.4 million. But an analysis of their self-reporting can only account for how about 76 percent of those funds were spent.
Some examples of double-counting are easy to spot: The United Way lists a donation of $5,000 on "Selma" tickets for students, while Deaconess also notes that it leveraged $5,000 for "Selma" tickets from the United Way. But another instance that appears to be double-counting at first have been clarified as two separate donations by the United Way and Deaconess of $10,000 each for nonviolent youth training and community building through the King Center.
Another example of possible double-counting comes from Emerson's $1.2 million donation to the United Way's Ferguson Fund. Emerson indicated that half of its 2014 donation of $1.6 million to the United Way was being specifically designed to Ferguson-related causes, amounting to $800,000. Additionally, about 40 percent of employee donations to the United Way also went to its Ferguson Fund, to the tune of $350,000. Emerson detailed several of the programs supported with that $1.2 million, but not all.
The United Way also does not fully detail how that $1.2 million Emerson donation to the Ferguson Fund was spent within its accounting of its $2.53 million total donations/allocations. (St. Louis Public Radio's analysis of the total funds donated takes this duplication into account.)
"Our funding decisions to support the Ferguson area have gone through a great deal of due diligence and are being measured for outcomes." -Pat Sly, Emerson
Likewise, there were some vagaries in the United Way's reported donations. The organization does not spell out which corporations contributed to the $1.6 million it says it received as designated donations from corporations (possibly due to requirements of anonymity). It reports donating $275,000 in the immediate aftermath of the Ferguson unrest for case management and outreach, noting it came from donor-directed funding. But it does not specify which donors provided that funding.
But the United Way clarified in a follow-up email after the publication of this article about the $123,750 it spent to provide crisis support and mental health counseling to area residents. It has identified the six local organizations providing that support through September as: Betty Jean Kerr People's Health Center, Catholic Family Services, Crider Health Center, Lutheran Family and Children Services, Provident, and Queen of Peace. Gammon in an email said individuals interested in receiving counseling should contact United Way 2-1-1.
These funds were provided through a $1 million contract the organization received from St. Louis County to provide "basic needs to prevent homelessness, mental health counseling and nonviolent community building" for those affected by the unrest, Gammon wrote in an email. The United Way also held two Multi-Agency Resource Center events in October and November, costing $239,038. Since United Way invoices St. Louis County for programs funded, the unspent remainders of that $1 million are still with the county.
Deaconess does provide a full accounting of its more than $550,000 in donations. Following the initial events in Ferguson, it provided an investment of $100,000 for "community capacity building" (that actually totaled more than $120,000 according to the organization's numbers). It also reported leveraging $360,000 from other foundations for Ferguson-related initiatives.
After the publication of this article, Deaconess clarified that it had donated $120,000 in youth organizing grants to 28 organizations in 2015. Stallings in an email, explained these funds "designed to strengthen the voices and self-advocacy skills of young people throughout the region" are part of the foundation's "international piece of the response to civil unrest" that saw a high level of youth involvement.
Emerson also provided an accounting of about 80 percent of its Ferguson-related funding, but what other programs were funded and how much was spent remains unknown.
"I don't think it is necessary or appropriate to give you accountability for every remaining dollar, but I can assure you that our funding decisions to support the Ferguson area have gone through a great deal of due diligence and are being measured for outcomes," Sly said in an email.
The charitable donation numbers also do not provide an opportunity for businesses such as Emerson to show the full range of their efforts to help the community. Emerson's business incubator initiative program called "Neighbors Helping Neighbors" has had company volunteers spend time to provide mentorship while the company has offered financial support to at least six North County businesses that were impacted by last year's unrest. The company has spent about $100,000 in grants for companies to repair damaged structures or use tools like new websites to grow their businesses; these funds cannot be counted among charitable donations since they go to for-profit companies. Emerson hopes to eventually assist 30 area businesses.
Even with scrutiny from organizations like the St. Louis Advocates for Youth, Emerson's Sly said giving back to the Ferguson community in a time of need was the right thing to do.
"Emerson's been in this community for 175 years and 75 have been in Ferguson," Sly said. "We just felt that we needed to take a leadership role in the corporate and business community. … We hope we're making a difference."
(We have learned of a technical glitch that may prevent some graphics from appearing. if you do not see images on contributions from Emerson, Deaconess and United Way follow the links.)