Reflection: Blanchard and Opera Theatre create a 'Champion'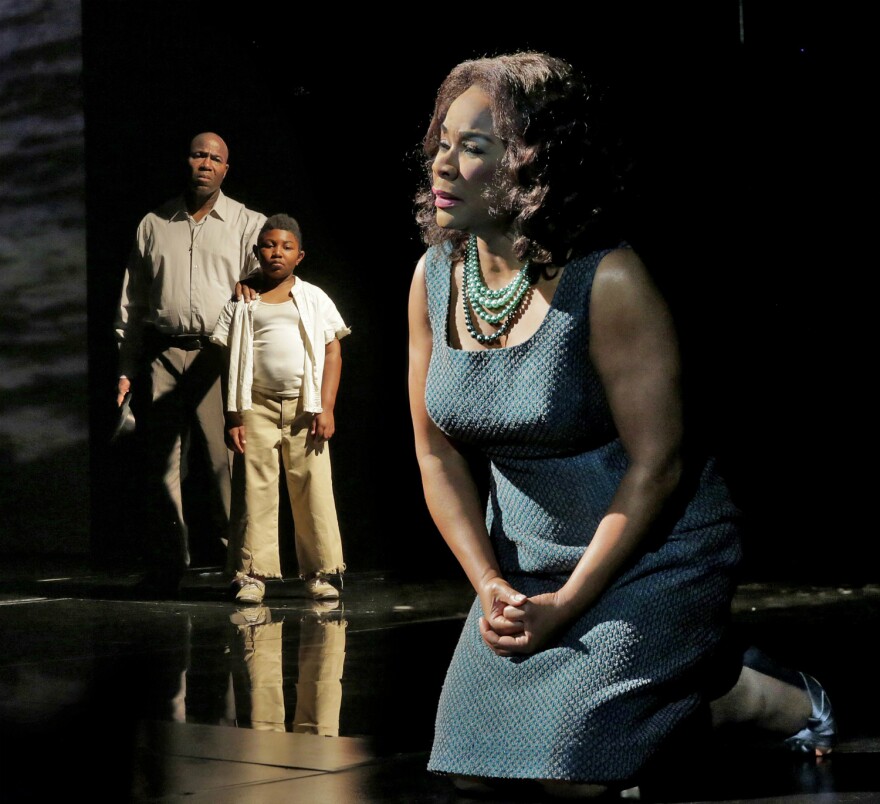 This article first appeared in the St. Louis Beacon: "Champion" has been described as "a jazz opera," but it would be more appropriate to describe it simply as "an opera." Or "a good opera."
Composer Terence Blanchard is best known as a jazz trumpeter and arranger, but he knows his way around a symphony orchestra and has written many movie scores -- including the hauntingly elegiac music accompanying Spike Lee's "When the Levees Broke," about the Katrina hurricane striking New Orleans.
Blanchard's vibrant and mournful "Champion," which had its world premiere Saturday night at St. Louis Opera Theatre, includes elements of jazz, but it also touches at appropriate times on Afro-Caribbean music, Latin rhythms and the blues.
But in the main, the compositions in "Champion" cannot be categorized, except as modern symphonic and operatic music. It is played by a large ensemble from the St. Louis Symphony conducted by George Manahan, augmented by a jazz trio consisting of Fabian Almazan on piano, Robert Hurst III on bass viol and Jeff "Tain" Watts on drums.
"Champion" is the story of boxer Emile Griffith, a young gay man from the Virgin Islands who wants to design hats, but is persuaded by a fast-talking New Yorker in the hat trade that he has the potential to be a champion prize fighter.
Fairly quickly, Griffith climbs up the ranks to the welterweight championship. His principal rival is Benny Paret Jr. Before their third championship fight, Paret verbally attacks Griffith, using nasty slang terms for homosexual. Enraged, Griffith slams into Paret, hitting him 17 times in seven seconds.
Paret dies in a hospital, and Griffith spends the rest of his life plagued with doubt and remorse. In the opera, Griffith sings, "I killed a man and the world wants to love me. I loved a man and the world wants to kill me."
Griffith is not permitted to enter Paret's hospital room and ask for his forgiveness. Many years later, Benny Paret's son seeks out Griffith. As it turns out, both men seek finality.
In "Champion," time shifts with the fluidity of a river. We meet three Emile Griffiths, all sung superbly. They are:
Old Emile, suffering from early dementia from sustaining so many blows to the head. The role is sung by Arthur Woodley, whose resonant bass voice dominates the stage, yet much of the emotion conveyed is confusion and longing. Woodley is known internationally for singing Porgy in "Porgy and Bess," and at times we can hear echoes of that role in the character's befuddled despair.
Young Emile, the gay boxer who kills a man in the ring and is haunted for life by the deed, and its motivation. The singer is bass-baritone Aubrey Allicock, a fine actor and a strong, evocative singer who can slide from exhilaration to despair in one stroke of a baton. Allicock appeared at Opera Theatre last season in "Alice in Wonderland."
Little Emile, the abused child who in poverty in the Virgin Islands was punished by being forced by his grandmother to hold a concrete block over his head until he collapsed. This role is taken by young Jordan Jones of St. Louis, and his boyish soprano summons up one of the most touching moments in the opera as he sings a lament about "holding bricks above my head."
At times, all three Emiles will be on the stage at the same time. Sometimes one Emile will sing solo, sometimes two will sing at once, and occasionally they will come together in a bracing trio. And at times a chorus will be added to the mix. Blanchard is not afraid to mix dissonance with harmony.
Although the singers in "Champion" are all worthy of praise, two more seemed to these ears worthy of particular note. The great mezzo-soprano Denyce Graves, as Emile's mother, was grand, flirtatious and forgetful when need be, forceful as required. And baritone Robert Orth, who played hat manufacturer/trainer Howie Albert, seemed appropriately like a character out of "Guys and Dolls," except with more depth and a much stronger voice.
Stage director James Robinson imparts an appropriate urgency to the scenes that require it, and skillfully slows down for the more serious episodes. The set design is stunning, with the action on the stage -- and on a riser to the rear of the stage -- flanked on either side by a screen upon which is projected what might be described as context: Caribbean sandscapes, New York high-rise apartments, old boxing posters, even, seemingly, actual footage of Griffith's fights. The splendid stage design is by Allen Moyer, the excellent lighting design by Christopher Akerlind.
The simple and direct libretto is by playwright Michael Cristofer.
Terence Blanchard, as with fellow New Orleans native Wynton Marsalis, is of that generation of jazz musicians who grew up on the music of Miles Davis and John Coltrane and both are trying to yoke that jazz tradition -- indeed, all jazz traditions -- to music more often played in the concert hall. The idea for the opera grew out of meetings six and a half years ago between Opera Theatre and the nonprofit Jazz St. Louis, which co-sponsored the performances.